The peninsula of Salento is one of my favourite Italian destinations and one I keep coming back to. Located deep in Italy's south, Salento is the 'heel' of its 'boot', part of the region of Puglia, located at the edges of both the Adriatic and Ionian Seas. Its generous sunshine, typical whitewashed houses, baroque architecture, wonderful sandy beaches, crystal blue waters and fabulous cuisine draw many visitors during the summer months.
Local menus feature fresh fish and seafood like mussels, squid, octopus and anchovies. A must-try is the regional pasta called orecchiette (little ears) served with fresh tomato sauce and ricotta salata (salty ricotta cheese) or cime di rapa (a green vegetable belonging to the broccoli family). Puglia also produces high quality olive oil and renowned wines like Salice Salentino, a deep red made with Negroamaro grapes, and the Primitivo di Manduria made of Primitivo grapes.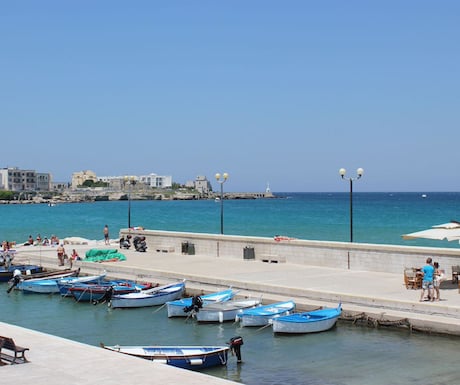 I've been coming to this region rich in history and culinary delights for more than eight years, and highly recommend a visit to the charming town of Otranto, one of Salento's most vibrant towns.
Planning a visit? Here's my recommendation of five things to see and do:
Visit the historic Castello Aragonese
The Castello Aragonese is a castle made of beautiful old stones and surrounded by a moat. Recently renovated, this historic structure is well preserved and has been turned into an art space where many high-profile exhibitions have been held, like a retrospective on Andy Warhol's work, as well as the works by local artists. A visit here is also worth it for the breathtaking rooftop view of the sea and marina from one side and over the white-washed buildings of the town on the other.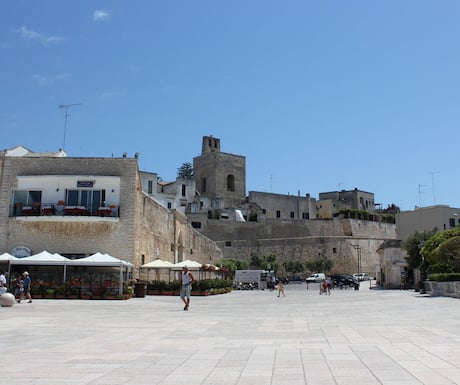 See the spectacular mosaic floors in the Cathedral of Otranto
The highlight of Otranto's majestic cathedral is the stunning mosaics covering its entire floor. Covering 700 square feet, the mosaic is a depiction of the Tree of Life with images decorating its spreading branches. While there are many biblical scenes visible, there are also the signs of the zodiac, images from the game of chess, references to Greek mythology, images of King Arthur and others taken from Scandinavian mythology and pre-Islamic Persia. Commissioned by the archbishop, work on this masterpiece started in 1163 and took four years to complete. It was restored in 1993.
Join the locals on the evening passeggiata
Once the heat of the day has settled and the sun starts its descent, locals descend on the lungomare, the seaside promenade, for a leisurely stroll and some serious socialising. La passeggiata is a favourite evening pastime in towns and cities across Italy. A stop at the popular Pasticceria Martinucci for some Italian gelato is an absolute must. If it's too crowded, try again on your way back – they stay open late.
Have lunch at the fantastic L'Altro Baffo
This is definitely one of the best restaurants in Otranto. Located just a stone's throw away from the Castello Aragonese, this small and friendly family-run restaurant serves up traditional local cuisine presented in a contemporary and stylish way. The changing menu reflects what's in season, featuring the freshest produce, homemade pasta, and fish from that morning's catch. The staff is welcoming and professional and happy to suggest the perfect local wine to complement your meal.
Take a boat tour
The sea here beckons you to explore its blue waters from up close. Onda Blu organises exclusive boat trips along the Salento coast, stopping at spectacular caves on the way and anchoring in pristine waters perfect for a refreshing swim. Private mini-cruises are also available on a beautiful 13-metre wooden boat which can carry 3 to 4 persons for a private outing to remember.
Paola Fiocchi Van den Brande is Director of Passepartout Homes Ltd.
If you would like to be a guest blogger on A Luxury Travel Blog in order to raise your profile, please contact us.