This is a delicious and light dish perfect for this time of year with Spring firmly in the air. The mackerel works really well with the cucumber because, by roasting it, it highlights the nice, smoky flavour. The soy sauce also brings out the umami, and brings an Oriental feel to the dish. Serves 4.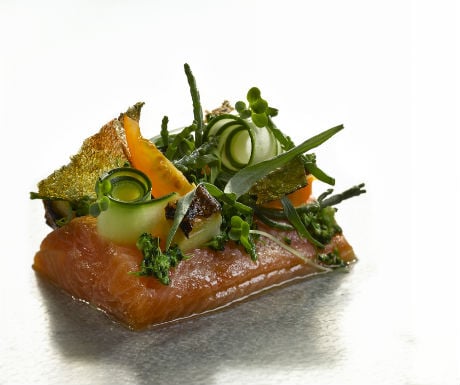 Ingredients
4 Mackerel Fillets (skin on, pin boned)
2 tbsp soy dressing
2 tbsp dill oil
Soy dressing
2 cloves garlic
100ml rapeseed oil
30ml soy sauce
5ml nam pla fish sauce
100ml olive oil
20ml mirin
Dill oil
100g fresh dill
200ml rapeseed oil
Tomatoes
8 baby heritage tomatoes
1-2 tbsp soy dressing
Cucumber
4 rectangular pieces of cucumber
8 ribbons of cucumber
Salt
1-2 tbsp dill oil
Artichokes
4 baby globe artichokes (peeled)
1 tsp lemon juice
Garnish
Salad leaves
Olive oil caviar
Barbecue and coals
Directions
For the soy dressing (make ahead)
Mix the ingredients and gently warm the dressing to around 70c for 3 hours and leave to infuse and cool.
For the dill oil (make ahead)
Blanch and refresh the dill then place into oil and warm to around 70c for two hours and leave it to infuse
To prepare the tomatoes
Blanch the tomatoes for 30 seconds in boiling water and refresh in cold water. Remove from the water and marinate in soy dressing for around 30 minutes.
For the baby artichokes
Cook the baby artichokes with lemon juice in water for 12-15 minutes until soft. Cool in the liquid. When cool, halve and remove heart from the centre. Place in with the tomatoes when ready to marinate.
For the roast cucumber
Cut the cucumber into four 13cm pieces and roast in a dry pan for 3 minutes to gain colour. Add some oil and cook for a further 3 minutes to soften. Do not overcook or they will become mushy.
To make the cucumber ribbons
Peel the cucumber into ribbons with a peeler, salt for two minutes, pat dry and marinate in a little olive oil.
To prepare the herring
Marinate the herring in a mixture of dill oil and soy dressing before barbecuing. Cook over the coals for around 3-4 minutes, making sure the fish does not overcook.
Chef's tip
To get a really crispy skin on the mackerel without over cooking the fish, finish the skin with a blow torch. It also helps with the flavour.
To finish
Place the herring on the place and dress with the tomatoes and roasted cucumber. Foil the ribbons and finish the dish with the artichokes and a leaves. Dress with both oil and soy dressing and some olive oil and caviar.
Thank you to James Sommerin, Head Chef at Restaurant James Sommerin, Penarth, Wales, for the recipe.
If you have a recipe you would like to share with  A Luxury Travel Blog's readers, please contact us.