If you have an interest in photography, you'll be familiar with the name Sigma.  Although the company lends it name to a range of camera models, it is best known as a manufacturer of quality lenses. Some of you may recall that earlier this year I road-tested the Sigma 18-300mm F3.5-6.3 DC Macro | Contemporary lens on a trip to Japan and Singapore. It's a very versatile lens and one that I found to be particularly well suited to travel.
Purists will say you must have a high quality prime lens (Sigma do those, too!) for the job – and technically speaking, they're right – but if you prefer to travel light, prefer convenience over absolute perfection and want to avoid the hassle of frequently changing lenses whilst on the move, you'll be hard pressed to find something better to do the job. With this lens I was able to capture anything from the daily activities at Tokyo's Tsukiji fish market…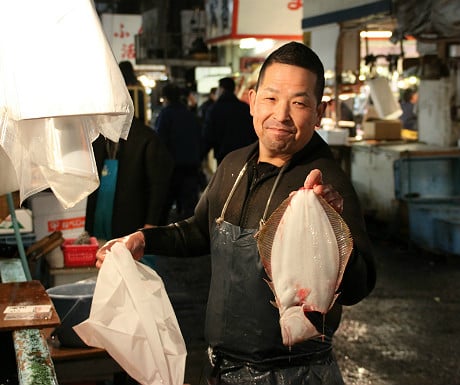 …to details of lanterns in Singapore's Chinatown, all without the need to change lenses and with a wide range of focal lengths available at the flick of the wrist. This is a surpisingly light lens with an 11.1x zoom ratio, weighing just over one pound. It comes with Optical Stabilizer to help with achieving sharper images without the need for a tripod.
The lens has also been well received with many positive reviews online and has scooped a prestigious award from TIPA (Technical Image Press Association). Now, courtesy of Sigma Imaging UK Ltd. and A Luxury Travel Blog, this very same lens could be yours!
How to win the Sigma 18-300mm F3.5-6.3 DC Macro lens
Through this site, Sigma are offering one of these lenses up for grabs. If you'd like to add this all-rounder lens to your camera bag, then read on!
To enter, simply issue the following tweet:
I'd like to win a @SigmaImagingUK lens @ http://goo.gl/Zuvu0D because…
Complete the tweet in any way that you wish. You can be as original, thought-provoking, funny, serious or silly as you wish! We will then pick one lucky winner based on our favourite entries.
The winners will be notified by DM (direct message) via Twitter so you will also need to make sure you follow both @luxurytravel and @SigmaImagingUK on Twitter in order to validate your entry.
You may enter only once per day. The closing date for entries is 1st June 2015.
GOOD LUCK!
Terms and conditions
The winner will be notified by email/phone by Tuesday, 2nd June 2015. This competition is open to UK residents only. All entrants must be at least 18 years old. Employees of Sigma Imaging (UK) Ltd and their immediate families and agents may not enter. Entries must be received by 1st June 2015. Entries not in accordance with these rules will be disqualified: by entering the competition, competitors will be deemed to have agreed to be bound by these rules. The prize must be taken as offered with no alternative. In the event that the prize cannot be supplied no liability will attach to Sigma Imaging (UK) Ltd. Copyright of all images submitted for this competition remains with the respective entrants. Sigma Imaging (UK) Ltd reserves the right to reproduce any submitted tweets/images for its own use in connection to this competition without prior permission from the photographer.