By
Leah DeAngelis
on May 30, 2015 in
Accommodation
,
Attractions
,
Bars
,
Europe
,
Food and Drink
,
Going Out
,
Hotels
,
Leisure Travel
,
Regions
,
Restaurants
,
Spas & Pampering
,
Speciality Travel
,
Switzerland
,
Travel Miscellany
,
Western Europe
Known as one of the top cities in the world with the best quality of life, Zurich is located in central Europe, in the heart of Switzerland. An excellent public transportation system that will get you from the airport to downtown in ten minutes makes it easy to enjoy an extended layover.  If you are headed to any other location in Switzerland, chances are good that you will fly into Zurich international Airport, in which case, you will want to take at least a couple of days to explore this gorgeous city.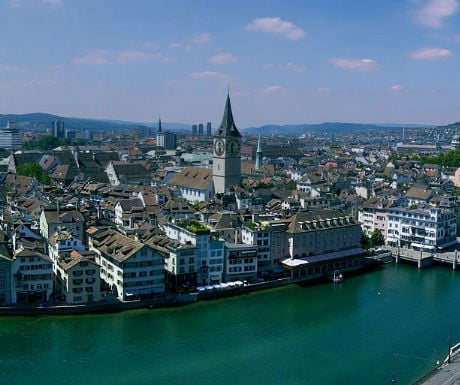 Situated on the north shore of picturesque Lake Zurich, the city offers recreational activities, a pulsating nightlife, high end shopping, wonderful food, and culture galore with opera, ballet, concerts, and over 150 museums and galleries.
A major European financial hub and the the commercial center of Switzerland, Zurich is one of the wealthiest cities in the world. Still, you find edgy character right next to stately antiquity. Quirky little shops, street art, farmers' markets and fondue are all part of the scene, merged with quiet grandeur. Zurich's locals are hard workers that know how to unwind in exquisite luxury. Here are five things not to miss on your Zurich holiday.
A fascinating combination of a fairytale palace and ultra modern luxury hotel, the Dolder Grand is the kind of place that might interfere with your sightseeing plans because you won't want to leave. Conveniently located on the Zürichberg hill, you are close enough to town (and the airport) to get there quickly, but far enough to enjoy sweeping views of the city, Lake Zurich, and the Alps.
From the grand entrance, to the dining room and spa, the Dolder is dripping with luxury. World class artwork from the likes of Andy Warhol, Nikki de Saint Phalle, and Salvador Dalí don the walls and grounds in the most unassuming manor. It's just there. You have to notice it on your own, nothing is calling attention to it (Art-iPad tours are available upon request). By all means, visit the Kunsthaus art museum, but if you are on a quick layover, you can feel satisfied that you got a healthy art fix right there at your hotel.
Food is as extraordinary as you would expect. At The Restaurant, the Dolder's Michelin starred fine dining room, wine aficionados may choose from over 500 varieties. At the Garden Restaurant, don't miss the hand crafted  pastries for breakfast. The dinner menu is just as good, offering light European cuisine. This restaurant knows its way around truffles, so if you see something on their seasonal menu with truffles, you can bet it will be fantastic. Even the tableware is artful and coordinates with the flowered walls at the spa.
Rooms are contemporary and comfortable. The junior suites are spacious and with purple accents, a rounded leather couch, and orchids. Bathrooms are high tech and feature televisions integrated into the mirrors, multiple jet showers, heated floors, and large jetted soaking bathtubs. If you prefer a more traditional setting, you may choose to lodge in the classic part of the hotel.
If you are not staying at The Dolder Grand, you must make time to visit their award winning spa. It's ultra modern and so aesthetically pleasing and soothing you will feel nourished on every level. A quaint and colorful cafe and juice bar in the spa features delicious healthy food like salads and green juice served in a room with murals of colorful blooming flowers all over the walls. The sleek black tiled infinity pool area offers a giant window with alpine views and lounge chairs for relaxing, or you can head to the über cool Chillout Room and curl up in a round hanging chair. Or you can literally chill out in the cold Snow Paradise Room.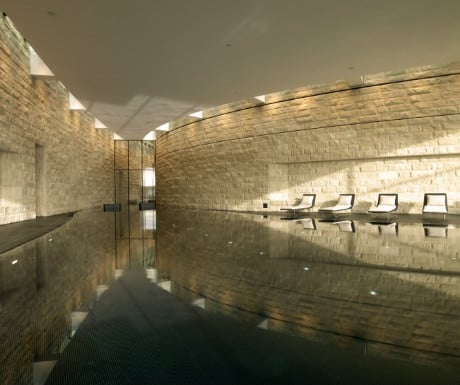 A winding meditation walk spirals to a mirrored mosaic meditation room that looks like something Antoni Gaudí or Friedensreich Hundertwasser would have created. The spa itself is a work of art, but just wait until you have a treatment. Don't leave the Dolder Spa without experiencing the wholly unique Hydraheaven treatment where you will enjoy a soul healing massage on a table reminiscent of a waterbed
Located in Zurich's tallest building, the Prime Tower, Clouds is a restaurant, bar, and bistro that offers spectacular 360-degree panoramic views of the city. Enjoy great food and cocktails while taking in the best views in town. The modern decor and delicious food are a great way to get oriented upon arrival with a bird's eye view. Food is more relaxed in the bistro section where they serve sandwiches and salads, while the main restaurant, with cheerful yellow accents offers more formal fare.
Established in 1836, Srpüngli Confiserie is a luxury confectionary manufacturer famous for decadent chocolates and signature Luxenburgerli macaroons. Made by hand with the finest ingredients, these confections are edible works of art. Founder David Sprüngli was one of the first chocolate producers in the country and played a significant role in making Swiss chocolate a world renowned delicacy. A box of truffles or macaroons from Sprüngli is a classic gift to bring home to loved ones.
Bahnhofstrasse
Bahnhof Street is a bank and boutique filled street with cafes for refueling while shopping. Here you will find high end brands like Cartier, Tiffany & Co., and Louis Vuitton. All along Bahnhofstrasse are shady trees, park benches as well side streets and alleyways with restaurants offering a wide range of cuisine. Beginning at the Zurich Hauptbahnhof (train station), Banhofstrasse is not only one of the most expensive shopping streets in the world, it's also a beautiful 1.4 kilometer long stretch for strolling, with easy access via tram and train.
Leah DeAngelis is Editor of Best Travel Gear.
If you would like to be a guest blogger on A Luxury Travel Blog in order to raise your profile, please contact us.