Discover a new definition of luxury in Marrakech
I love
Morocco
. It's filled with bright colors and warm people, all illuminated by the brilliant sunlight. At night the air cools and people stream into the streets to shop, and socialize over tea in street cafes. Many Europeans go for the beaches – Mediterranean Cala Iris, fog covered Agadir, or Instagram perfect Essaouira. I'm drawn to the interior, particularly rose colored
Marrakech
. I first went to Marrakech years ago, while I was in graduate school. It was hot, exotic and definitely rough around the edges. The middle was pretty coarse too. Two weeks ago I revisited the city, and discovered something entirely different: Marrakech has evolved into a pure luxury travel destination. I had my first glimpse of this at a rest stop, located on the A7, about halfway between Agadir and Marrakech. We had stopped so the kids could use the toilet, so I ventured inside to get a coffee. Used to American truck stops, and very aware that I was in Africa, I was prepared for the worst. Instead I was greeted with an industrial N'espresso machine, fresh pastries, racks of salty snacks and an impressive array of magazines. I settled on a café cortado and a Moroccan design magazine. I drank my coffee and flipped through the leaves, fascinated to see photos of fancy hotel lobbies. At first I thought they were properties in Dubai, or perhaps Kuwait City. I deciphered the French captions and realized they were all in Marrakech. These new hotels, Morocco's deeply exotic culture and easy airlinks from the big European airports make the ancient Imperial City of Marrakech an ideal location for an exotic weekend getaway. Here are my five recommendations for things to make you feel like a Sultan or Sultana on your luxury weekend:
Sleep in a private garden
Marrakech has become a travel destination for people with real money. I'm not referring to Hollywood movie stars that complain about the paparazzi but still fly commercial, but Saudi princes and international billionaires. If you don't have your own jet, stay at
The Royal Mansour
and use one of theirs. If you have your own, fly into
Heliconia Air Park
and stay outside the Medina, at the spacious
Es Saadi Gardens and Palace
. This property has been privately owned and managed by the same family for three generations, and they understand real luxury. You can choose from ten themed private villas, such as the 1001 Nights, the Roman Villa and the Sultan's Villa. The grandest is the Maharaja's Villa, which has mirrors inlaid with semiprecious stones, marble baths, a private 130 sqm heated swimming pool and a 600 sqm private garden with exotic trees and plants. My choice would be the smaller, but exquisite Persian Villa. It is washed cobalt blue, shaded by Judas trees and enveloped within a 400 sqm private garden that feels enchanted. It has its own 80 sqm heated pool. The hotel's web site describes it beautifully, "Rosebushes and bougainvillea bestow a sense of intimacy, while the generous proportions of the villa give the feeling of floating in the air. The floors are covered in patterned enameled tiling." All ten villas include unlimited access to the hydrotherapy pathway, the spa and Oriental baths, a private butler, concierge, electric car (pretend you're Bill Gates, who cares more about the environment than appearances) and a chauffeur.
Go shopping in the souk with a private guide
I've been to a number of souks. Most of them are interesting but filled with mundane items like pots and pans from
China
, or useless souvenirs. The Marrakech souk is different. It has a range of items, many of them quite lovely. It's well organized, with similar products such as light fixtures or clothing grouped in the same area. My favorite items to shop for are lanterns, caftans (the kind you wear at a beach café in Cap-Jean-Saint-Ferrat), argan oil, olive oil products and custom made leather goods. Unless you have your heart set on it, I'd skip the carpets- you can find a better selection in the Middle East. If you're not feeling adventurous, ask your concierge for a private guide to help you navigate the souk and negotiate your purchases.
Let someone bathe you
When the Romans ruled these lands they brought many civilized things, including their penchant for baths. Although the Empire fell, the bathing tradition remained. The Moroccans modified the baths to fit with their arid climate, and created the hammam. A traditional hammam is a steam room where an attendant washes and exfoliates your skin with a special glove of cotton fiber called a kessa, then gives you a massage. It sounds a bit too intimate for many westerners, but I think it's the ultimate luxury. After a couple of these, summoning the energy to wash yourself will seem like an overwhelming task. Typical hammams are public places, men separated from women. Pretend you're a Sultan/Sultana and book a private one at The Royal Mansour's white filigree spa.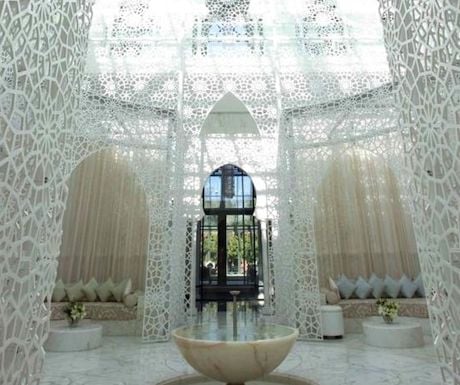 Visit the Jardin Majorelle
When you live at the edge of the Sahara desert, water and deep shade become luxuries. The
Jardin Majorelle
is a 19th Century garden filled with plants from five continents, reflecting pools and a villa that was once occupied by Yves Saint Laurent and Pierre Bergé. Its focal point is a fountain that is often dubbed Matisse blue, but could easily have been designed by Phillipe Starcke. Yves Saint Laurent fell in love with the space, saved it from being destroyed by a hotel developer and eventually had his ashes scattered amongst the plants. Don't miss the Love Galerie: Starting in the 1970s, Saint Laurent used collage to create "Love" posters, and sent them every year as New Year's greetings to his friends and the clients of his fashion house. They are displayed in this small corner gallery. Following the wishes of Yves Saint Laurent, the Jardin Majorelle is open to the public every day of the year, including the month of Ramadan. It is rumored that a suitable donation to The Fondation Pierre Bergé -Yves Saint Laurent can secure a private visit.
Take time for tea
The Moroccan tea ceremony isn't about a silver service or expensive French pastries (although those items can be easily procured). It's about time, the ultimate luxury. You wait for the tea to be made, then watch while it is poured into tiny little glasses that burn your fingers if you don't wait long enough for it to cool. Then you break off a lump of sugar (careful- it's always served extremely sweet to begin with), slowly stir the sugar into the tea until it's completely dissolved, and then wait some more. Once it cools you drink your little cup, and the process is repeated. You spend longer drinking small amounts of tea, chatting with old friends and making new ones, than you would at home preparing dinner, eating and washing the dishes. That is, if you even have enough time to do these simple daily tasks for yourself. Most people do not, which many Moroccans view as sad. What a simple, beautiful view of the value of time and friendship – the ultimate luxuries!
Did you enjoy this article?
Receive similar content direct to your inbox.