As one of the most vibrant and eclectic cities in the world, London treats its visitors and inhabitants to a staggeringly diverse and tantalising range of dining options. Because of its cosmopolitan nature, London truly transcends the usual high dining standards of a capital and can easily compete with gastronomic giants such as New York City or Paris. London establishments showcase a range of creative culinary concepts and quality organic produce, bridging the gap between tradition and innovation.
We have put together a list of some of our favourite eateries and restaurants in London, so don't miss out on these fantastic places if you want a taste of the city at its culinary best!
This elegant bistro offers a comfortable and casual setting for an unforgettable dinner. The menu is strongly influenced by the rustic cuisine of France but with a creative twist that screams London. From classic, seasonal dishes to great beef burgers, dining at Bar Boulud affords a great opportunity to sample many timeless French recipes and flavours. As far as bistros go, this is definitely one of the best experiences we've had in the city.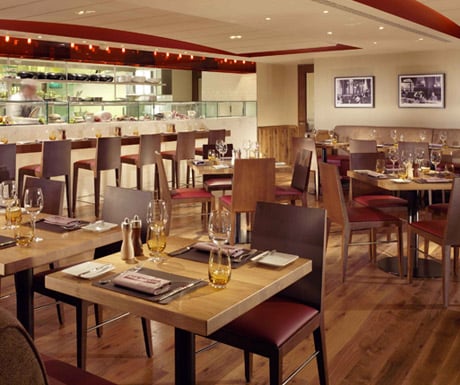 Bar Boulud London at Mandarin Oriental, 66 Knightsbridge London SW1X 7LA
This restaurant looks across the famous Hyde Park and is home to award-winning head chef, Darren Marshall and the talented executive chef, Ben Purton. They are recognised for using the best fresh, local ingredients with a particular emphasis on produce off the land of Great Britain. This excellent restaurant perfectly exemplifies what it is like to be creative in the kitchen, while using minimal yet high-quality ingredients, to present the diner with dishes that are a true work of art. In recent years, the British food scene has experienced a true resurrection of locally-grown flavours. Restaurants such as Island Grill are definitely at the forefront of this refreshing trend of rediscovering England's flavours and culinary history, while applying a modern approach and sensibility to it.
Island Grill at Lancaster, Lancaster Terrace, London W2 2TY
This comfortable and elegant restaurant in Westminster, with its long history as a rendezvous of politicians and the British establishment, is committed to the highest quality British food with famous classics like Shepherd's Pie filled with organic Welsh lamb. The service is impeccable and the staff are attentive and discrete. The quality menu items are creative and fresh, following seasonal trends as well as focusing on premium local ingredients sourced from the very best suppliers in town.
Shepherd's, Marsham Street | Marsham Court, London SW1P 4LA
Hailed as one of the best restaurants in London, the Sixtyone is home to the knives of Arnaud Stevens, a well-known character on the culinary scene of the British capital (he has even worked with celebrity TV chef, Gordon Ramsey).
As part of the adjacent Montcalm Hotel, the Sixtyone is all about offering high quality menu items in a classy, relaxed setting. The chef's approach ranges from the traditional to the innovative and embraces local produce and fresh ingredients that explore the flavours of Great Britain.
Sixtyone, 61 Upper Berkeley Street, London W1H 7PP
With a name that means 'soul' in Italian, it is very easy to understand the concept of this homey but chic establishment. This cafe is all about embracing the earthiness and honesty of traditional southern Italian food while welcoming diners to a casual, less formal environment. Whether you are stopping for a meal with your entire family, a quick coffee break or just an after-work drink, you'll definitely enjoy the casual atmosphere and their quality offerings. This is definitely one of those places that will surprise you with a feeling that you got so much more than you bargained for!
The dishes might sound fancy on paper, but the essence of their elegance lies within their simple yet effective presentation. This is a restaurant where you can enjoy Italian food the way Italians love to eat – and at a really affordable price point.
L'Anima Cafe, 10 Appold Street. London EC2A 2AP
Hotel Baglioni is one of the most famous Italian hotels in the city, but its ground floor restaurant, Brunello, is getting increasingly more noticed. The restaurant treats diners to a traditional Italian decor with strong Murano aesthetics as well as a classy and luxurious vibe. Italian chef Giovanni Diana makes authentic Italian dishes using the very best Italian produce available in the UK (and with a particular focus on the regional delicacies of Puglia, a region in the south of Italy). The end result is truly magical: earthy Italian dining meets the highest standards of London fine dining.
Brunello, 60 Hyde Park Gate, London SW7 5BB
Olivier Templar-James is Chief Editor at Luxury Travelers Guide.
If you would like to be a guest blogger on A Luxury Travel Blog in order to raise your profile, please contact us.