By
Paul Johnson
on Jun 04, 2015 in
Accommodation
,
Attractions
,
Europe
,
Family Travel
,
Featured
,
Food and Drink
,
Going Out
,
Greece
,
Hotels
,
Leisure Travel
,
Regions
,
Resorts
,
Restaurants
,
Spas & Pampering
,
Special Features
,
Speciality Travel
,
Travel Miscellany
,
Western Europe
Regular visitors to Crete are probably aware that the small fishing town of Elounda is one of the island's most desirable resorts. I've had the pleasure of staying in a number of the town's best luxury hotels over the years, but none as small or intimate as my most recent stay at Elounda Gulf Villas & Suites.
Tucked a short way up the hillside on the outskirts of Elounda, this boutique hotel is home to just 18 villas with private pools, 10 suites and 5 massage suites. Being a relatively small outfit, the owner, Mrs. Anna Papakaliatis-Kadianakis, is very much on hand to ensure the meticulous yet smooth running of the hotel – ever attentive, but never intrusive, to the needs of her guests who hail primarily from the UK, US and Scandinavia.
After a warm welcome from Luise, I was shown to my accommodation. On entering my villa, the Knossos Spa Villa – one of the highest positioned at the hotel – my eyes were first drawn to the outside space. It's hard for that not to happen when you have such a beautiful view over the Gulf of Mirabella fronted by your own 13m x 5m infinity pool.
Also on this level, before stepping out on to this terrace, though, is a fully equipped kitchen, dining area and comfortable living space – very bright and airy with the occasional splash of colour.
From here, there are some steps leading down to the floor below where you are greeted by your own mini gym should you feel the urge to push some weights or go jogging within the comforts of your air-conditioned accommodation rather than at the hotel's Elixir gym or in the heat outside.
The villa has two bedrooms downstairs – one large double and one twin – and robes are provided. (Other villas can accommodate up to six or eight people if your party is larger.)
To call the bathroom just a bathroom is doing it a disservice. In addition to a lavatory and twin basins, the shower is housed in its own steam room which you can preset before entering.
The large sunken bath comes complete with whirlpool jets and floor lighting and, beside it, there is even your own sauna, so you can easily move from one to the other.
As you can see, this is no ordinary hotel 'room'. The accommodation is finished to a high standard and Elounda Gulf Villas & Suites has been recognised for its excellence by Tripadvisor on multiple occasions, and picked up numerous accolades over the years as a result, including the likes of Greece's Leading Villa Award at the World Travel Awards, as well as a World Luxury Hotel Award – the ultimate achievement in service excellence. You have the best of both worlds: the space and privacy of a villa holiday, yet with all services that come with a luxury hotel.
Facilities at the hotel cater for adults and children alike. Parents and non-parents will enjoy the treatments available from the Elixir Spa. I can highly recommend Valentina's in-room massage service – she just brings her massage bed and equipment to your villa or suite and can quickly set it up next to your pool (or wherever you want) so you can enjoy a massage outdoors or indoors, yet still in the privacy of your own accommodation.
For the children, there is a brand new, well-equipped kids club with a shaded outdoor play area which is operated in conjunction with the widely-respected Worldwide Kids Company. Complimentary childcare is offered to children aged 3 to 12 years old through three daily sessions. Babies and toddlers (4 months to 3 years) are cared for by professionally-trained, qualified staff.
What I particularly liked was the children's menu which has clearly been well thought through, with tempting, healthy Greek options to help your kids explore their palettes. They can even enjoy a glass of mock Champagne (chilled cranberry-apple juice, white grape juice and ginger ale, served with a floating strawberry for added elegance) just so they can feel grown up like Mum and Dad!
Additional facilities – for both adults and children alike – include a main pool at the hotel…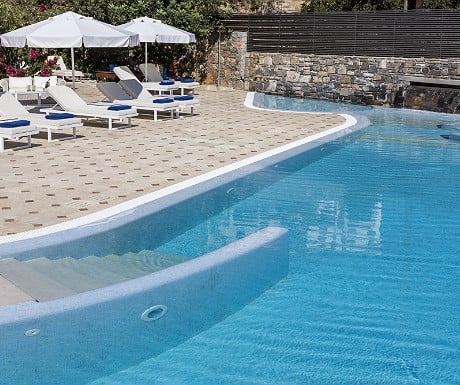 …as well as the hotel's own private beach club just a short, free shuttle service away. From here, you can see the island of Spinalonga, a former leper colony, which you can now visit today, with regular boat trips operating from Plaka, Elounda and Agios Nikalaos.
For those who are looking for something extra special, the hotel offers private yachting excursions which will allow you to explore Spinalonga with a little more privacy, or the uninhabited island of Kolokytha. Alternatively, you can discover Crete from above with a helicopter tour or even take a day trip to Santorini.
But one of the main highlights of any stay at Elounda Gulf Villas & Suites is the food and there are two restaurants, serviced by the same kitchens but with separate Head Chefs. Argo restaurant is where you can enjoy a buffet breakfast each morning, with seating at the main pool terrace.
There is a healthy array of cereals, juices, fruit and Cretan options each morning, as well as cooked options which you can select from the buffet. Alternatively, you can request eggs or an omelette cooked to your liking.
Argo restaurant remains open all day and into the evening, serving all your usual Greek classics such as tzatziki with pitta bread.
I enjoyed the Cretan meze which included cheese and spinach pies, meatballs, fava beans, a little tzatziki and some olives.
My favourite at Argo, though, had to be the prawns with ouzo, tomato and feta… so delicious!
One evening – after a slightly longer than intended 10-mile evening jog – I opted for trying room service, and enjoyed an octopus appetiser followed by a delectable linguine marinara.
For a sophisticated fine dining experience, try the hotel's Daphni restaurant (after a drink or two at Argo bar) where you will enjoy Greek cuisine adapted with a little French flair. The food there is truly excellent, yet very reasonably priced given the quality (with main dishes ranging in price from just 26 to 45 euros).
There is the option to dine outdoors under the stars – and the weather even in May was easily warm enough to allow me to do that – or in the restaurant's private dining room.
I found the scallops sautéed with peanut butter and millefeuilles of celeriac and sweet and sour beetroot a really interesting combination, with the scallops cooked to perfection and wonderfully succulent.
For my main, I was sorely tempted to try the sea bass fillet on sautéed vegetables and fine Champagne sauce, but opted instead for the turbot fillet sautéed with a local pasta known as kritharaki, which I hadn't tried before to the best of my knowledge, and sweet and source apple with crayfish foam.
Just make sure you leave some room for the chocolate 'exotic surprise' to finish!
As Anna reminded me, food is all about the memories – neither the pictures nor words can really do it justice, you have to go and taste it for yourself, soak up a little bit of that Greek atmosphere and sun at the same time, and return with memories of your own in order to truly appreciate the cuisine.
For those looking to explore beyond the confines of the hotel, I would recommend a visit to Spinalonga as already mentioned. I didn't go this time but have been on previous occasions and it is well worth it to get an insight into the island's poignant history. To think it was still a leper colony less than 60 years ago is quite astonishing. If you can, read Victoria Hislop's 'The Island' before you go.
This time I hired a car through holiday autos and drove to the Lasithi Plateau, via Neapoli. It's a good hour's drive but allow a little longer for stops along the way. I called at the historic Archangels Michael and Gabriel Kremaston Monastery which was founded in the last years of the Venetial rule (1593) and is said to have played a pivotal role in the preservation of the Greek Orthodox religion and culture of the area since a secret school was operating in a well-protected cache inside the monastery during the Ottoman rule. You can speak to the nuns at the monastery and there's even a small shop where you can purchase items that they have made.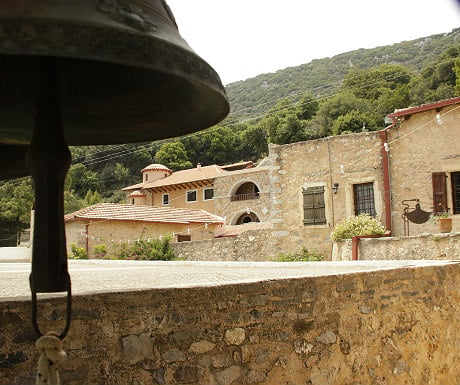 Moving on, I eventually reached the Lasithi Plateau – a large and somewhat unexpected flat expanse of land given the landscape you drive across to get there. If you want to get technical, it is in fact an endorheic basin – in short, an enclosed drainage area which makes for very fertile land. Don't go with the expection of seeing a vast expanse of white-sailed windmills, as you may have seen in the pictures – sadly, most of the sails have gone, but you will see a few (often next to tavernas) if you keep your eyes peeled.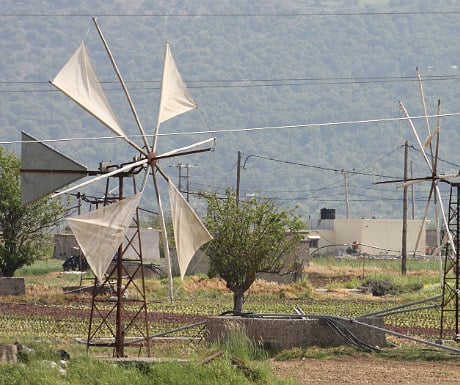 There is renewed interest in bringing the windmills back to their former glory which I think would be great if it is possible, and almost help give the area its identity once more. That said, this is still a very beautiful and interesting location to visit and you can drive a circular route of the Lasithi Plateau, passing through a number of quaint villages. This is one of the few areas in the Mediterranean where you will find people living at an altitude of over 800 metres.
At Psychro, make sure you take the short detour to visit Dikteon Andron, one of the most important caves in the whole of Greece. It is here that Zeus is said to have been born. You can walk up to the cave entrance along a paved walkway or experience the approach by donkey for just 10 euros (my thanks go to this 8 year old boy named Hapura!).
Once at the top of the hill, you get a better feel for the expanse of the plateau, its beauty and the thriving agriculture in the region.
The cave lies at just over 1,000 metres above sea level, consists of five chambers and is rich in stalagmites and stalactites. It's noticably cooler as you enter and is known to have been inhabited as early as Neolithic times (6,000 BC). Today the conditions suit a number of animals including a number of birds in the antechamber and the long-eared bat further down. At the very bottom you will find a small lake. It is the small chamber at the back of this lake where Zeus is said to have been born.
Whatever excursions you choose to go on, the hotel will always be a welcome return after a day's sightseeing. I found the staff to be attentive throughout my stay, and nothing was ever too much trouble.
For me, it's often the little things that determine luxury. My arrival at the hotel had been quite late, after the kitchen had closed, yet someone had thought ahead and left some cold plates in the fridge and a bottle of wine on ice.
Similarly, complimentary Cretan cakes called 'Kaltsounia' were brought to my villa one day, with a note explaining that they are made from fresh sweet curd cheese and that in the past they were traditionally made as part of festive celebrations during Easter but are now found all year round. Silly though it might sound, it's those little touches that can often make all the difference.
At Elounda Gulf Villas & Suites, you get a personalised service which is hard – if not impossible – to replicate in a larger establishment.
My last little tip whilst you are there would be to make the effort to get up for sunrise at least once during your stay… it's worth it! Many of the villas, including Villa Knossos where I stayed, look out to the east, so you are sure to be treated to a beautiful scene. If you thought the sea view was beautiful during the day, just wait until you see it first thing in the morning!
Disclosure: My stay in Elounda was courtesy of Elounda Gulf Villas & Suites.