By
Rose Hipwood
on Jun 24, 2015 in
Accommodation
,
Adventure Travel
,
Africa
,
Botswana
,
Camping
,
Regions
,
Resorts
,
South Africa
,
Speciality Travel
,
Tanzania
,
Zambia
Big cats are undoubtedly a huge draw for guests taking a luxury safari anywhere in Africa, no matter if you love birds, elephants or any other type of animal you cannot fail to be over-awed by a leopard padding silently along the edge of a river, or a pride of lions hunting, or that amazing speed of a cheetah. The sound of a lion roaring at night whilst you lie cosy in your bed is unrivalled in both excitement and also encouraging that feeling of being well and truly in the wilderness. Here are our top five luxury big cat safari destinations:
The Sabi Sands in South Africa is world famous for its amazing leopard sightings. Chitwa Chitwa is located in one of the prime areas for leopard and it's one of the best private game lodges in Kruger and Sabi Sands area with excellent game viewing but also wonderful staff, delicious food and some of the best guides around. The guides are amazing at finding the perfect spot in which to wait for those elusive leopard, or the local pride of lion. A truly magical camp with more to offer than just game drives.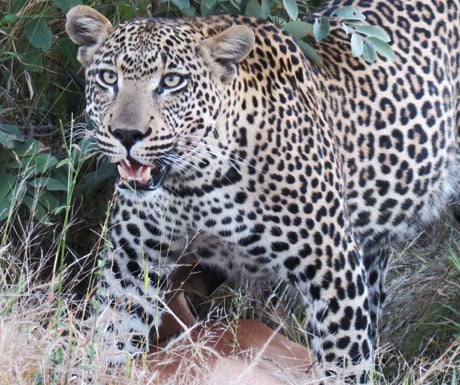 Namiri Plains is situated in an area of the Serengeti that was closed off for twenty years, used only by the Frankfurt Zoological Society's research team for studying all of the big cats but particularly cheetahs. The area is absolutely stunning with everything from rivers and rocky thick bush, to riverine forest and vast open plains simply dotted with the odd lone acacia. Game viewing here is primarily for the cats and Namiri have employed some of Tanzania's best guides to ensure that every inch of the safari is an in depth one. You will often find yourself sitting around the camp fire with one of the researchers from the area and will end up learning all sorts of fascinating facts about their project there and the different cats which live in the area. If it's big cats you're after this really is your paradise and the fact that Namiri is only six tents means the area will remain totally exclusive and you will see very few other people whilst on game drives, apart from others from Namiri, and researchers on their own drives.
Duba Plains is one of our favourite camps in Africa for many reasons, but not least because it's the best place to see lions and buffalo fight it out in the wild – something that is both incredibly dramatic and fascinating. Duba is also set in a wild and remote corner of the Western Okavango Delta and this means that you can absolutely guarantee you wont see another soul. Duba also has everything from thick bush, water channels and flat open plains. The conservancy is vast and completely private so you can rest assured that you'll never cover the same area twice (unless something amazing is happening there!). Duba Plains camp itself is heaven and very luxurious, as well as being intimate and personal.
Duba Plains have numerous conservation projects on the go but their main focus is on making sure the local communities are able to live happily side by side the wildlife. The communities out near Duba are so remote that they are by far the poorest in the country with hardly any access to healthcare and very little schooling. Of course this cause is something that Duba feel very strongly about – the combination of this level of poverty when in close proximity to wildlife is a conservation nightmare and one that Duba have worked hard to try and tackle.
This is a daily struggle which is only fought by funding brought into the area through top end tourism, another example of the safari industry being the only way to preserve this area. Duba is currently undergoing a huge refurbishment and so is operating a luxury tented camp in the same area while the original camp has an exciting facelift.
Serengeti Safari Camp, Tanzania
Serengeti Safari Camp moves to follow the wildebeest migration so is always in the thick of it. This luxury mobile camp is intimate and all about the wildlife and you are made to feel part of the family as soon as you arrive. Of course with the Wildebeest Migration come the big cats, some prides follow the migration for as long as they can within their territory, and they are often more active as the prey is so abundant. Anything to do with the wildebeest migration will provide excellent big cat viewing.
Camps in the South Luangwa, Zambia
The South Luangwa is famous for having some of the best big cat viewing in all of Africa, and is the perfect place to try and see leopard – here the conditions are just perfect for leopard, which means over the years the population has grown and they have become relaxed with the vehicles. Where there are leopards, there are certainly safari goers, and where there are safari enthusiasts there will certainly be luxury lodges and the South Luangwa is certainly no exception. Chinzombo in the South Luangwa is probably the most luxurious of all, and really one of the most luxurious lodges in all of Africa. The modern and quirky design is bound to win anyone over, as is its dramatic location on the river, which is often full of elephants and other wildlife species. The South Luangwa is only open from April to November, as it is just too wet the rest of the year, but the game viewing during these months is so exceptional that many of the luxury lodges become fully booked over a year in advance. Luangwa River Lodge, Tena Tena and any of The Bushcamp Company camps are other fantastic lodge options especially for those that don't want to break the bank when booking a big cat safari.
Rose Hipwood is Managing Director of The Luxury Safari Company.
If you would like to be a guest blogger on A Luxury Travel Blog in order to raise your profile, please contact us.