Are you looking forward to Summer? Whether your plan is to simply relax on the beach or add a few new essentials to your wardrobe, we have a treat in store for you with our latest luxury fashion round-up. Including everything from swimming trunks to ice cream inspired footwear (yes, you read that right!), we hope you'll love our top 10 Summer shortlist.
Kroobeach swim shorts from Diesel
Stand out from the crowd and make a statement with these red Kroobeach swim shorts from Diesel. With an all-over large Diesel logo print in white and a Velcro and silver metal Diesel logo button fly, they come with a metallic grey internal drawsting fastening and six belt loops on the waistband. They also feature a five pocket design with two pockets at the sides of the waist and a small coin pocket within the right waist pocket which holds the signature woven Diesel logo patch in white, navy and red, plus two pouch pockets on the reverse.
Mint chocolate chip G9 Shadow 6 from Saucony
If you're a runner, chances are you're already familiar with Saucony but did you know that they've now released their Saucony G9 Shadow 6 in 'mint chocolate chip'. What could be more perfect for the Summer than that?! The upper part of the shoe comes in a combination of mint green and black whilst the chocolate chip is denoted by black speckles on the white midsole. To complete the look, it even comes complete with waffle cone designed box, just to remind you it's Summer.
This short sleeve shirt from ibex comes with the new Weightless Wool fabric – an innovative yarn with a nylon core that is wrapped in Australian Merino wool to give a lightweight performance fabric that naturally out performs all-synthetic sport layers. The W2 Sport T feels soft, resists odor and performs with the versatility of wool so you can concentrate on wherever sport takes you this Summer – perfect for those warmer days of aerobic work or as a layer to add warmth if it's cold out.
A straw hat is an essential accessory in Summer and this one from The Krooples is no exception. The fact that it keeps the sun off your face and out of your eyes comes as an added bonus. Playing on the contrast between the straw and the leather band, it's an ideal item for a look that is both chic and casual. It is available in two colours: natural beige and timeless black.
Alligatorfish quick dry swimming trunks by BOSS
This pair of swim trunks by BOSS have contrast details and come in a quick dry-fabric. The contrast waistband, contrast trim at the zipper pockets and a contrast back pocket complement webbed side-inserts with woven BOSS logos. A zip fly and lace-up front closure finishes the look that'll keep you looking the part this Summer.
pampeano is an authentic luxury brand with a rich heritage of Argentine craftsmanship and contemporary British design. All of pampeano's products use only premium-grade, butter-soft, vegetable tanned Argentine leather and the highest quality, vibrant saddlery threads. Each pampeano polo belt has been skilfully made in Argentina by true artisans, each one taking four to five hours to hand craft and weave, creating a product that will last for many years and will only improve with age. As they are all made by hand, it means no two will ever be quite the same, each one telling its own story, making them as individual as the people who wear them.
Gordon sage check short sleeve shirt from Todd Snyder
Crafted with a tab collar and designed for a modern fit, each of the pieces in Todd Snyder's short sleeve collection is constructed with the finest sourced cotton available and this Gordon sage check shirt is no exception. It is made for a handmade feel that's perfect for the office on those hot Summer days, yet equally versatile that you can wear it at the pub when you call in for a nicely-chilled pint at the end of a busy day.
Artisan leather flip flops from John Varvatos
Looking for something that will keep your feet well-aired on the most stifling of days but need something a little more luxurious than a cheap pair of flip flops? These flip flops from John Varvatos are made in Italy and perfect for keeping your feet cool on the warmest of days. Their weathered leather construction elevates this handsome footwear to another level of Summer casual.
Make a bold style statement on the beach with these sleek swim shorts from Etro. Defined Paisley motifs cascade across a tonal blue base, adding structure with intricate detailing. The drawstring waist adapts to your silhouette ensuring a stylish fit without compromising on comfort. A navy blue polo shirt will finish the look off in style, showing an appreciation for Italian design without becoming too overpowering.
Voyager sunglasses from Taylor Morris
At the heart and soul of these Voyager sunglasses is travel and exploration. With so much outstanding natural beauty in the world yet to be discovered, Taylor Morris have designed this pair to cover the entire area of the human eye and fitted them with polarized lenses to ensure not even the smallest detail is missed. The unisex Voyager comes with a double bridge and metal frame encased in Mazzucchelli acetate giving each pair the sturdiness needed for any great adventure and the beauty to match it.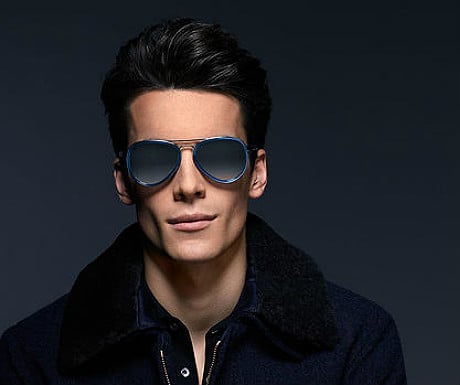 Our luxury fashion round-ups are published quarterly. Do you work in the luxury fashion industry and have an item you'd like to see feature next time around? If so, make sure you sign up on this mailing list in order to receive an alert when we are compiling the next one.