Paddling across a beautiful clear blue lake surrounded by spectacular mountain scenery with the sun on your back has to be one of the best feelings in the world. When you get too hot, you just jump into the cool water and then jump back in and continue your journey exploring the coves and admiring the scenery. The Southern French Alps is better known for it's white water rapids, rafting and kayaking but it is also home to two spectacular lakes which are lake kayaking paradise.
The Serre Poncon Lake
The largest artificial lake in Western Europe, the Serre Poncon lake is like an inland freshwater sea. With its beautiful turquoise waters, 80km of shoreline, natural creeks and coves and stunning mountain backdrop, it is perfect for kayaking.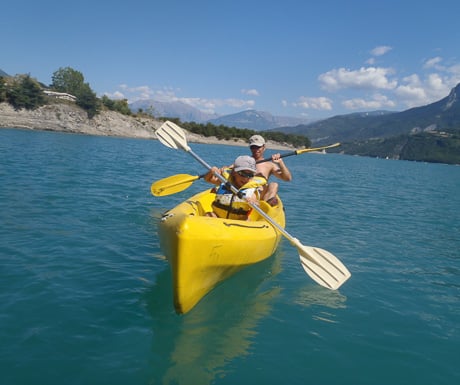 There are a number of bays dotted along it's shoreline, most of which hire out sit on top kayaks. Our favourite is the Baie de St Michel which is a popular lake beach with a range of activities as well as kayaking. The bay gets it's name from the famous Chapelle de St Michel, which perches above the water line on a little island in the bay, a reminder of the history of the lake before the dam was built. It is one of the most photographed sites in the area.
After 5 minutes paddling from the bay, you turn the corner and are suddenly in a secret labyrinth of seemingly undiscovered shoreline just crying out to be explored – a veritable 'Swallows and Amazons' experience in the Alps.
The Lac du Sautet
Further north up the route Napoleon, is the Lac du Sautet, another dammed lake with deep blue water and dramatic mountain views. It is smaller than the Serre Poncon lake, slightly less commercialised and quieter and it is possible to kayak across the whole lake in half a day.
At one end there is a gorge which winds itself through amazing cliffs showing off their geological history with impressive folded strata and strange rock formations. Let your imagination run wild and you are kayaking past fairy castles and elf kingdoms.
If you get right to the end of the lake, you can discover one of it's sources, the river Souloise, which comes from the second biggest natural spring in France, the Gillardes.
Very different to the Serre Poncon lake, but an equally magical lake kayaking experience.
Sally Guillaume is Director at Undiscovered Alps.
If you would like to be a guest blogger on A Luxury Travel Blog in order to raise your profile, please contact us.