The seaside town of Weymouth has one of the best weather records in the UK with low rainfall and over 1,800 sunshine hours per year, so when the opportunity arose for our sons to take part in a national sailing competition there, we of course jumped at the opportunity. We stayed at Seasides, a self-catering townhouse property run by Dream Cottages, Dorset's largest holiday cottage agency, which was conveniently sandwiched between the perfect arc of Weymouth Bay with its golden sandy beach at the front and the town's harbour to the rear.
View from the front:
View from the rear:
This beautiful five storey Georgian townhouse has been awarded five stars by Visit England and is extremely well appointed. It enjoys an elongated open plan living room, kitchen and dining area on the ground floor, running from the front to the back of the house, with beautiful bay windows at each end, perfect for watching the world go by.
The kitchen is particularly well-equipped with Bosch induction hob, double oven, large fridge freezer, microwave and dishwasher. Whilst you have all the pans, crockery and utensils you need for a self-catering stay, you are also in the heart of the action should you wish to eat out, with restaurants close by including The Stable which we found to be great for a quick pizza, yet only a very short stroll away.
As you may have already glimpsed from the lounge, the decor on the ground floor has a very British feel about it, should the good weather ever mislead you into thinking you are not in Blighty! The long dining table offers ample seating even if the property is fully occupied, with one side offering seating in the form of a long bench that looks to be a pew salvaged from a former chuch with space for hymn books at the back.
Also at the rear here is valuable secure private parking; although a parking permit is provided in addition to this, street parking is hard to come by in the height season so this is an absolute god-send.
Downstairs there is a kids' play room with table football, board games and Nintendo Wii (complete with Wii Fit, dance mat, guitars and a host of games).
There's also a boiler room (perfect for hanging wet gear to dry if you are here for watersports as we were) and a utility room with washing machine, dryer, ironing board and iron.  Of course, you probably won't be wanting to use this if you are on holiday but it's re-assuring to have it should you need.
There is free broadband Wi-Fi in the house with the main router in the games room and repeaters on each floor. We found it worked best on the ground floor and in the basement which suited us just fine.
Sleeping up to 13 people, the property has six tastefully-decorated bedrooms – mostly double or twin, but with one that sleeps 3 people, and almost all en suite. This makes it ideal for those travelling with extended family, or two or three families travelling together, or perhaps even suited to a group of couples. Here's a selection of photographs to give you a feel for what to expect:
Although the property is very well positioned, close to the town centre and with the beach and harbour quite literally on the doorstep, we also found it to be very tranquil, possibly helped by the fact that there is original Georgian secondary glazing featured in some of the rooms.
Being based in Weymouth also meant we were well located to attend the sailing event at the Weymouth and Portland National Sailing Academy we'd come for, but first off our youngest (who wasn't at first going to be taking part in the sailing) tried his hand at windsurfing at The Official Test Centre just next door. This proved to be a great place to learn – lessons are given in small groups and for younger ones they have 1.5-metre sails which are more manageable.
This was my son's first time but, under the watchful guidance of Otis, he was up and running in no time!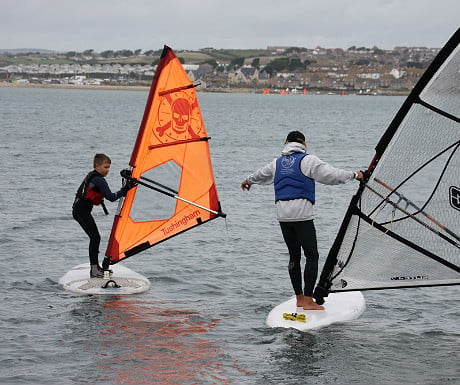 With our youngest son able to get his watersports fix, it was next the turn for our eldest to take part in his sailing event – the RS Tera Nationals, held over three days.
Sadly, as it turned out, he fell ill and was too unwell to compete, which was a real shame as we'd travelled a long way and he'd been really looking forward to it!
On the upside, we discovered that our youngest – who wasn't quite ready for the main fleet – could instead take part in a Regatta fleet.  We hadn't realised this, but essentially it was a fleet geared more towards beginners.  Here he is competing (centre); with the adminstration of a late entry sorted, he went from thinking he wasn't going to be able to compete at all, to ending up with a very creditable 10th place overall!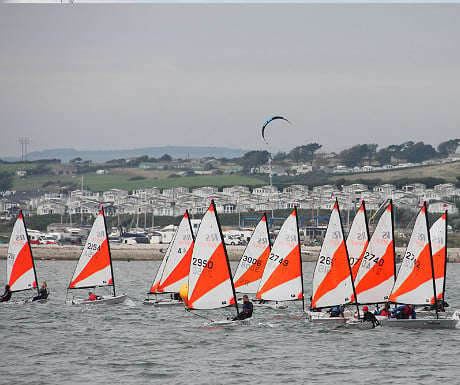 With our time largely taken up with this event, we were unable to explore Weymouth as much as we would have liked.  On our next visit, we'll have to make time to see some of the area's many delights of which there are many: Chesil Beach, Nothe Fort, Weymouth Sea Life Adventure Park & Tower, the Jurassic Skyline, Portland Castle and Portland Bill are all on the list!
Our visit co-incided with a Bank Holiday and, I assume it's not a permanent fixture, but there was a fairground in town throughout our stay. We had a prime view of the dodgems from the bedrooms at the front!
There is a running joke in our family that wherever we go, they put on some fireworks for us.  It seems to happen alarmingly often and, on our last night, Weymouth didn't let us down with a spectacular display, reflected in the bay, that we were able to watch from the comfort of Seasides.
This was a fitting end to our stay – the property had been an ideal base for us, giving us the freedom, privacy and independence to come and go as we please, and finished and appointed to the high standards that the luxury self-catering option has become renowned for.
This post is sponsored by Dream Cottages.