The otherworldly scenery of Halong Bay has inspired many a traveller to visit Vietnam. With its towering limestone pinnacles looming out of the morning mist, Chinese-style junk boats crossing to and fro between them, it is a landscape that seems to belong more in ancient legend than in guidebooks and brochures.
The best way to experience Halong Bay is, of course, by boat. There is a wide variety of cruise options to choose from, ranging from one-day to several-day, and from low-budget to the height of luxury. The problem isn't finding them – it's deciding which to choose. Luckily, we can help!
How do I get there?
You will most likely approach Halong Bay from Hanoi, a journey that can take three to four hours by road depending on traffic. If you prefer to make an entrance, a much more dramatic way to travel to Halong Bay is by the new seaplane service, introduced in 2014. The Cessna Grand Caravan seaplane whisks you from the capital to the coast in no time (30 minutes, to be exact), and the ride can be extended to encompass a flight over the bay itself – allowing you to grasp the sheer scale of the landscape below.
Choosing a cruise length
Day cruises
For those who are strapped for time, a day trip to Halong from Hanoi is just about feasible. With a three- to four-hour drive each way and just half a day of cruising, this isn't our favourite choice – but it does provide a good introduction to the region. For a better day trip and more time on the water, spend the night in Halong City beforehand and rise early for a full day of cruising.
One-night cruises
For most holidaymakers in Vietnam, a one-night cruise is the perfect choice. With a night onboard your vessel, you'll have time to relax and enjoy the atmosphere of the area, without eating into the rest of your trip too much. Overnight cruises usually begin around midday, with lunch served just as you set sail. You'll stop at a few places of interest in the afternoon, disembarking at floating villages, beaches and caves, before mooring for the night to enjoy dinner. The following morning, your cruise will return to port at around 11am.
Two-night cruises
A two-night cruise allows you to head further into the bay, leaving the bulk of the tourist crowds behind. In most cases, on your second day of cruising you will transfer into a smaller boat to visit some lesser-known corners of the bay – swimming, kayaking and exploring in peace, until you return to the main ship for the night. This is an excellent option for those with a little more time in Vietnam.
Three-night cruises
The Indochina Junk cruise company operate a three-night cruise for those who really want to slow the pace and discover the furthest corners of Halong Bay and neighbouring Bai Tu Long Bay. Our advice? If you're a cruise connoisseur or you've got oceans of time to spend, go for it!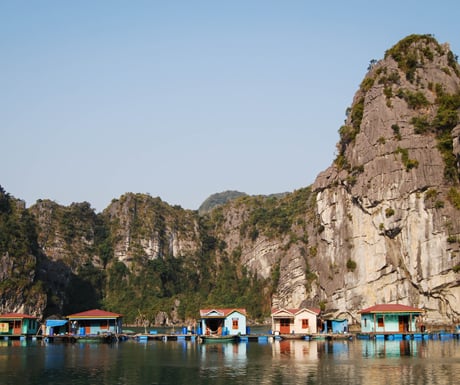 Choosing a ship
By decree of the Vietnamese government, all boats operating on Halong Bay are now painted white on the outside – so at first glance there may seem to be little to choose between them. Look a little closer, however, and there are actually a range of styles, sizes and standards.
Classic wooden junk boat
These Chinese-style vessels with their distinctive red sails are the most common boats on the bay, and have existed in a similar form since the 10th century. Many companies operate using this style of ship, and sizes range from single-cabin vessels (perfect for honeymooners) to much bigger craft with 20 cabins or more. The standard is variable, encompassing both comfortable mid-range and exclusive luxury vessels.
Traditional paddle steamer
For a taste of La France, look no further than European-style paddle steamer, The Emeraude. Owned by a descendent of one of the original Halong cruise operators, the forerunners of this steel-hulled vessel first glided across the bay carrying tourists in 1906. The cabins are slightly smaller than some other ships on the bay, but this is more than made up for by the atmosphere of colonial elegance and luxury.
Modern luxury vessel
There are only a few boats on the bay that don't mimic the style of the traditional junk, and the Au Co is one of them. Purpose-built for tourism, you'll find the cabins spacious, the décor elegant, and the standard luxurious. 30 out of the 32 cabins have private balconies, there is an onboard spa and Jacuzzi, and the modern design is complemented by traditional Asian touches – so you never forget you're in Vietnam.
What time of year should I travel?
Cruises continue through Halong Bay throughout the year, and each season has its pros and cons.
Winter (December to January)
Winter brings little rain – meaning less chance of disruption due to cancellation – and cool temperatures (15-20°C / 59-68°F). Bring a jacket, and don't anticipate much swimming! Beware: the weather has a tendency to be misty at this time of year, which can either be wonderfully atmospheric or completely obscure your view of the bay!
Spring (February to April)
Still dry, but beginning to warm up after winter – allowing for a bit of sunbathing and swimming. For many people this is the very best time to be out on the bay, but it also means that it can be awfully busy in the more popular spots.
Summer (May to August)
Summer is sweltering in the cities of mainland Vietnam, so a cruise on Halong Bay provides a very welcome respite to inland temperatures. The downside is that lots of other people will have had the same idea! There is also a lot of rain, but showers tend to be short and sharp; not enough to dampen spirits. Towards the end of the summer, there is a small risk that a typhoon or large storm could cause your cruise to be cancelled.
Autumn (September to November)
Although the storm risk continues into September and October, the autumn can be a wonderful time to visit Halong Bay due to pleasant temperatures and reduced rainfall. It is also relatively quiet at this time of year (as quiet as it ever is at Halong Bay, anyway), making for a more pleasant overall experience.
Alastair Donnelly is Director at InsideAsia Tours.
If you would like to be a guest blogger on A Luxury Travel Blog in order to raise your profile, please contact us.