Business class airline consolidators once ruled the skies. Today, they're getting farther and farther away in the rearview mirror, which may be a good thing for passengers faced with numerous complex airfare "deal" options when they fly. Back when many major airlines competed for passengers, airlines would sell large quantities of seats to companies in exchange for big discounts. Today, with fewer major carriers competing for customers, there is a much lesser need for airlines to sell their tickets wholesale to consolidators.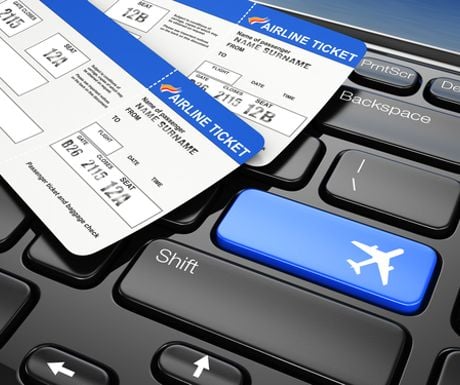 While many companies call themselves consolidators, in reality, most major airlines stopped their consolidation agreements nearly 10 years ago. So, what do these so-called consolidators consolidate today? In truth, not much. The Internet is filled with misinformation about consolidators and how they should be used for international business class cabin travel.
Here are 3 reasons why you might not want to consider using a consolidator on your next flight:
1. A "50% savings!" might not be a savings at all
Many so-called travel experts claim that consolidators can save a traveler 50 percent or more. In reality, there's no magic wand to slash fares by this amount.
Airlines have three layers of pricing; published fares, contract fares and blowout fares. Published fares are the prices you'll find on carriers' websites and tend to be the highest fares. Contract fares are given to agents and are discounted a certain percentage off the already inflated contract fare. Blowout fares are used as promotional ploys to entice travelers to fill up seats during off-peak seasons or historically low capacity flights.
The way these consolidators are able to make this claim is because their 50 percent discount is taken from the highest possible published fare price, which most reasonable passengers wouldn't consider paying unless their need was dire.
2. "Consolidated" deals are not ideal for flights booked far in advance
Business class fares for travel tomorrow between San Diego and London could start at $8,000 or more. If you must fly to London without any planning, a consolidator may help by slashing a last-minute fare in half from $8,000 to $4,000.
But how many international travelers fly business and really wait to the last minute to purchase? According to studies, fewer than 15 percent of people purchase flights fewer than seven days from their travel date. Since most people plan and purchase airfare months in advance, consolidators will likely cost them more money rather than less.
Advance purchase typically has little impact on international fares purchased through consolidators. Whether the San Diego to London example was purchased six months or six hours in advance, pricing through a consolidator will likely be unchanged. According to flight data reports, the 12-month low for business class fares between San Diego and London is $1,180 + taxes, based on a 28 day advance purchase. A leisure traveler planning a trip to London 6 months in advance could call 100 different "consolidators" but will never find the $1,180 fare. Why? At these low fare levels, an agent/consolidator has no margin for profit.
3. Consolidators may pressure you to jump the gun on a flight price too early
In a perfect world for the airlines, they would sell all their business seats for $8,000 or more. The reality is there are too few travelers willing to pay $8,000 or even $4,000 to fill all seats over all departure dates. So, just like any asset, airlines start the bidding for their business class seats high. A few anxious travelers may turn to a consolidator too early and overpay, but not enough to fill all departure dates. When carriers believe they've run out of price insensitive travelers, the real fun begins as fares can plummet up to 90 percent in a matter of minutes. Carriers make these fares available via their own website or any mainstream travel website (such as Orbitz or Expedia). Carriers don't promote or advertise these steep discounts. They just slash fares up to 90 percent, sell as many seats as they deem necessary, and then restore fares higher than they were before the fare cuts began.
Remember that agents, wholesalers and consolidators are all salespeople. They don't get paid until you buy. The name of their game is about creating pressure and a sense of urgency for you to part with your money before hanging up the phone. Unless you are traveling on short notice, there's rarely a need to call a consolidators.
Lars Condor is the Managing Director of Passport Premiere.
If you would like to be a guest blogger on A Luxury Travel Blog in order to raise your profile, please contact us.