With so many outstanding supercars on the road in 2015, it is hard to know which are the best bucket seats to add to your bucket list. We have debated this long and hard. Unsurprisingly there were plenty of incredible machines vying for the pole position; the iconic Ferrari LaFerrari, the incredible Porsche 911 GTS and the vintage Aston Martin V8 Vantage to name but a few, but with a tough criteria including general all-round awesomeness, power, speed, drivability and exclusivity, we are now able to present you with our ultimate top three supercars to drive before you die.
Lamborghini Aventador LP750-Superveloce Roadster
Unfortunately you'll have to wait for this one. Delivery begins in early 2016, but all the signs are that this recently unveiled Lamborghini is one of the best ever. It is also super rare, so make your reservations early!
The Aventador already takes its place up there as the 'best Lamborghini ever', but the recently unveiled Lamborghini Aventador LP750-Superveloce Roadster is one of those limited editions that sets even the most hardened motor-journalists' pulse racing. Some call it mean, some call it beautiful and most note that it is incredibly expensive, and although very few people have had the actual privilege of getting behind the wheel, it is certainly attracting a lot of attention. Lamborghini describe it as possessing the pure essence of the super sports car, combining emotional driving dynamics with an extraordinary open-air experience. The huge naturally aspirated 6.5 litre V12 engine produces 750 bhp at 8,400 rpm, makes 0-100km/h in 2.9 seconds and hits an astounding top-speed of 350 km/h.
With performance in mind, Lamborghini have favoured light-weight carbon fibre over luxurious trimmings, and the roof is a two-piece carbon fibre hard-top, which tucks away neatly into the luggage compartment to reward you with the incredible sound of that Lambo V12 engine. The seven-speed Independent Shifting Rod gearbox is much lighter and twice as fast as a conventional dual-clutch gearbox, and the all-wheel-drive system, suspension and dynamic steering make this one of the best handling supercars on the road. This is the first Lamborghini roadster to be awarded the Superveloce badge, and when you hit the road in a Lamborghini Aventador LP750-Superveloce, you'll understand why.
McLaren F1
This may seem like an obvious choice, but this incredible supercar really did set the standard for all supercars to come. The McLaren F1 took the motorcar world by storm when it first debuted in 1992, when the very idea a road-legal sports car that combines incredible handling with immense power was somewhat a revelation, and although production ended in 2000 the McLaren F1 is still up there with the best. The central driving position, the dihedral doors, the carbon fibre monocoque, the V12 engine and a top speed of 230 mph; everything about this incredible machine is impressive. Even today it seems like it has arrived from the future. But it isn't just looks and speed that make this luxury car so great; the McLaren F1 supercar was built with the driver in mind. F1's technical director Gordon Murray wanted to create a car you can trust, one that is a pleasure to drive and whose incredible power and speed do not mean forgoing reliability and ergonomics. Its technical spec is superb, with the 6.1L V12 BMW engine capable of producing 627 bhp at 7400rpm and 480lb-ft of torque at 5600 rpm, and it can more than compete with its newer rivals, with a lightening fast 0-60mph time of 3.2 seconds, and if you are brave enough, a top speed of 387km/h.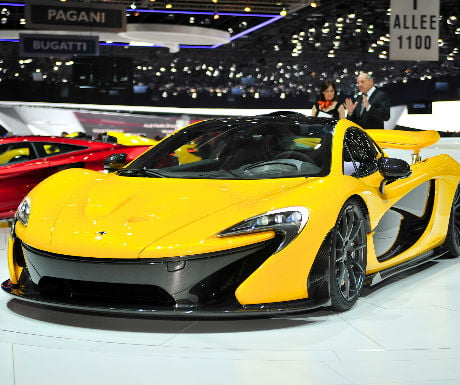 Bugatti Veyron Super Sport
Top Gear have named it 'Car of the Decade, the Guinness Book of Records have recognised it as the fastest street-legal production car in the world and now we have included it in our top three. The Bugatti Veyron Super Sport is an incredible vehicle. The 8.0L W16 engine produces 1,200 bhp, a maximum torque of 1,500 Nm and a top speed of 415 km/h. And it accelerates from 0 to 100 km/h in 2.5 seconds! This mid-engined 4-wheel drive hypercar has an unbelievable set of carbon-composite brakes, an outstanding seven-speed, dual clutch transmission and handling that is simply out of this world. In fact, the fastest car in the world drives much like a Bentley, with superb traction, grip and body control. To top it all off the Bugatti Veyron Super Sport is a stunningly beautiful marvel of engineering and boasts possibly the most exquisitely luxurious cabin ever built.
The price tag of over 1.6 million Euros makes the Bugatti Veyron Super Sport extremely expensive, but the fact that you don't have the budget of Roman Abramovich doesn't mean you won't ever have the chance to experience the incredible thrill of driving this supercar for yourself. In fact, this exotic hypercar is so rare, with only thirty Super Sports ever produced and each one custom made, that renting a Bugatti Veyron Super Sport is most drivers' best chance to get behind the wheel.
Laura Sides is a Director at Europe Luxury Car Hire.
If you would like to be a guest blogger on A Luxury Travel Blog in order to raise your profile, please contact us.