My latest 'tried and tested' review round-up is from two trips that I made back-to-back. First I went to Lisbon with Infiniti and became aquainted with the new Q30, before returning 'home' but only getting as far as a hotel at the airport because I was heading out to Dubai the next day to familiarise myself with the Jumeirah Group's latest online project with Google. The two trips were a great success and another opportunity to test some great merchandise, details of which you'll find below:
Craghoppers NosiLife Nemla short sleeved polo
Perfect for warmer climates, the NosiLife Nemla short sleeved polo from Craghoppers is a great alternative to a T-shirt – a little bit smarter, yet still casual, and importantly offering protection from UV rays.  This polo is available in blue, red and black. In Portugal especially this served me particularly well since it was a relatively informal gathering, yet I still needed to look presentable, and the garment is hard-wearing and does not crease easily. It is also quick-drying, not that I was caught out by showers in Lisbon or Dubai!
Sometimes you just can't get WiFi when you want it, and invariably it seems when you feel you most need it! Data roaming can be a prohibitively expensive option and changing SIM cards or phones a hassle. But don't worry – help is at hand!  Travel with the G2 from GlocalMe and you'll have access to local 3G and 4G networks at a fraction of the cost and with excellent stability and reliability. The device is very smart, of quality build, and the rates very reasonable – just €0.001 to €0.1 per MB. It also comes wtih a decent battery life of up to 15 hours – much better than most of the other similar devices I've encountered.
Lems men's Nine2five mocha shoes
The men's Nine2five mocha shoes from Lems are the perfect compromise between casual and smart. They are extremely lightweight and, despite being new, felt like a pair of shoes I'd worn for years, seemingly moulding around my foot from the moment I wore them. Billed as a '9 to 5' shoe, they remained comfortable despite wearing them all day long so allowed me to travel light, without the need to take multiple pairs of shoes. They are also available in black or a combined coffee and cream.
I've used equipment from Kanguru in the past and always been delighted, and this secure and fast USB 3.0 drive is no exception. For me, it's perfect for backing up photographs as I travel, small, robust and light enough to carry easily, but with good transfer speeds and a healthy capacity of 500GB, so an important gadget to give you added peace of mind. You can also manage it remotely through a subscription service and where this is particularly useful is that if you were to lose the drive, you could disable it remotely to prevent others gaining access – ideal for business travellers who might need to keep certain sensitive information secure. For those of you interested in the technical details, it is AES 256 Bit hardware encrypted in XTS mode.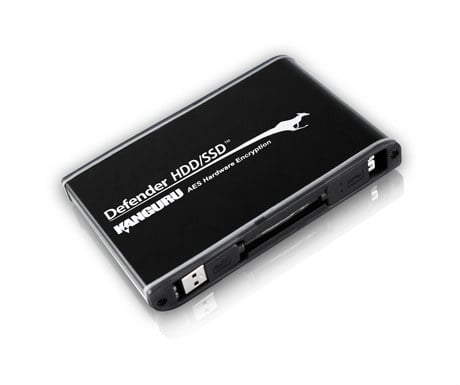 Craghoppers NosiLife stretch travel convertibles
Another winner from Craghoppers! The NosiLife stretch travel convertibles are really comfortable and versatile, and a comfortable alternative from restrictive jeans when flying in casual attire. Extremely lightweight, they come with a flexible waist and multiple pockets – perfect for keeping your passport and travel documents easily to hand. There are lots of useful details such as a detachable wipe for sunglasses and a security clip in the side pocket, so designed with travellers very much in mind. They would also come into their own when out walking, with the option to wear them as shorts or trousers and the transfer between the two being quick and painless.