If you have a long international flight, flying business class is one of the best ways to get proper rest and arrive more refreshed and less jet-lagged at your destination. Business class is of course not as luxurious as first class, so don't expect the attentive service, closing suite doors, onboard chef, and even onboard shower you can now find in some first class products. Business class is really all about the seat and bed, so that's what we'll focus on for these top three business class airline seats.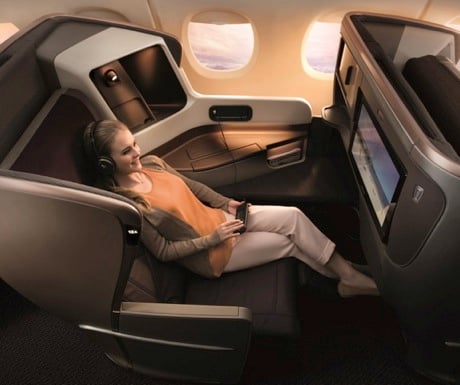 1. Japan Airlines Sky Suite Business Class, 777-300ER
JAL's Sky Suite Business Class is one of the best kept secrets when it comes to business class. Each of the suites offers unimpeded aisle access, so no awkward stepping or hopping over your neighbor. Window seats in particular offer incredible privacy as well as natural light, with 3 windows (most business window class seats have only two windows).
Most importantly, JAL Sky Suite Business Class offers the best sleep experience, with special memory foam-like airweave mattresses that make the bed more comfortable than many first class airline beds, or even many hotel beds.
Seats are 25.5 inches wide and 74 inches in length, so the downside is that passengers who are very tall or wide may feel somewhat cramped.
For those interested in the "soft product," I found JAL Business Class food good but not great, and service a bit hit and miss due to the quite full cabin. That said, it was easy to order food via the touch screen control, a nice feature. The entertainment screen is a 23-inch LCD monitor, large for business class.
2. Singapore Business Class, A380
Singapore Business Class is what you want to fly if you find even most business class seats too narrow, since Singapore Business Class offers the widest business class seats of any airline: 28-30 inches wide, 78 inches in length, with seats in a 1-2-1 configuration. On the A380, the entire upper deck is business class, which often makes for a quieter cabin.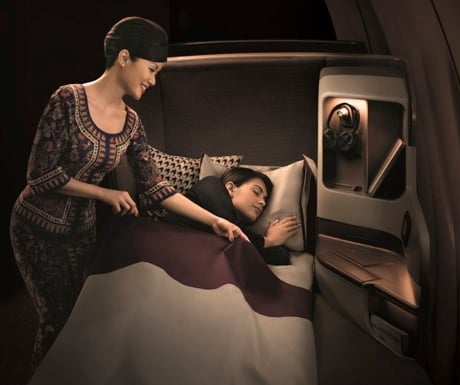 Another perk of flying Singapore Business Class is access to its Book the Cook preordered meal service, with a number of delicious Asian and Western choices, particularly out of the airline's Singapore hub. And Singapore Airlines flight attendants provide some of the most consistently excellent service of any airline, thanks to the airline's investment in staff recruitment and training.
3. EVA Air Royal Laurel Business Class, 777-300ER
EVA Air may not be on the tip of your tongue unless you've traveled to Taiwan, but this Taiwanese airline offers my third favorite business class, after JAL and Singapore Airlines. Make sure you're on a 777-300ER configured with Royal Laurel Business Class, the airline's newer business class product, since EVA's older Premium Laurel Business Class has angled flat seats.
Royal Laurel Business Class seats are 26 inches across and convert into full flat beds 78 inches in length, helpful for tall passengers, and the seats are more padded and comfortable in the bed position than many business class seats. Royal Laurel Business Class is in reverse herringbone 1-2-1 configuration, ideal for solo travelers, although couples traveling together, even in the two seats in the center that are angled towards each other, will feel a bit far apart.
Service is generally very good, relative to other business class products, and food is decent if you enjoy Chinese food, although not particularly memorable. A nice touch, however, is that pajamas are provided (a rarity in business class, with the exception of Qatar), in addition to slippers and a Rimowa amenity kit.
What's your favorite international business class airline seat?
Hilary Stockton is the CEO at TravelSort.
If you would like to be a guest blogger on A Luxury Travel Blog in order to raise your profile, please contact us.