By
Janice Nieder
on Apr 21, 2016 in
Accommodation
,
Attractions
,
Food and Drink
,
Going Out
,
Hotels
,
Jordan
,
Middle East
,
Regions
,
Resorts
,
Restaurants
,
Travel Miscellany
The best things in life often come in small packages… diamonds, chocolate truffles, and a luxury adventure trip to the country of Jordan, which is only about the size of Maine.  Yet this diminutive country packs a wallop with wonderfully diverse offerings ranging from ancient Roman ruins, awe-inspiring crusader castles, superbly preserved mosaics, vibrant cities filled with colorful souqs, tantalizing food, stunning desert landscapes dotted with Bedouin camps, and five-star Dead Sea resorts combined with the genuine warmth and hospitality of the locals, make Jordan an unforgettable luxury travel experience.
Here is my short list of not-to-be-missed sights and inside tips:
The capital city of Amman
Most likely you will fly into Amman, one of the oldest continuously inhabited cities in the world, originally built on seven hills. Often referred to as  "The White City" due to its gleaming white stone buildings, Amman is a captivating mash-up of old and new, where the haunting call to prayer is syncopated by beeping taxi horns. Your home base will be the perfectly situated, five-star Sheraton Amman Al Nabil Hotel and Towers, featuring a gym, indoor and outdoor pools, and spa, where massage treatments and a steam bath are available to help you unwind from the flight.
Inside tip: You'll definitely want to book a room on the Club Level here which offers a complimentary buffet breakfast, snacks, and happy hour.
Field trips: Start exploring the classical city ruins of Jerash, AKA the "Pompeii of the East", built over 2,000 years ago.  As you roam the ruins note the impressive Triumphal Arch, the Cardo colonnaded street (where if you look closely you'll see tracks from the chariot wheels worn into the original cobblestones) hilltop temples, and two theaters.
Inside Tip: Check online for tickets to RACE, a riveting live performance of the Roman Army and Chariot Race Experience held in the massive hippodrome.
Nearby is another remarkable ruin, Amman's Citadel, where you'll find the remains of the massive Temple of Hercules perched atop the city's highest hill. It was built between 162-166 AD. and was bigger than any temple in Rome!  Try not to trip over the gigantic marble hand, thought to be part of a humongous statue of Hercules.
Stomach growling? The perfect introduction to the joys of Jordanian food can be had at Sufra Restaurant. Order a multitude of hot and cold mezze (appetizers) for an explosion of flavors. Save room for their Arabic pistachio ice cream with halva.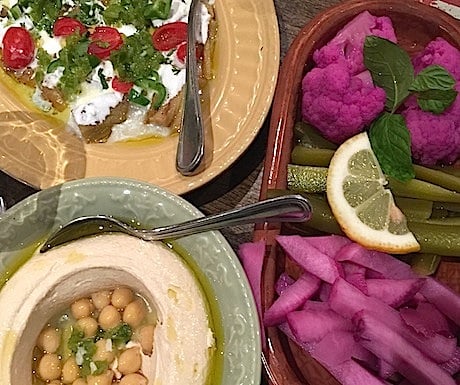 Inside tip: Amman's street food is immaculately clean and fresh, so take the time to nibble your way through Old Town. Two favorite stops are Hashem, legendary for their ethereal falafel, hummus, and fuul (fava bean) and Habibah Sweets, for their addictive kanafeh, the national dessert made of crispy shredded phyllo covering salty cheese, drizzled with hot sugar syrup and chopped pistachio nuts.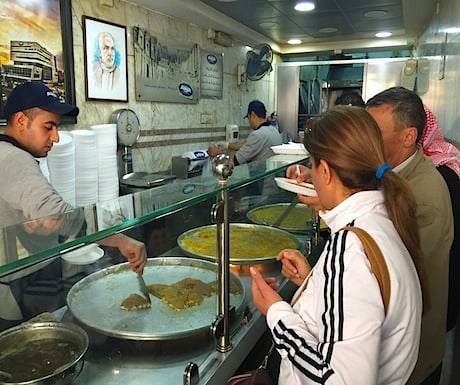 What a Wadi (dry valley)
For a healthy break from the city mayhem, drive to Feynan Eco Lodge, tucked away in the magical wilderness of Wadi Feynana, in the mountainous Dana Biosphere Reserve. Recognized as one of the best 25 eco-lodges in the world by National Geographic Traveler Magazine, this solar-powered 26-room lodge offers delectable vegetarian buffet meals.
The bread served at the lodge is supplied by Um Khalid, a local Bedouin mother of five who bakes the flatbread daily in a traditional half moon shaped oven. Sign up for the authentic Bedouin Experience, led by her son, where you'll spend time with her family, milking the goats, play with her children, or watching her make Bedouin ash bread. Join the family elder, her husband, for their time-honored coffee ceremony, when he painstakingly roasts coffee beans mixed with cardamom over the fire, while graciously answering our hundreds of questions, including what life is like with his two wives. He's currently in the market for a third!
Inside Tip: As a guest the proper etiquette is to drink three small cupfuls before shaking your cup in the air signifying that you've had enough.
After a tasty dinner at the lodge, we climbed the candlelit staircase for some impressive star-gazing on the roof top. A knowledgeable staffer guides you through a tour of the sky pointing out the various constellations. He even showed me how to take some very cool pics through the telescope.
Very important tip: They do not serve alcohol here so BYOB from Amman.
All roads (should) lead to Petra
Petra, one of the New Seven Wonders of the World is perhaps equally famous for its Treasury monument which was used in the final scenes of "Indiana Jones and the Last Crusade".  This stunning architectural masterpiece was carved from rose-hued sandstone by the Nabateans, an industrious Arab civilization, in the third century BC
Inside tip: arrive first thing in the morning and then wind your way down to the very end. Climb the 900 rock steps to behold the amazing hilltop Monastery, which you'll be able to enjoy relatively crowd-free, and then head back to the beginning.
Since it's easily an hour walk each way, you might want to hail a donkey, camel or horse and carriage for the ride back.
After a rewarding but physically demanding day, you'll be glad you're staying at Mövenpick Petra Resort, just steps from the main entrance. The hotel is tastefully decorated with Middle Eastern flair featuring traditional textiles, antiques, and colorful artwork. Other amenities include a wellness center with outdoor swimming pool, steam bath, gym, library, seven restaurants and bars, and a delightful rooftop terrace garden where you can take in the view over cocktails.
Inside Tip: Food options (outside of the Mövenpick ) in Petra are rather limited.  If you want scrumptious Jordanian food here, your best bet is to make it yourself! For a rollicking fun evening, sign up for a hands-on cooking class at Petra Kitchen, where a professional team of chefs will not only teach you some mad Jordanian cooking skills, but you'll also enjoy a fabulous multi-course meal.
Look ten years younger at the Dead Sea
End your trip at the luxurious Kempinski Hotel Ishtar, an oasis of tranquility. The resort is on the shores of the Dead Sea, the lowest point on earth, where you can easily while away the afternoon happily bobbing around on the buoyant, salty waters, stopping only to cover yourself (or ask one of the friendly staff to help you get those hard-to-reach spots) with the mineral-rich, therapeutic Dead Sea mud, guaranteed to restore your skin to baby-butt smoothness.  Wander the spacious grounds filled with flowering gardens, lagoons, olive trees, and nine swimming pools!
Before your flight home spring for a professional massage or wrap at their Ishtar Spa by Resense, the largest in the region. The spa is equipped with hot springs/mineral springs, a mud bath, a sauna, a steam room, and a hammam.
Inside tip: While the rooms are quite large and all come with a drop-Dead Sea view, this would be the spot to opt for beyond 5-Star treatment at one of the two secluded Ishtar Royal Villas. Both are styled-out in understated elegance with a private infinity pool, 24-hr butler service, a complimentary massage and a private beach.
Final inside tip: When I announced I was visiting Jordan, everyone from my mother to complete strangers, voiced their concerns for my safety. After my 10 day visit, I can honestly say that there was never a second where I felt remotely unsafe. The Jordanians welcomed us with extreme warmth, kindness, and generosity,  and invited us to return soon since we were now "family" and I, for one, will be taking them up on that offer!