Phuket has gone through many avatars: from a backpacking haven, to the starting point for two of the luxury hotel world's most significant names, to the current cacophony of low-end, mid-range, luxury, and every little niche in between. Phuket, once considered a paradise, now appears to be an overcrowded mass of people and concrete structures with ugly facades. And yet, it still remains a popular destination for tourists worldwide. There is a selection of resorts that still offers Phuket's promise of paradise. These are Phuket's best.
It is a testament to the excellence of Amanpuri – a resort that opened in 1988 and celebrates its 28th birthday this year – that it is still up for consideration for the island's premier resort. Like a fine wine, the eponymous and very first Aman resort has aged beautifully over time. The mix of traditional Thai architecture and understated luxury providing ample space, along with the resort's envious location, set within a coconut plantation and fronting pristine Pansea Beach, offers arguably Phuket's most secluded experience. Even if you find yourself staying at one of the resort's sprawling 2-9 bedroom private villas with multiple pools and aren't enticed to leave, the lure of the common spaces, from the main pool with its 27-metre midnight-black tiling surrounded by harmonious Thai-inspired architecture and rising coconut palms, to Pansea Beach's soft, golden sand, is just too much to resist.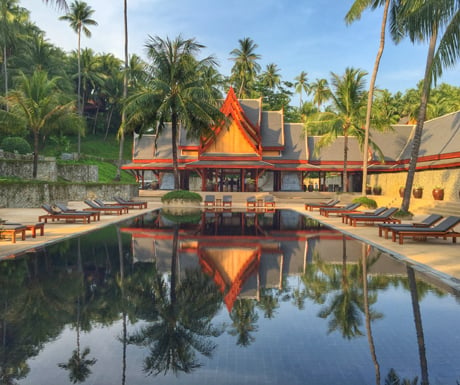 Founded and set-up by Amanpuri's first General Manager, Anthony Lark, Trisara takes Phuket's promise to contemporary heights. Set within a verdant national park, there are Thai elements in Trisara's architecture, most obvious in the roofs that dot the lush grounds. But it is the contemporary touches here in each villa that elevate the resort: every suite, villa and residential villa comes with an extensive ocean view and a private pool, with some suites and villas enjoying a 10-metre long private infinity pool that looks to extend into the ocean. The resort is very much set up for maximizing time in your room, with large bedrooms and spa-inspired bathrooms and ample living space both inside and on the private deck that the pool occupies.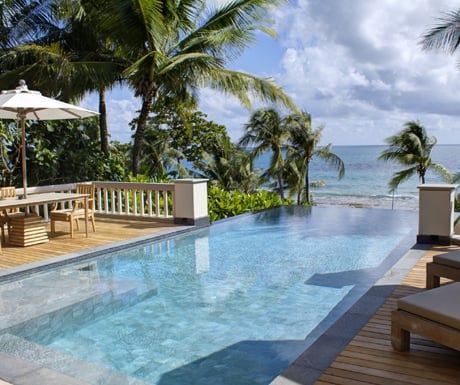 Read our review of Trisara here.
Drawing inspiration from much of Phuket's legendary resorts, Andara offers a range of accommodation from terrace suites, to private pool suites with partial ocean views, to fully-staffed expansive private residential villas high up the hillside that offer some of Phuket's best views from peaceful Kamala. While the resort mirrors much of Phuket's top luxury resorts in architecture, design, interiors, down to the lengthy midnight-black tiled lap-pool, it is the dining here which is exemplary. Award-winning SILK offers some of Phuket's best Thai cuisine – influenced from both the southern and northern ends of Thailand – at very reasonable prices.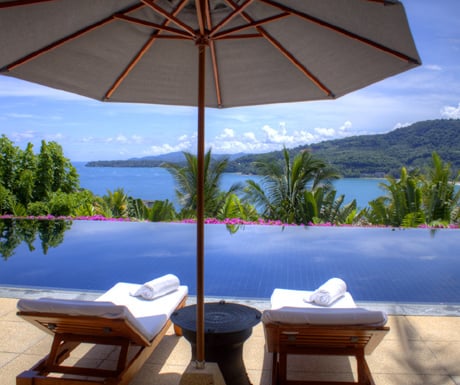 Read our review of Andara Resort & Villas here.
Six Senses Yao Noi is a throwback to Phuket's origins, with a rustic experience on the eastern shores of Koh Yao Noi, an island about 15 kilometres east of Phuket. The resort's location allows for stunning views of Phang Nga Bay and its limestone karsts, which dart out dramatically from the sea. The light woods and simple 'barefoot luxury' style found within the villas is reminiscent of a treehouse and plays upon childhood memories, and the resort's eco-chic nature is harmonious with its stunning surrounds. At Six Senses Yao Noi, the focus is outdoor living, with an outdoor cinema fronted by a beach, a watersports centre replete with an outdoor muay thai ring, and dining venues that allow for natural air flow.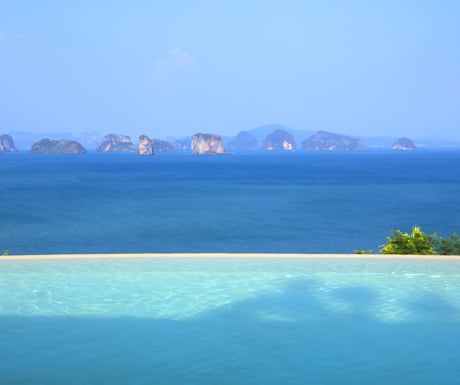 Malibu meets Phuket at this unique amalgamation of a resort. Set on the south-eastern tip of the island, unlike the other resorts on this list which draw heavily from Thai influences and cater to a quieter crowd, Sri Panwa sees a typically younger and more fashionable crowd gathering around at its renowned dining and sunset drink venues such as Baba's Nest. Offering more of a social scene than the other resorts on the list, Sri Panwa combines elements of elegant Thai structures with a refined Hollywood buzz in its common areas. Offering a vibrant atmosphere with its dining venues and public spaces, privacy is never compromised, and those seeking utter solitude and seclusion can still find it in Sri Panwa's beautifully designed villas.
Chinmoy Lad is the CEO and Founder of The Suite Life.
If you would like to be a guest blogger on A Luxury Travel Blog in order to raise your profile, please contact us.