By
Olivier Templar-James
on Jun 02, 2016 in
Attractions
,
Europe
,
Food and Drink
,
Going Out
,
Leisure Travel
,
Portugal
,
Regions
,
Restaurants
,
Speciality Travel
,
Travel Miscellany
,
Western Europe
Madeira is a really beautiful island and apart from its beautiful sights, a fascinating thing about it is the contrast in the weather. The northern and southern parts are different, with the north being more humid and it is also possible to travel from the sunny coast to mountain peaks donned in snow in the same day. Madeira has a temperate climate with average temperatures, making it a top choice for English tourists as well as tourists from all over the world. The influence of the warm gulf current also has an effect on the sea water which has an average temperature of 18º in the winter 22ºC in the summer.
For a first time visitor to Madeira, there are so many places to visit, that you may not be able to cover them in a short visit, unless you are planning a long stay. However, we will examine the top five things that you must do in Madeira in order to have a balanced and truly satisfactory experience of the island.
1. Visit the old Funchal city
There is something to be had for every category of luxury traveller in Funchal, no matter your tastes. The seafront promenade is a great place to start and you can make your way up to Monte, a mountain village. The amazing view of the city as you go up preferably in a cable car) is simply breathtaking; the rooftops intertwine with your view of the various cruise liners in the harbor to present you with a really photographic view.
The population is made up of largely Roman Catholics and the presence of many old churches bear witness to this fact. The church at Monte is said to host the final resting place of the last Roman Emperor Habsburg. The chapel is said to have been built by the first set of twins born on the island, who were named Adam and Eve. Having a good guide who is knowledgeable about the local folklores will make the experience more fun and rewarding.
There are also various restaurants in funchal where you get to have a taste of the local cuisine and also interact with the townsfolk. There are also places to purchase art and crafts which will serve as mementos of your visit.
2. Enjoy the Monte Palace tropical garden in Funchal
The Monte Palace Tropical Garden is an exquisite garden built into the mountains and occupies about 70000 square meters. The garden has a wide array of exotic plants, trees, and shrubs from all over the world. It also has a central lake populated by swans and ducks which are truly majestic in their appearance. In addition to being one of the most beautiful gardens in the world, the Monte Palace also has a museum which houses a unique collection of minerals from all over the world as well as sculptures. The minerals are used in the museum's exhibition titled "Mother Nature's Secrets" and the collection consists of minerals from South Africa, Portugal, Zambia, Peru, North America, Brazil and Argentina. There are over 1000 minerals in the collection and they are beautifully displayed for visitors to enjoy.
The Monte Palace Tropical Garden also houses a large collection of tile panels from the 15th and 16th century. They are truly interesting and will be fascinating for any lover of nature and architecture.
3. Have a nice dinner at Il Gallo D'Oro
The Il Gallo D'Oro, inside the top five stars Cliff Bay hotel, is the only restaurant with a Michelin star on the island of Madeira. It is known for using locally sourced ingredients to produce amazing meals at the directive of Chef Benoît Sinthon who has been in charge since 2004. The restaurant has a welcoming ambience and the décor presents you with a perfect blend of modern and conservative taste. The restaurant has a wide variety of wines that are carefully selected according to the meals being served. The service is known to be of a high quality and the sophisticated surroundings make you feel like you are in a highly rated establishment. Going by the reviews of various patrons, every second spent in the Il Gallo D'oro is very rewarding and it is a great place for you to visit.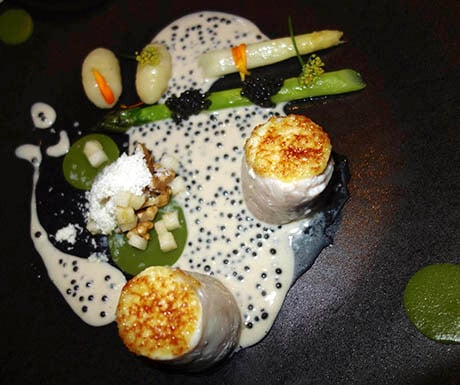 4. Do a jeep safari tour
In order to discover the dramatic beauty of the west coast, you have to take a jeep safari tour with certified guides like those of Green Devil Safari. As you progress in your journey, you will notice the changing scenery accompanied by a change in the types of flowers growing along the way. It is really beautiful.
In order to have a very comfortable tour, it is best that you book a tour with Green Devil private guide in a Land Rover with good air conditioning or you can go with a more comfortable 4×4 vehicle with air conditioning. Over all, you must be accompanied by a seasoned guide that will take you through the sights at your own pace.
The Cabo Girão is located in the southern part of the Island and it is one of the World's highest cliffs, at 580fts above sea level.  It is currently a favorite starting point for people who love to hike. While standing at the top of this cliff, one is presented with a view of the horizon above the Atlantic Ocean and it also serves as a lookout point, and sightings of sperm whales have been reported from this vantage position.
Another place to visit is São Vicente, a lovely village known for its underground caves and lava channels. The lava cakes were formed from a volcanic eruption that occurred over 400,000 years ago and having a specialist in the history as your guide, will make the tour more educating and fun. São Vicente also has churches and chapels, and notable among them in a church built in the 17th century and dedicated to Saint Vincent.
São Vicente is fast becoming a destination for surfers because of its pebble beach and excellent weather.
Your comprehensive tour should include a stop at the natural volcanic swimming pools in Porto Moniz, which are concealed by volcanic rocks beneath the cliffs along the shore and are a favorite destination for tourists in summer. Visitors can also enjoy the sunbathing facilities as well as the restaurant Sea View inside Hotel Aqua Natura for fresh fish of the day and an amazing sea view around in Porto Moniz.
For an opportunity to sight whales, you can schedule your travels to take place between March and September, when sperm whales are often sighted and November and March when the pilot whales are usually seen. Overall, Porto Moniz is a great place to relax and also have fun alone or with your family.
5. Play golf at Porto Santo Island
The sandy beaches of Porto Island have been dubbed the "The deserted Islands". However, this does not mean there are no people; as a matter of fact the Island has a golf course that has hosted many champions. The Porto Santo Golf Course is very challenging with its 18 holes, 72 pars over 6,434 meters making it ideal for a long game and also lessons in taking precision shots. Any true lover of golf must make a stop here and play a game.
Olivier Templar-James is Chief Editor at Luxury Travelers Guide.
If you would like to be a guest blogger on A Luxury Travel Blog in order to raise your profile, please contact us.