The Dolomites are celebrated for their supreme natural beauty, but under their peaks lie many luxurious activities and assets to behold. The ancient traditions of the valleys remain and converge with the modern architecture and new ideas of the towns and cities. Known as the most impressive mountains in the world, but also for their hospitality, delicious food, sports and diverse wellness spas.
The Castle of Style
Named after it's founder, Franz Kraler, this is considered  to be one of the most beautiful stores in the world and the largest luxury multi-brand store in Europe. An architectural gem, it is one of South Tyrol's best kept secrets. A modern castle made of steel, wood and glass, surrounded by green meadows and the imposing peaks of the Dolomites. This unique and exclusive shopping mecca houses more than 200 international brands and is an important institution in the world of high fashion. A wide variety of articles from clothing and shoes to the very best in precious handbags. A shopping experience for women, men and kids, a place for everyone. Actually, it is a female shopaholic's heaven: a nursery to take care of the little ones, a reading room and bar to entertain that impatient husband and even an area for your precious pet. A relaxing shopping occasion not to be missed.
A star in the Dolomites
This Michelin starred restaurant is exclusive in its architecture as in its excellent array of dishes and wines. The Tilia Restaurant is located in a glass cube set in the gardens of an historical hotel now cultural centre, surrounded by the woods and summits of these enchanting mountains. This crystal room is not very large and allows for only five but spacious tables, therefore ensuring personal and professional service and care. Let yourself be inspired by the daily recommendations and you will be pleasantly surprised. The chef uses only the best products and his dishes are a work of art. And let us not forget the important wine list which offers an excellent selection of only the best.
Bliss and relaxation
For a day of sheer bliss and relaxation there is no better place than the spa of the Patzenfeld Mountain Resort. This is a hotel, restaurant, spa and one of the best caravan parks in Europe. The spa area is a haven of harmony and serenity,promoting wellbeing, relaxation and balance, in the tranquil yet imposing surroundings. The spa is divided into three very large areas; an indoor pool, a grandiose sauna area and the various treatment rooms. The indoor pool is a truly magical environment completely covered in rock and stone with a large fireplace in the centre of this grotto. On a cold and snowy day when this fire is lit and you are swimming in the warm water and looking out at the spectacular scenery it is truly a magical experience. The sauna area is now under construction and on reopening will be one of the best this area has to offer.
The treatments attainable are exceptional and carried out by silent and professional staff. The massages make use of fragrances, oils and sounds of this Alpine world and leave one with a profound sense of wellbeing and motivation. The relaxing ambience, majestic setting and particular massages all combine to make this a truly memorable experience.
Higher than high
Looking down on the silver rock formations of these UNESCO wonders is seeing them from a completely different perspective than normally admiring them from below.The use of helicopters in the Dolomites is authorized in limited and well-defined areas so this adventure is truly exclusive and precious. In winter you can ski to a far-off mountain hut, have an invigorating and delicious lunch, warm up with a grappa or two and then hitch a ride on a helicopter back to your starting point. In summer  you can admire the emerald green pastures, the turquoise mountain lakes and the snow-capped summits of this magnificent alpine panorama.
Natural skyscrapers
The Three Peaks of Lavaredo or Tre Cime are the symbol of the Italian Dolomites and the most important natural experience in Italy. These three giants represent the best known scene in the Dolomites and are the most photographed mountains in Italy. They can be visited from all sides via easy hikes or more strenuous climbs, passing mountain lakes and wild flowers sprouting out of the rocky terrain.Being an important focal point during WW1, there are a number of fortifications, trenches and man-made caves that can still be visited. Not only is this an awe-inspiring landmark but is is also an open air museum. Acclaimed as one of the most spectacular walks in Italy it is definitely one of the place to see before you die.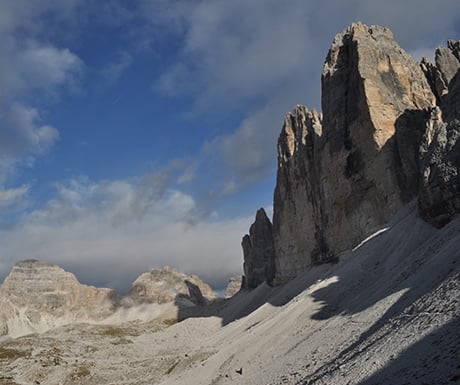 Anna Moggia is Owner of Boutique Hotel Zenana.
If you would like to be a guest blogger on A Luxury Travel Blog in order to raise your profile, please contact us.