A luxury yacht holiday can be described in one word…..blissful! Picture it…..sailing on open waters, freedom and isolation from the rest of the world, chartering into inaccessible or unspoilt territories, and all with the added comfort of luxurious surroundings, state of the art facilities, and a team of experienced, professional and attentive staff to service your every need. In fact the levels of service and cuisines offered on today's luxury super yachts surpass that of the world's best six star hotels and Michelin star restaurants, delivered in a way that is 100% personalised to you.
Unlike a typical holiday experience where you decide where you want to go and you simply book, there are various factors to review and decide upon. To get the best out of your sailing holiday it's best to consider the following points to ensure you enjoy a truly hassle free and sublime luxury yacht experience.
Where do you want to sail?
The finest luxury yachts are moored at specific points and locations at specific times, so the charterer needs to still travel to them. Once the location is decided then it's best to have a list of requirements ready which can be matched to the ideal yacht available that best meets your needs. Sailing in certain parts of the world may be seasonal and weather-specific which may affect your preferred time and location of travel. Also, it's important to consider the legality of sailing which may affect your location as you're restricted in choice of yachts in specific destinations, with only a certain number of yachts allowed to sail at one time or only registered to certain waters. This sometimes also affects tax levied on your charter, depending on where you are chartering.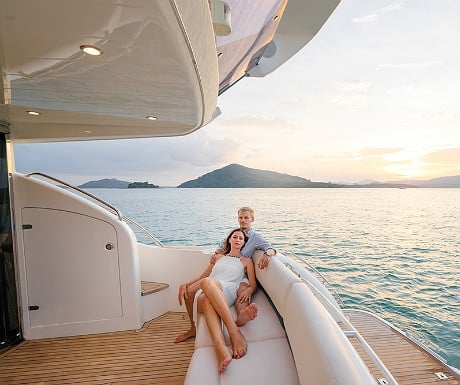 What's your yacht preference?
What kind of yacht holiday would you prefer? You can charter a sailing yacht for a more natural and authentic 'under sail' experience. For those who prefer a more luxurious yacht experience, motorised yachts provide more space (pretty much a floating hotel with all the amenities you'd expect), and also are more child friendly… although there are still plenty of grown up toys such as submarines and jet skis to enjoy. However both sailing and motor yachts offer an equally exhilarating experience, if required.
What is your ideal yacht experience?
The flexibility of a yacht holiday is that you can experience one of two lifestyles. Firstly you can use the yacht as a way to access to hidden, otherwise inaccessible gems on islands such as Greece, Sardinia or the British Virgin Islands. This is ideal if you prefer to sail and cruise at long distances, relax in the middle of the ocean and use as a base to interact with locals or hop to beach to beach. This private affair allows you to truly get away from it all and stay away from the crowds.
Secondly is for the more stylish and fashionable conscious traveller, who enjoys the vibrant cosmopolitan scenes but from afar as they dip into the glitz of French Riveria, Ibiza or Mykonos, using the luxuries of the floating hotel but meanwhile accessing all the beaches, restaurants and nightclubs in the stylish ports.
Who is your ideal crew?
How many crew members would you like on the boat with you? In a confined space, this might be worth factoring this into your requirements. Do you require them to speak a certain language based on your guests? Is a certain type of chef or cuisine required or a certain skill set which is necessary such as childcare or diving instruction? Like all good teams, the quality of crew is defined by the character, leadership and expertise of the captain. Always ask your agent or broker for the crew profiles of any yacht you're interested in chartering as well as references from previous charterers of that yacht. A good agent or broker should always be able to provide these.
What is your budget?
Yachting is an experience but also a lavish one so it's best to be mindful of what costs are required. As well as the original charter fee of the yacht, there is an additional amount required called the APA – Advanced Passenger Allowance – which is an additional 30% on top of the fee. This is intended to cover the cost of food, drinks, fuel, berthing fees, tax and crew gratuities. The crew will keep a running total and you may receive a refund of monies not spent, but depending on your location and tastes for fine food and wine, you may need to top this up throughout your charter.
Yachting is indeed a luxurious and costly affair, but of course totally worth it, offering the most personalised luxurious holiday experience it is possible to have in some of the most spectacular locations in the world.
With so many options to consider, it's best to speak to your knowledgeable luxury travel agent who can answer your questions quickly and efficiently, make honest and impartial recommendations so you can make the most out of this truly magnificent holiday experience.
Images: Shutterstock
Diana Cherry is Director of Operations at Oxford Private Travel.
If you would like to be a guest blogger on A Luxury Travel Blog in order to raise your profile, please contact us.