The moment has come. For the first time ever in South America, the whole world will meet. The XXXI Olympic Games will be in Rio, Brazil in August, 2016. The marvelous city has been getting ready for this amazing event and is prepared with lots of new attractions, beautiful renovations, and new facilities and amenities to pamper its visitors. We have carefully selected the best 5-star, luxury hotels to make sure you enjoy the charming city of Rio with peace-of-mind and comfort.
A historical icon on Copacabana Beach, Belmond Copacabana Palace is a stunning and elegant facility known for being one of the most luxurious hotels in Rio de Janeiro. With impeccable, royal service and top amenities, this hotel offers comfort and class. This grand hotel was designed by French architect Joseph Gire, who was inspired by the Hotel Carlton and Hotel Negresco. The Copacabana Palace has been an architectural landmark since its opening  in 1923. Top amenities include three gourmet restaurants, ocean views, pool service, and beach service. In addition to their reliable service and classic luxury, this hotel typically accommodates dignitaries, celebrities, and politicians. During special events the hotel builds a bridge over the street to connect to Copacabana beach. The bridge often connects celebrities from the hotel, directly to their stages on the beach. With Olympic events across the street on Copacabana beach, the location of Belmond Copacabana Palace is top.
2. Santa Teresa MGallery by Sofitel
A rustic chic hotel perched on a Rio hillside, the Santa Teresa hotel is full of culture and luxury. Adorned with indigenous art and historical handicrafts, and set among luscious, green patios, gardens and terraces, the hotel artfully combines modern, indigenous style, and nature, to create an atmosphere full of conscious sophistication. Once a neo-colonial mansion on a coffee plantation, this hotel is one of the few hotels that has carefully gone through a restoration process and has received a government trust for its historic preservation in Rio. In addition to its historical preservation initiative, the hotel serves its community through local social initiatives, which guests are invited to visit and take part in. This hotel settled amidst the hillside of Rio, overlooking Guanabara Bay, and offering glimpses of the Corcovado statue, offers expansive, personalized rooms, thematic suites, and balconies with panoramic views. Many celebrities have stayed at Santa Teresa to take advantage of the great escape from the bustle of the beaches, and to indulge in the stunning views of Rio. With the breathtaking views, cultural and historical design, top service, and unique hotel amenities like its contemporary cuisine, blue slated pool, and extensive spa menu, this boutique hotel, with only 43 rooms, ensures guests will rest and relax in peace and comfort during the Olympic games.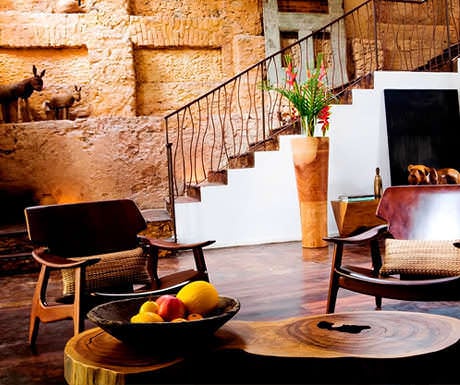 Located oceanfront, across from Copacabana, the Miramar Hotel is known for its stunning views and contemporary style. Miramar's beauty often inspired Tom Jobim and Vinicios de Moraes, the founders of Bossa Nova, who met here to play and compose. The hotel features 200 rooms, stunning ocean views, and is also known for its dazzling rooftop terrace. The rooftop fitness centre and infinity pool with rooftop bar offer marvelous views of Copacabana beach, perfect for relaxation and a chic evening by the pool. Additional hotel amenities include a butler service, beach service, and opportunities to enjoy the spa at Windsor Atlantica. This innovative hotel is also the only pet-friendly hotel in the city of Rio de Janeiro! At the hotel's fine dining restaurant, restaurant Sá, guests indulge in both contemporary Brazilian and international cuisine. Head chef, Paulo Góes, artfully masters mouthwatering Brazilian delicacies with European-inspired dishes. Miramar Hotel is the perfect hotel to stay during the Olympics to experience brilliant quality service, modern luxury, and to be amidst the energy of the games, through its convenient location.
Situated in the heart of Ipanema, Fasano Rio is a contemporary and luxurious hotel right on the beach. This hotel is a member of "The Leading Small Hotels of the World." Its design was imagined by Philippe Starck and décor inspired by Sérgio Rodrigues, creating an elegant 50's and 60's ambience. Fasano Rio is a go-to hotel for Rio's most demanding guests. The hotel is acclaimed for its wooden, glass, and marble accents combined with breathtaking views and hip and luxurious facilities. Accommodating all, each of the 89 rooms in this hotel have balconies, and 45 of those have ocean views. This hotel is considered a prime place to meet enjoy the live music in the lobby lounge or enjoy a delicious dish at 'Fasano al Mare', Rogério Fasano's restaurant featuring traditional Italian seafood. The rooftop of the hotel boasts a private leisure area for guests with an infinity pool, a steam sauna, and a fitness center and beautiful views of Ipanema beach. The private beach area on Ipanema beach, posh environment, and attentive service, make this stylish hotel a top spot to party and meet other people from around the world during the Olympics.
5. Caesar Park Rio de Janeiro Ipanema
The Caesar Park Rio de Janeiro Ipanema is highly acclaimed for its ideal location in the affluent areas of Ipanema and Leblon. Perfectly situated across from the world famous Ipanema Beach, conveniently only 35 minutes from the international airport, and incredibly close to all of Rio's major sights, this 5-star hotel, is the ideal selection to maximize your time at the Olympics in Rio. A member of The Leading Hotels of the World, Caesar Park offers impeccable attention to its 221 rooms with 24 hour room service. Hotel amenities include a fitness center, sauna, massage room, and rooftop pool with panoramic views of the beach. Guests can enjoy French and Brazilian cuisine is available in the hotel's restaurants or international cocktails by the pool. Beach service and bicycles are also available upon request. This hotel's sophisticated environment, convenience, and attention to service creates additional touches of luxury and relaxation to make a stay during the Olympics easy and rejuvenating.
Luiz Alegre Silva is the Founder at See You in Brazil.
If you would like to be a guest blogger on A Luxury Travel Blog in order to raise your profile, please contact us.