An emerging travel destination, the highlands of Ecuador offer horseback riding for spirited travelers who seek special travel experiences – ones with magnificent colonial haciendas, jaw-dropping vistas, contact with authentic highland cowhands, and some of the gentlest horses you'll ever find.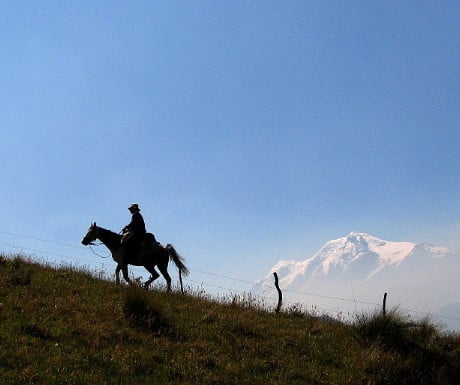 Mounted on horseback, your journey will take you through pristine highland valleys surrounded by imposing mountains. As you make your way around mountain-top lakes bathed in green, you'll pass snowcapped volcanoes and are likely to see ancient pre-Incan earth mounds, waterfalls and strikingly dramatic views beneath the clouds – and sometimes even above them!
The Ecuadorian Andes provide limitless opportunities for horseback riding. Here, we have identified five horseback-riding ranches that you can consider when traveling to Ecuador or passing through the mainland on your way to the Galapagos Islands:
1. Green Horse Ranch
Just 25 miles north of Quito, the Green Horse Ranch is located in a scenic 34-square-kilometer area at the bottom of the inactive Pululahua volcanic crater, which is one of only two inhabited volcanic calderas in the world and the only one farmed by its inhabitants. The ranch itself, considered one of the best in South America, has been in existence for more than 20 years and specializes in trail and adventure rides throughout the western Andes. What's more, all of these trips are custom-designed based on the experience and interest of each rider. Green Horse Ranch offers one- to eight-day trips that venture into the heart of the Ecuadorian Andes, passing through many of the country's most beautiful and biologically diverse areas.
On the ranch's one-day tour, you'll have an opportunity to discover this exciting landscape on horseback, riding to the furthest corners of the crater while passing deep gorges, rushing mountain streams and tropical mountain forests. The longer multi-day tours will take you on fascinating rides in the surrounding Andes. The tough little mountain horses you'll ride have been bred in this area, so they're perfectly suited to the terrain. These horses are all friendly, easy-going, sure-footed, and have plenty of stamina, while all of the tours are led by an experienced multilingual guide. The trails you can ride are appropriate for beginners while still challenging and interesting enough for experienced riders.
Green Horse also offers an optional visit to the equatorial line to experience the "Middle of the World City," where at latitude 0º 0' 0," you'll be able to straddle the earth's two hemispheres – a great photo op!
2. Hacienda el Porvenir
From Ecuador's capital city of Quito, several volcanoes are visible. One such mountain is the snow-capped Cotopaxi Volcano, which is also one of the largest active volcanoes in the world, reaching 5,900 meters (3-2/3 miles) into the sky! For horseback riding, Cotopaxi's foothills are excellent for experiencing the dramatic landscapes, deep blue skies, and crisp, rarified air of the high Andes.
And this is exactly what you will find at the Porvenir Hacienda. The ranch's riding tours are wonderful opportunities to get a taste the life of an Ecuadorian chagra ("cowhand"), which will provide you unique cultural insight into the skills and customs of these Andean range riders. These tours have been designed for travelers who want to experience the Ecuadorian countryside up close and personal – a way that can only be achieved on horseback.
From the saddle, you will enjoy the breathtakingly beautiful landscapes of Ecuador's central Andes as you ride with experienced equestrians. These real-life cattle-herders will share their age-old skills, expertise and secrets in handling the horses on these expeditions. This not only gives participants the chance to learn the basic skills required for becoming a chagra, but it also provides an opportunity to profoundly reconnect with nature, taking in awe-inspiring panoramic views of Andean volcanoes, summits and valleys.
3. Hacienda San Agustin de Callo
Just an hour and a half south of Quito, this ranch too is in Cotopaxi National Park, where you'll find an abundance of local flora and wildlife, crystalline streams, and Inca ruins. The horseback riding at this authentic colonial-style hacienda, is suitable for inexperienced and experienced riders like. You'll learn how to saddle your horse (using a western saddle) and outfit yourself in traditional Andean gear (woolen ponchos or ruanas, and animal skin chaps or zamarros). Wearing this typical attire of a chagra (an Andean cowhand), the following day you will begin a 4-hour horseback ride across the foothills of Rumiñahui Volcano. While saddled up, your local guides will share their knowledge of medicinal plants seen along the way. While hiking and riding in the paramo grasslands, you're likely to encounter villagers herding their animals as their ancestors have done for centuries, in addition to lagoons dotted with birds, a glacier and the looming peaks of the valley's string of summits.
One of the favorite horse rides takes you towards the Cotopaxi through a pine forest to plains just below the volcano with magnificent views of the surrounding mountains. For special occasions, you might order an exquisite treat with canopy, table, hors-d'oeuvres, champagne or wine and then a pleasant nap somewhere in the magical Andes.
4. Hacienda Zuleta
Hacienda Zuleta is an historic Ecuadorian hacienda that lies in the spectacular Andean mountain range two hours north of Quito and minutes from the famous indigenous handicrafts-market town of Otavalo. As horses have been a vital part of this hacienda's history and traditions, it comes as no surprise that the hacienda is synonymous with high quality horses and great riding. Many of the hacienda's guests come specifically to Zuleta for one of its three- to ten-day riding programs that are suitable for all levels. Beginners can be taken out on experienced mounts to explore the immediately surrounding area, while more experienced riders can head out farther into the valleys and communities of Zuleta, or up into the paramo grasslands highlands beyond. If you're a competent rider, you may even be invited to help herd in the cattle before breakfast!
As this is a mountainous area, in some places the terrain calls for a steady pace. However, there are still plenty of chances for lively canters in the valleys and across the wide green pastures. Various riding trails radiate from the hacienda in numerous directions, which means that you can ride out into the surrounding valleys for a glimpse of rural life, or challenge yourself with a day ride up into the mountains. There, lakes, snow-capped peaks, waterfalls and dramatic views await to be to discovered.
The hacienda was the first to bring purebred horses to Ecuador, starting with Quarter Horses and Thoroughbreds, though it later changed to Andalusians in the early 1960's. The Zuleteño is a combination of those three breeds and known for its qualities as a very noble, gentle and versatile horse with the perfect disposition for trail riding.
Depending on the weather conditions, the hacienda offers 15 different tours. All excursions are accompanied by a local guide, although an English-speaking guide is always available. All-day rides include a fine and luxurious, three-course picnic featuring the gourmet cuisine of Ecuador.
5. Hacienda La Alegria Horse Ranch
Just an hour south of the historic colonial city of Quito, Hacienda La Alegria is a 135-hectare organic dairy farm and ranch that is family-run farm. The ranch is situated in the heart of Ecuador's "Avenue of the Volcanoes," a spectacular valley where you can find eight of the country's ten highest summits. The 100-year-old ranch is positioned on the lower slopes of Corazon Volcan (4,788 m), where from its garden you can enjoy breathtaking views across the valley to the extinct Ruminahui (4,712 m), Pasochoa (4,250 m) and Atacazo (4,463 m) volcanoes. Also, in the distance you can usually make out the cone of the mighty Cotopaxi, at 5,897 m the highest active volcano in the world.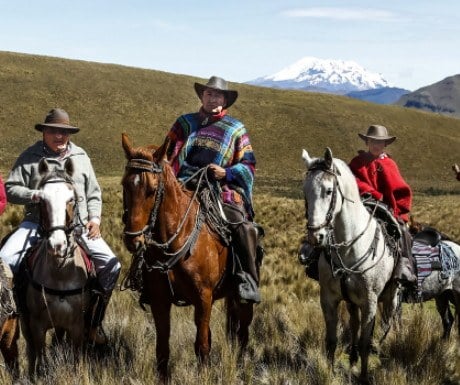 Riding and horses is at the core of everything at La Alegria. Its multi-day trips of cattle round ups, rodeos, a chagra parade, and volcano rides will allow you to spend up to 13 days riding through high mountain passes, cloud forests and the paramo grasslands of the Andes on a truly magical experience in one of the most breath-taking locations on earth.
The horses have been bred on the ranch from mainly mixed "criollo" (native South American stock), English Thoroughbred and Arabian breeds, resulting in a near perfect combination "mountain sense," toughness, agility and a calm even temperament. Novices and experienced riders alike have found these steeds easy to ride, willing to cooperate and good mannered. If you have previous riding experience you will be given plenty of chances for lively canters.
Alfonso Tandazo is President and CEO at Surtrek Tour Operator.
If you would like to be a guest blogger on A Luxury Travel Blog in order to raise your profile, please contact us.