Malta, one of the smallest countries in the world, is a real paradise, as implied in its name derived from the original Phoenician word, "Maleth," which means "a heaven". The Greeks also used to call it "Melite" which means "honey-sweet" due to the production of a unique type of honey on the Island.
Malta's mild climate and peacefulness has made it a small secluded spot in the Mediterranean sea, an island concealed by layers and layers of history spanning from antiquity to modern times. Its riches have made it a target of interest for all who have come to know of it. It has been included in much of European history from original Phoenician settlers, the influence of Greek and Roman rulers, the legacy of the Arab and Muslim era, the adventures of the Normans and the Knights of St John, the short Napoleonic period to the period of British rule which included its heroic role in WWII.
Malta is located 60 miles from Sicily between Italy in the north and Tunisia and Libya in the south. An enigmatic island surrounded by fresh sea water, it has acted as a bridge between civilisations touched by various conquerors over centuries. Europeans, Africans and Arabs have left their mark in one way or another in Malta by forming a unique cultural amalgamation. The mix of cultures is evident in the manifestation of social habits and its evolution over time.
The town of Sliema in the heart of Malta used to be a small fishing village. Today in the modern day Malta, Sliema is one of the major tourist attractions with many quality hotels, restaurants and shops. There are 9 reasons to stay in Sliema.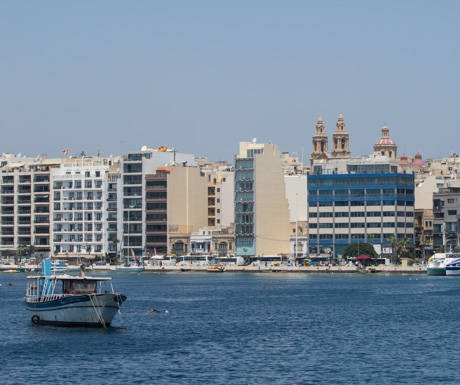 The picturesque view of Valletta
It is a pleasantly hot summer in July and I sit having my lunch at the Terrace restaurant beside the edge of Sliema harbor. The restaurant is opposite my hotel, the Fortina Spa Resort, which has incredible views over the city of Valletta and St Paul's church. It is a picturesque setting of forfeited city walls in yellowish limestone with tall buildings and town houses in the background. The beauty and grandeur of the architecture engages the eyes of even the coldest observer.
Sliema Harbour
I notice a small cave and a crowded rocky beach to my left, filled with people, some jumping from a small cliff, some swimming and snorkeling in clear seawater and, further away, I can see small taxi boats passing criss-crossing the wakes of passenger ferries. In the distance, I can hear very loud music from a Turkish gullet boat packed with people. On my right hand there is a large fleet of boats of every conveivable size, all moored in a harbour, which extends and stretches across the villages of Gzira, Msida, Ta Xbieta, Pieta and continues as far as Florina and Valletta. Sliema harbour is the main hub for ferry transport and all cruises around the island as well as tours to Gozo and Camino. Captain Morgan and Hera Cruises run tours during the day and in the evening. The harbour is a starting point for night cruises and party boats such as Lazy Pirate. It is also a terminal for local buses and the main station for sightseeing tour buses to go around the north and south of the island.
Shopping
The Point, Malta's biggest shopping mall, is just two minutes away, right behind the Fortina hotel. Across the mall there is Tigne Point Bridge where you can view Valletta. Like so many other cities nowadays, there are padlocks on the bridge to signify a romantic tradition of locking them on railings and throwing the key in the water, wishing love will last forever between a couple.
As I walk across the harbour, I see many more shops and restaurants along the Strand (Tariq Ix-Xatt). They include cafes and some well-known European brands such as M&S, BHS, Topman and Mothercare. It resembles the shopping streets of London with the classical red telephone boxes on street corners. As I reach St. Anne Square opposite the ferry terminal, I notice the trendy and hilly streets of Torri and Bisazza with more boutiques and designer outlets, which take me to the coastline of Sliema in a long stretch leading towards St Julian.
Village life
The small fishing village of Sliema which, in Maltese means peace, became a very popular tourist destination in the last thirty or so years. The urban environment is mixed with traditional Victorian town houses, mansions and stylish villas decked with beautiful stone and wooden balconies in inner streets. But the high rise apartments and hotels built along the seashore are the new face of Malta, attracting holidaymakers from all over the world.
The hilly streets of the old villages of Sliema and Gziera have been planned in a precise manner with cross sections which, in some places, join five or six streets. There are many grocery and confectionary shops in smaller streets, which generate more interactions among the local community and helps keep traditions alive. The presence of a church in every village is a centre point in gathering locals together.
Nearby nightlife
Nearby Paceville, to the west of Sliema and St. Julian's, is the most popular district in Malta for entertainment and nightlife. St Julian's bay, which used to be a small fishing village, has turned into another major tourist attraction, populated with bars, restaurants and clubs.
Wellness
Our personal therapeutic Spa bedroom in Fortina is a unique concept in Europe designed to keep us in the hotel like a magnet to relax and unwind and forget about all the buzz around the island. I wanted to stay all day in the hotel, use all the facilities in Sante SPA of Fortina and our private SPA and enjoy the choice of six international restaurants that we had access to. But I was there to explore the island and had to go out to fullfil my curiosity and learn about its fascinating history.
Harbour cruises
A two-hour harbour cruise around Valletta is a good starting point to undertake a short history lesson and get a glimpse of Malta's past. The excursion by Captain Morgan Cruises took us around Marsamxett and the Grand Harbours. The commentator pointed out the historical sites, forts and ramparts and explained briefly the backgrounds and stories as the boat sailed smoothly. The highlights of the tour were also passing by the village of Msida and to have a quick view of the famous three cities of Cospicua, Senglea and Vittoriosa. One of the interesting stories is about the Knights of St. John and the great siege of Valletta in 1565 by the forces of the Ottoman Empire. Another story was about Malta's strategic position, which led to the siege of 1940-42 and heavy bombardment by Italian and German forces against Britain and allied forces.
Bus tours
The red Hop On/Hop off one-day tour buses are another exciting way to go around the island to get a glimpse of the towns and villages and historical landmarks. Personally, I felt that the bus driver was driving too fast and it was also hard to hear the recorded commentary. It is not easy taking pictures on the move but, after all, this is one way to see a lot of the sights in a short time.
Diving
Before I left Sliema, away from my enjoyable time there, to experience historical Valletta, I decided to go diving in the warm Maltese water. I had to do it as a beginner because I have not scuba dived for over 20 years. Close to my hotel I found Diveshack (www.divemalta.com); a long-standing dive centre, which offers diving courses and adventure dives for all levels and ages, which is delivered by experienced qualified divers.
After watching a video and going through some general instructions, I did my first dive just opposite Diveshak in Qui-Si-Sana Seafront. We walked through a rocky beach in full gear before entering one of the naturally made pools on the seashore.Joolz, my instructor, went through some basic techniques, before we departed the pool and dived into open waters. I slowly descended down to four metres and continued down getting to six metres to discover underwater flora and fauna. As I smoothly floated on crystal-clear waters, I kept my eye out for for marine life and eventually saw a queue of small fish speed pass me as they sought cover under the patches of vegetation. An hour of diving passed so quickly without me even noticing the passage of time. My second dive in the afternoon was at a popular diving site called Maori next to Valletta where you'll find the WWII wreck of HMS Maori.
HMS Maori was a destoyer sank by German aircrafts in 1942. She was part of a fleet defending strategic Island of Malta while it was at moorings in the shore of Valletta.
I dived at a depth of 14 meters to see the wreck in close proximity of Grand Harbour. Although the weather was very nice, the visibility was obstructive and not as good as my previous dive due to cloudy water. It was an interesting moment when we reached the historical site and dived around a huge metal structure. The marine life covered the wreck , but I could recognise the bow of the ship. I dived across Maori and couls see fishes swimming through holes and passages.
Just a taster!
I only had a small taste of Malta during my stay in Sliema. My next adventure is to stay in Phoenicia Hotel, a historical building built as the country's first luxury hotel in 1947 and which is next to the gates of the city of Valletta. I will be there to experience the Malta Jazz Festival which takes place in July every year. I love to learn more about the Maltese culture and traditions and wish to discover its history from a different angle and in more depth.