Travel mate, let's play! Where to this autumn? Let me recommend one Mediterranean destination, three sunny sister islands under a blue sky and surrounded by azure waters. Interested? Read on, and let me convince you…
Grand Maltese masterpiece
Positioned at the crossroads of Europe, Africa and the Middle East, lies the seven-island Maltese archipelago. We selected the three main inhabited islands, Malta, Gozo and Comino. Come with us on a weeklong hop, skip and jump exploration of tranquil seaports and ancient fishing villages. Marvel at magnificent city profiles, sea- and skyscapes, and experience some historic heritage and architectural grandeur. Enough churches to see one on every day of the year? Be prepared!
"Challenging, interesting and diverse", is quite an understatement. The Maltese language Malti, a mixture of Sicilian/Italian, French, English, and some old Semitic Arabic, is the challenging part. However, out of courtesy, just learn to say and recognise the basics: "Hey Friend!", "Hello", "Goodbye", "Thank you", and of course,  "How much?". Online linguanaut phrases with pronunciation are available. With English, body language and some gesticulation, you'll get along fine.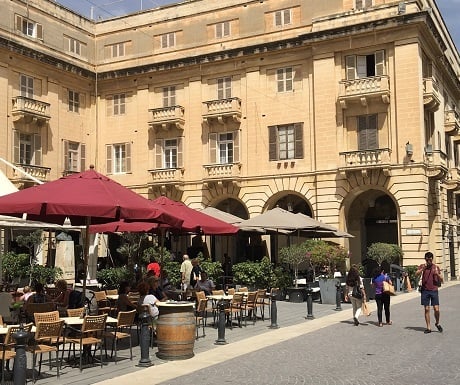 So, join me for a large dose of this energizing relaxation, mixed with a good portion of cultural and natural treasures in Malta's Valetta, Victoria (Gozo) and Comino. For more extensive exploration of Maltese towns, one should naturally set aside more time. But let's concentrate on which mosaic cubes we did manage to piece together for our "Grand Maltese Masterpiece", all glued together with boundless enthusiasm.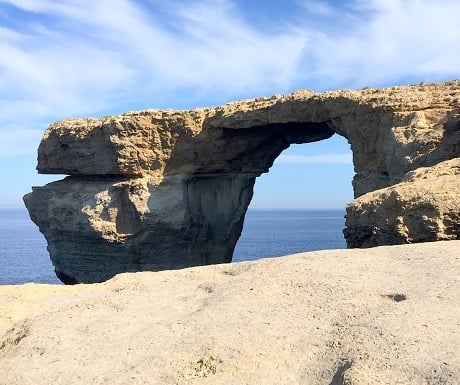 Naturally we did our digital homework; we have chosen a mild shoulder season and rented our luxury villa for ten days on Gozo Island. Be it by boat, bus or car, these three Maltese islands lie open and waiting to be explored and admired.
Let us now create our own mosaic impressions and hop-skip-jump to the three islands.
Hop to Malta
Hop to Valetta, the elegant fortified seaport capital of Malta, bounded by two harbours. This tiny citadel has a remarkable rich history of the Knights of Malta. The red-on-white octagonal pointed Maltese Cross of the Order of St John represents countries that had contributed to Malta's origin (to make a very loooong story short: Auvergne, Provence, France, Aragon, Castille, Portugal, Italy, Germany, England GB!).
Board a bus, or simply stroll around the grid of streets to discover diverse architectural buildings, Roman style villas and flower balconies, lively street scenes, buzzing markets, boutique shops and interesting local activities.
We owed it to ourselves to snack and relax for a while at the San Anton Gardens which surround Malta's presidential palace. A cornucopia of local cuisine awaits you at a host of restaurants along the waterfront promenade and in-town fresh-produce markets.
The imposing domed 16th Century Cathedral of St John's Co, has an unimaginably magnificent interior that is even more awe-inspiring than the exterior. Gruesomely captivating is Caravaggio's painting "The Beheading of St John the Baptist".
The immense Grand Master's Palace nearby, hosts art and armour treasures of the famed Knights of Malta, and from the Barrakka Gardens we viewed gorgeous panoramic harbour views. From Sliema harbour we could choose from a variety of harbour cruisers, which eagerly vied for our attention.
Senglea (i.e. the first historic harbour island town of the Knights, L-Isla), Vittoriosa and Cospicua are ancient suburb towns around Valetta. Marsaxlokk, a fishing village with a Sunday market for fresh fish, authentic Maltese cuisine and traditional souvenirs, came highly recommended. Here we leisurely lunched on Mediterranean style salad, foot-long prawns(!) and fresh sea bass.
A UNESCO listed World Heritage Archaeological Site which can be visited if underground labyrinth exploration is your passion or curiosity, is the prehistoric Neolithic cult vaults, the Hal Saflieni Hypogeum.
Skip to Gozo
On the other hand, Gozo, the "joy" island, is the most idyllic get-away destination, accessible by a 25-minute ferry ride. Buses and boats are all reachable within walking distance. Just get on, and go!
Here on Gozo we had previously selected and booked a luxury villa with pool and views galore. The ocean sunset especially entranced us on languid evenings (or was it perhaps due to too much cactus liqueur?).
We were totally captivated by the pristine beaches, bays with magnificent geological rock formations, like the much photographed Blue Hole and Azure Window. Rare red sand dunes can be seen at the Blue Flag-awarded beach Ramla L-Hamra.
All this first impression beauty is set against a pastoral natural landscape and bustling seaside activities at the foot of the smaller capital, Victoria (named after the well-known former British Queen). Further inland, many country trails to ancient villages, countless churches and megalithic Ggantija Temples (3500 BC) await the keen hiker-cum-explorer.
Have you had enough sun and feeling culturally famished or guilty? Then visit the old Citadel in Ir-Rabat (also named Victoria) and choose from the variety of baroque cathedrals and churches named after each and every saint one can think of. One is more stunning than the other: domes, marble columns, ceiling paintings and gilded interior. Forgive me for not being able to distinguish this one, from that; it was "all lost in translation" for me.
Jump to Comino
Care for a change of pace? Accessible by boat and water taxi lies the small peaceful island and wildlife sanctuary, Comino (cumin herb), mostly visited as day trip by swimming, snorkelling and scuba diving enthusiasts. Exploration of coves, caves and creeks are popular activities. Comino's Blue Lagoon, nature's perfect swimming pool with crystal clear water, is perfect for water sports in all its forms.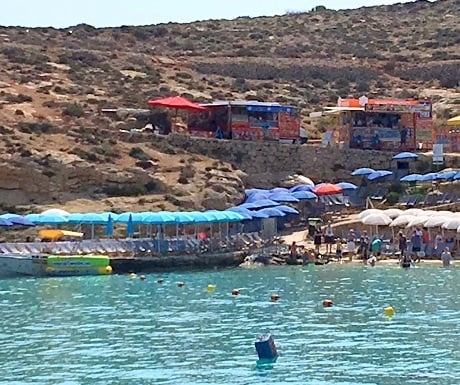 At another spot, boats can take you into the Blue Grotto (Wied iz-Zurrieq) where one is allowed to scuba dive. The Dingli Cliffs offer unsurpassable Mediterranean panoramas, if you still have energy to spare.
Be warned though, this island is tech free. No cell reception, no Wi-Fi, "nada"! And, alas, no natural shade either. Deck chairs and umbrellas come at a hefty price.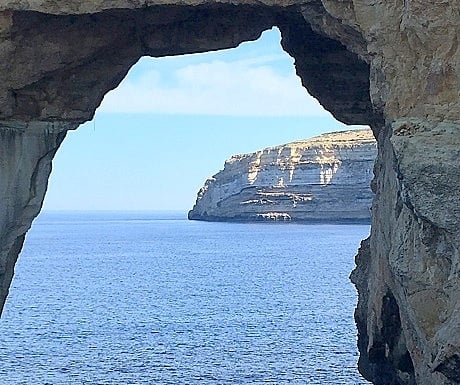 Carnivals, festivals and concerts fill the annual cultural calendar year round, especially during the European autumn. Remember, online information and booking is only an easy finger-click or two, away.
Here you have the opportunity for an ultimate Mediterranean get-away. Go and construct your own mosaic of memories. Malta enriches the soul and invigorates the body. Isn't that what holiday is all about, after all?
Celine Renaud is Head of Sales for Leo Trippi.
If you would like to be a guest blogger on A Luxury Travel Blog in order to raise your profile, please contact us.