Over the years Cape Town has attracted top designers, artists and musicians from all over the globe. It is now fully reflected in the nightlife. Totally funky and totally world class…here are the 2016 top picks for places to find the coolest cats in the CBD.
The Power and the Glory 
This spot you may not find on all the other lists. Coffee shop/bistro by day and chilled out bar by evening. The dress code includes finely placed tattoos and perfectly coiffed messy buns.
On Kloofnek – close enough to be accessible but just far away enough from the madness of long street – this is the perfect place to meet friends for a craft beer while ogling at the funky artists, designers and musicians local to Cape Town.
The Secret Gin Bar
Just the fact that it's a secret spot should be enough to guide your inner hipster to this creative and mysterious space but, if that doesn't do it, it's also worth mentioning that it is located behind a chocolate shop!
Enter through Honest Chocolates (grab an unforgettable cup of hot chocolate) and meander back to the finest and fanciest gin cocktails money can buy.
On the fashionable Bree Street you will find this late night speakeasy where you can find intentionally crafted cocktails and tunes to dance late into the evening.  Capetonians are unusually beautiful people, and this spot capitalizes on that factor.
This isn't full of alcoholic tourists. Here you will chill with the young, the fashionably bold and the beautiful.
This sexy little cocktail bar in the center of downtown nightlife is not to be missed. Offering up views of the CBD (Cape Town Business District), tapas and creative tunes, this is a great spot any night of the week.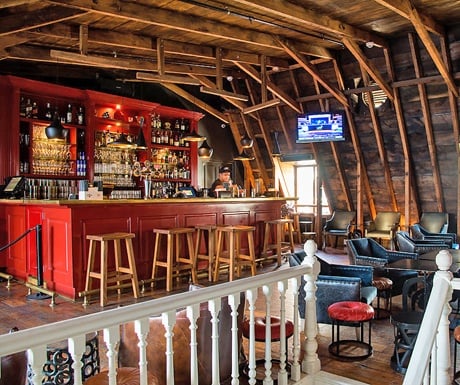 Maybe not quite as exclusively hipster – it is still trendy while being a bit friendlier.
There is a real, albeit stuffed, ostrich hanging out ON the bar. With vintage photos, scrumptious food and a fabulous balcony, The Village Idiot is one of the most popular spots in Cape Town at the moment.
Dance, dine and take part in all the debauchery with tourists and locals alike.
If you simply can't stay away from Long Street and you want to listen to all the languages from all over the world while sitting in your skinny jeans – this is your spot. This coffee shop/funky bar is the accessible cools cool of Cape Town.
There's even a rad hostel upstairs as well if you need a place to crash at the end of your espresso infused night out.
As in any city, the hip spots come and go – the young, bold and beautiful refuse to remain stagnant. These six are our top pics for 2016.
Javier Luque is a Co-Founder and Director of Your African Safari.
If you would like to be a guest blogger on A Luxury Travel Blog in order to raise your profile, please contact us.