By
Paul Johnson
on Oct 04, 2016 in
Bars
,
Europe
,
Featured
,
Food and Drink
,
Going Out
,
Regions
,
Restaurants
,
Spain
,
Travel Miscellany
,
Western Europe
One of the highlights of our latest trip to Spain was our time in San Sebastián and, more specifically, our pintxos tour with Iñigo Tames (highly recommended) from San Sebastián Food, a culinary enterprise based in the basement of the Hotel Maria Cristina where we stayed.
Pintxos – if you're not already familiar – is the Basque equivalent of tapas. Some may tell you that the difference is that you pay for pintxos whereas tapas are free, but this isn't correct. Others will say that pinxtos are always pierced with a toothpick or similar, but this isn't always the case either. Suffice to say, they are small snacks typically eaten with drinks before a meal. It's a relaxed way of eating out with friends and tends to be very social, and San Sebastián is famous for its pinxos culture. And, with the help of Iñigo Tames, we sampled five of the best pintxos bars in the city and share them with you here, with tips on what to eat and drink at each.
Borda Berri, Fermín Calbetón Street
Borda Berri is a lovely little pintxos bar hidden in away in one of San Sebastian's many backstreets, with a chalk board listing pintxos made to order, in addition to those already on display.
Inside, the bar is busy and the walls painted yellow, adorned with strings of garlic and various photographs.
Try the gazpacho if you're after something refreshing or the Idiazabal sheep-cheese rissoni if you enjoy smoked flavours.
For me, the highlight was most definitely the pulpo (octopus) – deliciously tender. Also try the risotto made with orso pasta and smoked cheese, and the pork ribs kebab.
To drink, try the local Txakoli wine – it's a very young white wine, harvested in October, ready in February; the grapes are grown near ocean giving it a certain saltiness and the drink poured from high up to in order to aerate it. Our children enjoyed drinking mosto, a kind of grape juice that's made from pressed grapes before the wine-making process begins.
Opened in 1984, Ganbara has developed its reputation as a firm favourite in San Sebastian and is a family-run concern led by Jose and Amaia Ignacio, and their daughter, Nagore.
Try the spider crab tartlets (tartaleta de txangurro). The crab is flambéed in cognac, put back in the pastry shell and then back in the oven to make them crispy.
Also good to try are the guindillas, a favourite chilli of the region, and the ojaldre con chistorra (sausage roll).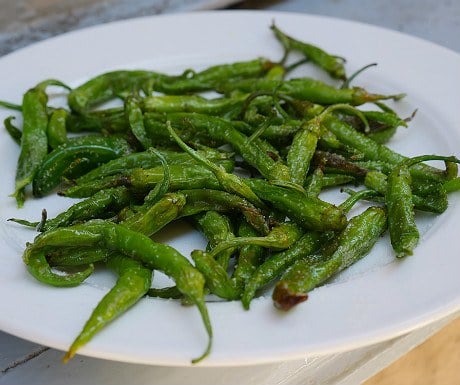 And fun to try are the percebes (gooseneck barnacles) but beware, they do have a tendency to squirt salty water in random directions when you attempt to twist them free! They are considered to be quite a delicacy.
An excellent choice of wine here is Chivite – a fruity Chardonnay white wine from Navarra.
Gandarias, 31 de Agosto Street
Popular with locals and tourists alike, Gandarias is a traditional pintxos bar with an avid following.
It was packed inside!
They do the most delicious salted sirloin and green pepper pintxos on small slices of bread (solomillo).
And a wonderful meat platter with high quality chorizo and bellota (acorn-fed) Iberian ham.
Wash these meats down with the chocolatey Trus Roble red wine, kept in American oak barrels, from the Ribera del Duero region, about 3-4 hours from San Sebastian.
La Cuchara de San Telmo, 31 de Agosto Street
Located directly opposite the San Tulmo Museum, La Cuchara de San Tulmo is led by former sous chefs from Ferran Adrià's El Bulli.
Like all the good pintxos bars in the city, this one is busy, too…
The item to try here is the carrilleras de ternera (veal cheeks) – amazingly tender and so delicious! It goes well with Gloriosa, a gutsy Rioja red wine – temperanillo grape and crianza (aged for half a year in the barrel, and at least a year in the bottle).
Wander around the outside of the bar and you will find you can sea a hive of activity going on inside the kitchen.
Finally, don't miss out on La Viña for the best cheesecake in town! Although you can get other pintxos here, it's the cheesecake that this place is famous for.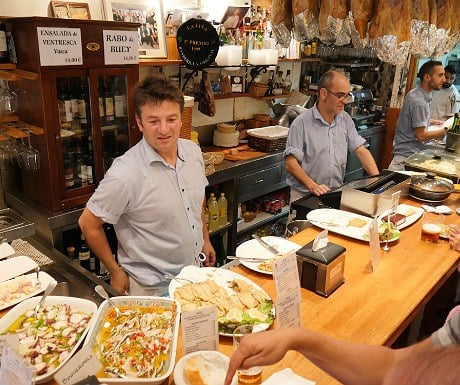 Possibly the best cheesecake in the world!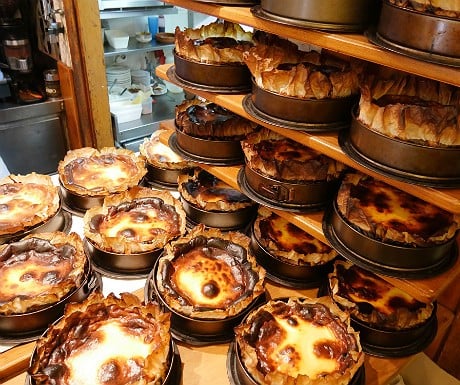 Enjoy with the sweet sherry wine, Pedro Ximénez – you can even pour a little of this over your cheesecake for an extra treat!
Disclosure: Our tour was hosted by San Sebastian Food and formed part of a trip sponsored by Brittany Ferries.