By
Paul Johnson
on Sep 16, 2016 in
Accommodation
,
Bars
,
Europe
,
Family Travel
,
Featured
,
Food and Drink
,
Going Out
,
Hotels
,
Leisure Travel
,
Regions
,
Restaurants
,
Spain
,
Speciality Travel
,
Travel Miscellany
,
Videos
,
Western Europe
The elegant Hotel Maria Cristina is a member of the Luxury Collection, has 136 rooms and was designed by Charles Mewès – a French architect who was also behind the Ritz hotels in both Paris and Madrid. Since its opening in 1912 it has been a firm favourite with celebrities and international high society and, particularly since the advent of the San Sebastian Film Festival in 1953, the hotel has hosted a myriad of stars from the screen including household names such as Elizabeth Taylor, Bette Davis, Woody Allen, Julia Roberts, Richard Gere, Brad Pitt and Susan Sarandon.
The welcome
We had travelled by car from Cantabria and, on reaching the hotel, were greeted by staff at the entrance, where the luggage we required for our stay (we had a rather full car from our earlier travels so only needed a couple of bags from it!) was unloaded and taken to our room. Whilst I sorted the formalities of check-in and my car was parked for me, staff chatted to my wife and our children who were presented with soft, cuddly frogs and a story to accompany them. (The Mediterranean tree frog is native to the Basque Country but under threat due to declining habitats.)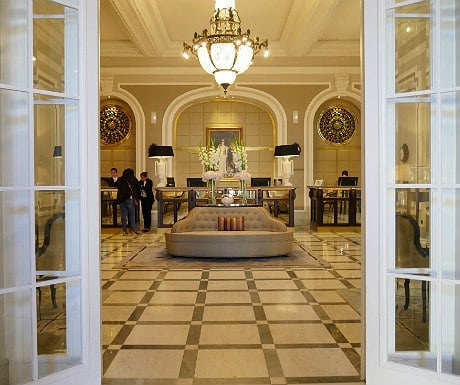 After being given some useful information about local attractions and recommended pintxos bars, we were shown to our room on the fourth floor: the Bette Davis Suite.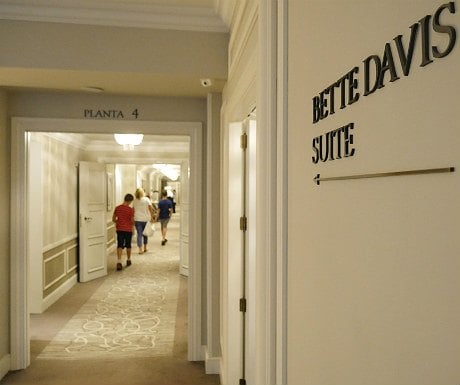 The room
To call it just a room is a serious injustice!  The Bette Davis Suite consists of a hallway lined with photographs of the actress, a lounge, bedroom and bathroom, and a second bedroom and bathroom can be incorporated within the suite, depending on the number of occupants. This is the very suite that Bette Davis stayed in when she was honoured at the San Sebastian Film Festival in 1989 – one of her last public appearances – and has been tastefully modernised with a Belle Époque-inspired interior.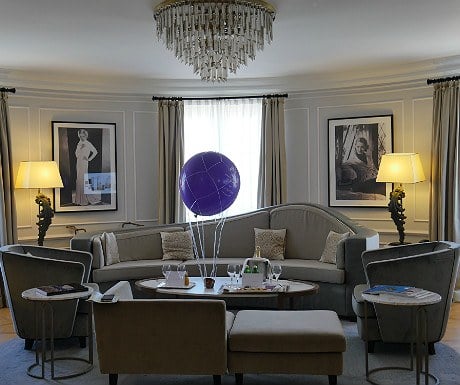 The suite is not only in keeping with the style and grandeur of the building but it also serves as a quiet haven of luxury, style and technology which, when combined, make for an unforgettable stay.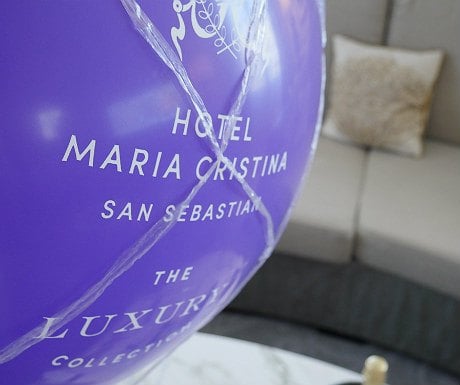 The master bedroom has a luxury pillow-top bed with a chaise longue at its foot.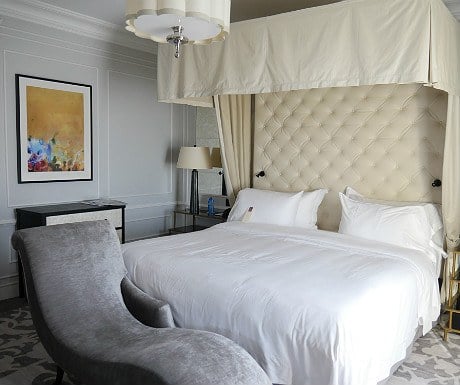 We also had the adjoining twin-bedded room for the children.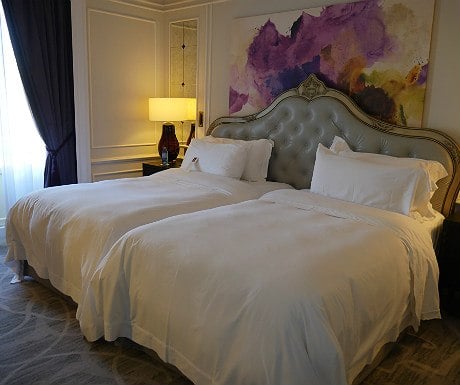 Both rooms afforded us city, river and sea views.
The bathroom
The bathroom is simply furnished with predominantly black and white details and a brick-like pattern to the tiles.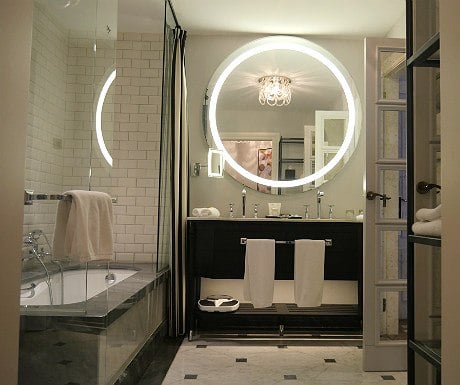 Loewe toiletries are supplied – an iconic brand in Spain that is so well established that it actually pre-dates the hotel by more than 60 years!
Our boys had their own bathroom and their own Looney Tunes amenities.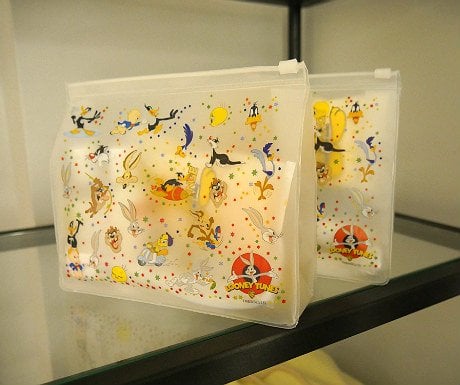 The facilities
Although we didn't eat anything other than breakfast at the hotel's Easo Restaurant, Michelin-starred chef Hélène Darroze (she has one Michelin star at her restaurant in Paris and two in London) is leading a Pop-up Restaurant for the period to October 2016. There is also the Asian-inspired Café Saigon to choose from, and the hotel's elegant Dry Bar which is popular for cocktails.
The public areas are very grand and beautifully adorned and, hidden away downstairs on one flank of the hotel is San Sebastian Food, a thriving cooking school offering courses and tours. More on that in a separate blog post. Such is the love for food in this area of Spain that demand is high so book ahead!
Other nice touches
There was a bottle of Champagne, some non-alcoholic beverages and a plate of fruit in our suite to greet us on arrival.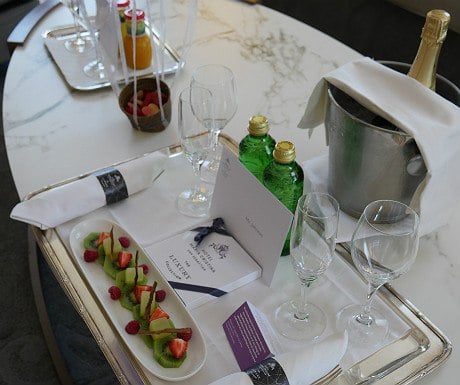 As mentioned earlier, our children were also presented with a frog and a lovely story book whilst I checked in, which made for a lovely, topical welcome.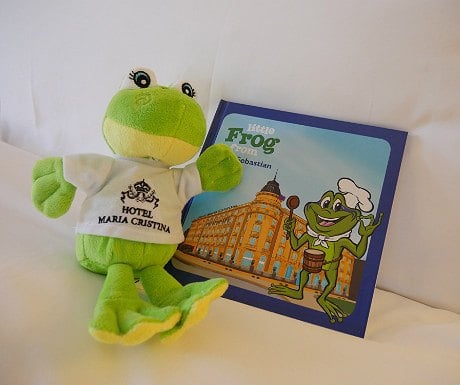 Cost
The Bette Davis Suite has rates starting from 874 euros per night out of season. Deluxe and premium rooms start from 190 euros per night.
The best bit
Although we enjoyed every aspect our short stay at the hotel, it is hard to look beyond the suite itself which is so beautifully and tastefully finished.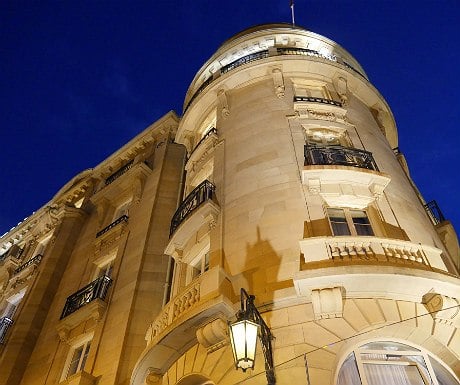 The final verdict
It is difficult to do a suite like this justice with text and pictures alone so I shot a short video to give you a bit more of an insight into the quality of the accommodation and its layout. My video skills still leave something to be desired, and probably don't do it the justice it deserves, but I hope you enjoy it all the same.
Disclosure: Our stay was hosted by Hotel Maria Cristina and formed part of a trip sponsored by Brittany Ferries.