When you're craving gelato on a hot day in Rome, anything cold will do. But some gelato is definitely better than others – avoid any gelateria where the gelato is piled up high, in shades of neon blue and lime green, and look out for places which use fresh, seasonal ingredients. There's plenty of good quality gelato in the city centre, if you know where to look. These are six of the best:
Gelateria del Teatro
Via dei Coronari 65
Located on one of the most picturesque streets in Rome's centro storico, this gelateria is a real treat. You can watch the staff making gelato in the shop window, before queuing up to sample a range of delicious flavours, from a genuinely nutty pistacchio to stracciatella with a minty twist. Although it's primarily a gelateria, you'll also find a tempting selection of pastries, including Sicilian cannoli and fruit tarts.
Fatamorgana
Piazza degli Zingari 5
If you're in Monti, Trastevere or Prati, you're not far from a Fatamorgana. This popular organic gelateria has expanded in recent years, opening branches across the city centre. There are some creative flavours, such as uva e noci (grape and walnuts), amarena e birra (amarena cherry and beer) and basilico, noci e miele (basil, walnuts and honey), as well as the more traditional flavours such as chocolate and strawberry. Bacio del principe ("the prince's kiss"), a creamy mix of gianduja and hazelnut, is highly recommended.
Fatamorgana is also the perfect choice for anyone with allergies or dietary requirements – there are plenty of milk-free flavours.
Giolitti
Via degli Uffici del Vicaro 40
Be prepared to queue for your gelato. Just round the corner from Piazza Navona and the Pantheon, this traditional gelateria features in the film Roman Holiday, and pretty much every guidebook. But once you've queued up, paid at the cash desk, and chosen your scoops from the glass counter, you can savour some of the best gelato in Rome. Giolitti have been making their delicious gelato for more than a hundred years, and their popularity is well-deserved.
There are plenty of tables at Giolitti, but you might as well go for a walk, and enjoy your gelato in the beautiful surroundings of Rome's historic centre.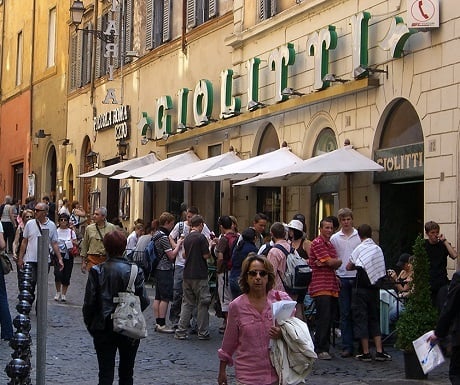 Gelateria la Romana
Via Venti Settembre 60, Via Ostiense 48
Gelateria la Romana began as a family gelateria in Rimini, before moving to Rome and opening branches close to Termini and Piramide. This is seriously decadent gelato – generous scoops of rich, creamy flavours in cones filled with melted chocolate. It's ideal if you're hungry, or really want to treat yourself.
Fassi
Via Principe Eugenio 65
Close to Piazza Vittorio Emanuele is Fassi, the oldest gelateria in Rome. Satisfied customers at Fassi (also known as Palazzo del Freddo) once included Mussolini and Hitler. These days, there's a mix of loyal locals and gelato-loving tourists sitting at the tables of Fassi. The gelato is made from the freshest ingredients, and the fruity flavours are particularly good. As two large scoops will only set you back €1.60, it's arguably the best value gelato in Rome.
Panna & Co
Via Marmorata 115
Away from the tourist trail but still conveniently central, this gelateria in Testaccio is a local favourite. The gelato-makers at Panna & Co only use natural, seasonal ingredients. Try peaches and wine, mango with ginger, or the exquisite zabaione. Panna & Co has a five star rating on TripAdvisor, a certificate of "Eccellenze Italiane", and the local seal of approval – definitely worth a try if you're in the Testaccio neighbourhood.
Rosario Gorgone is Co-Founder of Through Eternity Tours.
If you would like to be a guest blogger on A Luxury Travel Blog in order to raise your profile, please contact us.