Auvergne is getting a lot more attention at the moment, partly due to Lonely Planet putting the region on one of its must visit lists for 2016. There are many reasons to explore this tranquil, scenic area full of Bourbon history and dormant volcanoes, and it is becoming a popular place to stop on the drive between Paris and the southern part of the country.
Then there is the food. Two of its other attractions comprise meat, specifically that sourced from local Charolais cattle, and magnificent cheese – Auvergne is responsible for five characterful Protected Designation of Origin (PDO) cheeses, and produces a quarter of the PDO cheese in France. The PDO cheeses – Bleu d'Auvergne, Cantal, Saint Nectaire, Salers and Fourme d'Ambert – frequently appear among cheese selections at good restaurants.
Regional wine is building its reputation, and if you enjoy gourmet French meals that also happen to be very reasonably priced, then Auvergne has much good eating to offer. Here are five notable restaurants that are definitely worth visiting if you are in the area.
This is a Michelin-starred romantic treat, with outdoor terrace dining under a huge chestnut tree or in the 12th-century castle that is set in nearly 40 acres of parkland. Chef Mathieu Barbet offers classic French cuisine with creative touches such as black olive ice cream, along with refined, deconstructed creations starring regional products such as pork, foie gras and rabbit. The bread basket alone will take you to a happy place of unrestricted gluten-laced carbs, the multiple amuse-bouches are exquisite, and the sommelier can suggest something delicious from the cellar's 500 labels. By the time you've squeezed in dessert, petit fours and done justice to Auvergne's dairy products on the seductive cheese trolley, you may need a lie down to contemplate these gastronomic riches in one of the chateau's 19 five-star rooms.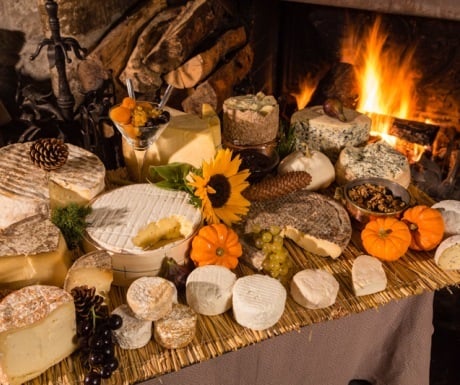 Near Issoire, and not far from the delightful plus beaux village of Montpeyroux, Le Diapason sits on a bluff overlooking the Limagne, the plain of the region's Allier river. Since 2013 this contemporary restaurant in a post-modern setting has made the most of the views with panoramic windows. However chef Raphael Beringer's seasonally driven contemporary cooking, which is recommended in the 2106 Michelin guide, will command your full attention. Run by Monsieur Beringer and his wife, Le Diapason (which means tuning fork) hosts musicians at weekends, and underneath the restaurant there is accommodation in the form of six sleek rooms. A wonderful place for a relaxed lunch, the multi-course menu du jour is excellent value.
Viande means meat in French, a cave (or caaarve) is a place to mature meat, and this brasserie is the place to sear that meat and devour it. The wood-fired grill is smoking hot and ready to receive flesh of all types, but the steak lover should try local Charolais beef, reckoned by some to be finest in the world for its flavour and texture. Burgers, brochettes (skewers) and different cuts are available, but the cote de boeuf (rib steak), a juicy, charred slab carved into chunks and served with mustard and a trio of sauces, is deservedly popular. Being French, the steak is also accompanied by salad and a potato dish, the desserts are elaborate and there is even an amuse-bouche to begin.
Worth visiting just for its chandeliered and mirrored Art Nouveau splendour, this brasserie has historic monument status. It is also the venue where a young Gabrielle Chanel sang a song about dog called Coco and became known as Coco Chanel. A lively meeting place for the people of Moulins as well as a tourist attraction, the unpretentious menu is a showcase for fine local ingredients, and offers charcuterie, gourmet burgers, large salads and of course tender Auvergne beef served in a variety of ways. The three-course lunch menu du jour can include traditional specialties such as duck a  l'orange, and Le Grand Cafe is also a great choice for a drink, snack or people watching.
The lofty-ceilinged dining room is splendidly Belle Epoque, but Laurent Jury's cooking fuses light modern cooking and the rich flavours we expect from French cuisine, in dishes such as lobster ravioli with asparagus and local truffles. Noted in a number of gastronomic guides, one of the chef's passions is mushrooms, and they appear throughout his menus in the form of girolles, morels and ceps (porcini). Drawing on seasonal and regional produce, the menus include a variety of tantalising amuse-bouches, and exceptional breads and petits fours, all made on the premises. The cheese selection is imposing too. La Belle Meuniere (which means the beautiful miller's wife), is a few minutes from the centre of Clermont-Ferrand, Auvergne's capital. Four rooms downstairs provide accommodation, and have been decorated to represent Auvergne personalities, such as the Art Deco Coco Chanel room.