By
Paul Johnson
on Oct 10, 2016 in
Accommodation
,
Europe
,
Featured
,
Food and Drink
,
France
,
Going Out
,
Hotels
,
Leisure Travel
,
Regions
,
Restaurants
,
Road Travel
,
Speciality Travel
,
Travel Miscellany
,
United Kingdom
,
Western Europe
What better way to visit the Paris Motor Show than to drive there. And to drive in the luxury of the Infiniti Q30 is about as comfortable as it gets. This is a car that offers comfort in abundance and is every bit as stylish as it looks. (Some of you may recall that I test drove the car in Portugal last year.) Having picked up the keys at Infiniti HQ near Watford on the outskirts of London, it was a case of programming my hotel in Paris into the satnav and making my way to the Eurotunnel.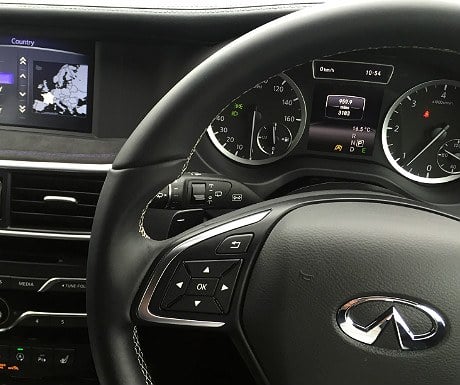 In true British style, it was raining when I departed which, in normal circumstances, would make circumventing the M25 at a snail's pace a rather drab affair. Sat behind the wheel of the Infiniti Q30, however, listening to the radio (accessed through the touchscreen panel on the dashboard) and enjoying the smoothness of the ride, meant that the journey was a pleasure even if the weather wasn't.
I had a brief opportunity to call into Folkestone before boarding for the tunnel but by then the weather was so atrocious that suitably capturing the car proved more than challenging. Some colourful railings and a bright red postbox were about all there was to break up an otherwise very grey day.
This was my first time driving on board the tunnel, having always travelled across the Channel by ferry previously, so a novelty for me.  It proved to be much faster than the ferry and, no sooner had I lost mobile reception on my phone that, before I knew it, I was once again seeing daylight as France came into view. The crossing takes just 35 minutes.
From Calais to Paris, it is pretty much motorway all the way but I did take the opportunity to put the Q30 through its paces by taking it through some of the French countryside before reaching the capital.
Bales of hay and mounds of turnips proved to be a slightly more interesting backdrop with which to photograph the car than was on offer at the service stations!
The sky was moody but the rain held off.
Before re-joining the toll road, I passed through the small commune of Remy, about 70km north of Paris and home to a church (St. Denis) that dates back to the thirteenth century.
Getting into Paris was chaotic with the last 10 kilometres taking over an hour to complete, but it was all worth it once I arrived.
I stayed at Hotel Ares which has an excellent location, being tucked away in an alley just a short walk from the Eiffel Tower.
It's a small hotel, but tastefully designed.
Rooms are compact but stylishly furnished and with a wonderfully comfortable bed.
The bathrooms have a lovely finish with a rain shower and Versace tiles, and Hermes toileteries are supplied.
As for the Paris Motor Show, the event attracts around a million visitors each year and we were lucky enough to gain access before it officially opened.
The Infiniti stand looked great and attracted plenty of interest.
In addition to displaying various models, including the Q30, Infiniti had two highlights at the show.
One was the VC (variable compression) turbo – the world's first engine to physically transform on demand. Its revolutionary multilink design continually varies the travel of the piston to change compression in the cylinder.So you get low compression for more power and high compression for greater efficiency, and anything in between.
The other highlight was Infiniti's new concept car which really stole the show.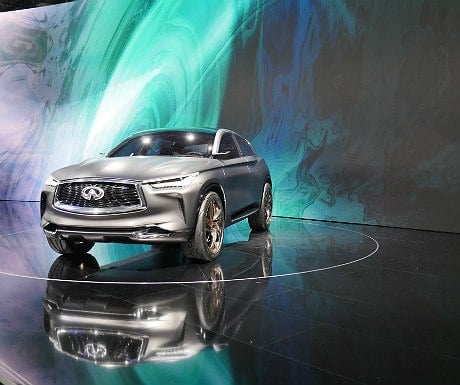 As the pictures show, and like with all Infiniti models, the exterior design and look of the car is visually striking, and it will be interesting to see where this concept goes.
I was lucky enough to have behind-the-scenes VIP access at the Infiniti stand where there was a lounge area and bar in which to relax, and the opportunity to meet and talk to many of the people behind the brand.
There was even a small lunch menu and some delicious dishes to enjoy, including this lobster and langoustine bisque with risotto.
Back outside and with a little free time in the afternoon, things had started to brighten up, and Paris was awash with colour.
I wandered back to the hotel, taking in the iconic Eiffel Tower along the way.
It was lovely just to see traders and shoppers alike enjoying the sunshine, and people relaxing outside cafés despite it being October.
When evening fell, we went for dinner at the Michelin-starred 'Qui Plume la Lune'.
The Michelin Guide writes: "First, there is the place itself, which is very pretty, inviting and romantic and then there is the food, which is created by a passionate cook. It is fresh, full of vitality and made with carefully selected ingredients (organic produce, great vegetables etc). An enjoyable culinary moment."
We had a ten-course tasting menu which began with an amuse bouche of cherry tomato and crisp pork belly (1), which was followed by a foie gras cream with katsuobushi (like a dry tuna) (2). That was followed by the best dish of all for me – an oyster-filled Japanese ravioli with lemon confit and fish stock (pictured) (3) which was both visually appealing, served in a strikingly contrasting red bowl, but also delicious.
Next up was roasted mackerel with a squid ink paste, mango and red onion (4), followed by red mullet with a barley risotto with saffron cream (5) and a poached foie gras with cabbage and a sesame oil with dashi soup (6). Beef fillet – cooked pink and full of flavour – with a cinnamon dressing, Japanese mushrooms and gnocchi (7) ensued, closely followed by the cheese board with Shropshire, goats cheese, Camembert, Roberchon, with black olive, grape and ginger chutneys (8).
Just as we thought the meal had come to an end, out came the adzuki (a Japanese red bean paste) with coriander leaf and a mini macaroon (9), followed by figs and crumble with a mint jelly and mint sorbet, and chocolate with caramelised nuts and citrus (10). And some petit fours in case we were still hungry!  It was an absolutely wonderful meal and a fitting way to finish a memorable, luxury-filled weekend.
Disclosure: This post is sponsored by Infiniti.