What an exhilarating week in Mallorca! The isle of Mallorca is of course one of the largest of the Balearic Islands, the others being Menorca, Ibiza and Formentera. It has a coastline of more than 550 kilometres, impressive mountains and affordable Mediterranean food. With autumn in full swing I would love to share some of the experiences and impressions I had.
Leisurely happiness in Palma
Firstly I visited Palma, the capital of the island. Palma rocks in autumn! Although it is a bit chilly in the evenings and mornings, it is a mellow 22-24 degrees in the sun. Most of the tourists have gone, and everywhere people are sitting on terraces, simply enjoying themselves. Its a kind of laid-back happiness. Here are a few pictures I took of things I found beautiful and interesting.
Inspiration of the Art Museum
The Es Baluard Museum of Modern and Contemporary Art above Palma's Marina, is one of the most important art museums in Spain. I thoroughly enjoyed browsing through it in a leisurely way. It opened in 2004, and has a collection of over 500 works of modern and contemporary artists. Furthermore the museum offers art courses and creative programmes for families. In front of the museum is a sculpture commonly known as The Inverted Church. It was done by the American sculptor Dennis Oppenheim, a pioneer of the 'Land Art' movement, who had strong links with Palma until his death in 2011.
Shopping in Santa Catalina
Santa Catalina is the area to the west of Avenue Argentina, and is home to some eclectic shops and boutiques. The area has a student-neighbourhood with an artsy feel to it, so the shops reflect this to a certain extent. It is famous for its numerous fun and interesting eateries, from fancy restaurants to Tapas bars and cafés. The area is best known for its market (Mercado Santa Catalina), which sells all the yummy things you may need in a Mediterranean kitchen, like fresh fish, fruit and vegetables.
Lunch at The Duke
The Duke Restaurant has a cool, easy-going surfer atmosphere with a surfboard on the wall as well as old school surfing pictures. One of the owners, Juanjo Campos explains the cuisine: 'Duke Restaurant is different from other places because of the type of cuisine, which is healthy, natural and has very short cooking times. It's based on recipes we discovered during our travels to different parts of the world.' The pre-Halloween pumpkin soup was wickedly good.
Rustic luxury in Valldemossa
I visited the small town of Valldemossa – a kind of celebrity town 18 kilometres north-west of Palma where you may be lucky enough to meet Susan Sarandon, Tim Robbins and Michael Douglas in a bar together! It is a quaint little village in the mountains with a view of the bay of Palma and a population of less than 2,000.
I also visited an artfully renovated villa overlooking the Bay of Palma. At this luxury villa, everything is about relaxing outside with friends. Villa Valldemossa is a truly fabulous property with a tennis court and an infinity pool that seems to flow over into the Bay of Palma! It is absolute high end luxury with lots of artworks, an old oil pressure machine in the living area, and a huge chimney – all within a traditional building. The villa dates back to 1849 – amazing! I fell in love…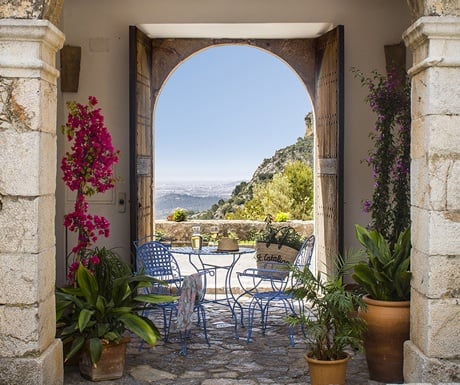 Celine Renaud is Head of Sales for Leo Trippi.
If you would like to be a guest blogger on A Luxury Travel Blog in order to raise your profile, please contact us.