By
Paul Johnson
on Oct 13, 2016 in
Accommodation
,
Attractions
,
Europe
,
Featured
,
Food and Drink
,
Going Out
,
Hotels
,
Leisure Travel
,
Portugal
,
Regions
,
Speciality Travel
,
Travel Miscellany
,
Western Europe
Portugal's Cascais region is gaining a reputation as one of country's best areas to visit. It is a place of wild coastlines, natural beauty, history, and Portugal's famous cuisine and hospitality. And here are eight reasons why Cascais is becoming Portugal's best region to visit:
1. It's easy to get to
Hugging mainland Europe's most westerly point, Cascais is a region of wild nature and stunning scenery, yet is only 25km from Portugal's capital and busiest airport at Lisbon. Whether you want to visit the beach, rustic villages, or countryside, it's easy to get to the many attractions of the Cascais region. It's easy to visit as a day-trip, or for a holiday in itself.
2. Amazing sea and beaches
Cascais spans two stretches of coastline along the Atlantic Ocean from Carcavelos to Guincho Beach, and further north. All along this coast, which takes in Europe's most westerly point at Cabo da Roca, you'll find amazing beaches where it's easy to relax or try out some windsurfing or sailing. In the town of Cascais a lovely promenade borders the beach, where a stroll and evening meal is a perfect way to wind down.
3. Sintra-Cascais National Park
Occupying much of the Cascais region is Sintra-Cascais National Park which has been a World Travel Awards winner for a number of years. The park manages to preserve historic monuments and villages in a wonderful rural setting, with the towns of Cascais and Sintra, and the spectacular Sierra de Sintra mountain range. It's perfect for walking and enjoying the outdoors.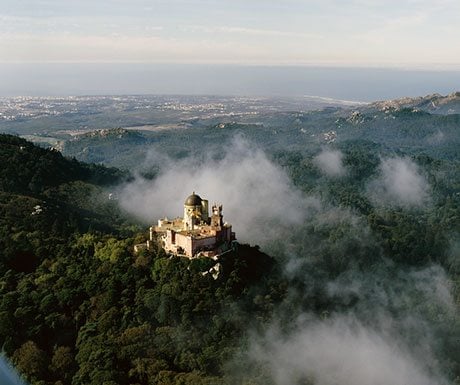 4. A year-round destination
As Portuguese Nobel Prize in Literature 1998 winner José Saramago said, "the journey never ends", and it is never more true in Cascais where the climate and attractions mean you can visit any time of year and enjoy what is on offer; from culture, to sport, history and cuisine.
5. A great place for sports
The coastline at Cascais is full of opportunities to enjoy surfing, kayaking, sailing or walking. Inland there are seven golf courses rated as among the best in Europe, each with a unique setting and professional facilities.
6. Tasty cuisine
Influenced by the Sea Food lovers will delight at the fresh seafood and cuisine on offer in the Cascais region. The Atlantic Ocean plays a big influence on the delicious traditional food served in cafes and restaurants throughout the area.
7. The beautiful town of Sintra
Few towns in Portugal offer such beauty and exuberance in its historic buildings as in Sintra, which is classified as a UNESCO World Heritage Site. The town is in the east of the national park with a hilltop setting of palaces, villas and other buildings, along with great places to eat and stay. An easy day-trip from Lisbon or the coast.
8. A luxury place to stay
Cascais is a region for lovers of the outdoors, but it is also a place of luxury. Hotels such as the Grand Real Villa Italia Hotel & Spa, formerly the residence of King Umberto II of Italy, or The Oitavos Hotels offer 5 star accommodation within the natural beauty of the Sintra-Cascais National Park and in close proximity to the Atlantic coast.
Want to learn more about Cascais? Watch the video below and see why it's being hailed 'the charm of the Atlantic coast'…
Disclosure: This post is sponsored by Cascais Tourism.