5 unique culinary products to sample on your next Andalusian tour
The cuisine of Andalusia, and particularly Malaga province, has been on the ascendant for years already. An ever increasing number of Michelin stars adorn restaurants across the region and the ubiquitous, traditional tapas have been elevated from a simple snack food served free with a drink to an experience in itself. Some of these artful little creations are almost too pretty to eat! This rise in the general quality of cuisine in many restaurants and tapas bars coincides with an increased focus on specialty, gourmet products in the region. The extensive and temperate coastline of Andalusia guarantees some of the freshest seafood available anywhere, while more obscure products from land and sea have found their way onto the plates at some of the most reputable restaurants in all of
Spain
and beyond. You can find some of these products in select, specialist shops and from gourmet distributors, or enjoy these delicacies in some of Andalusia's finer dining establishments. With the right personal concierge, local guide or a stay at certain exclusive holiday properties you may even be able to enjoy private tours of the artisanal production sites or in-house cooking courses to highlight these incomparable gourmet goodies. Even the humble olive and almond are exalted in Andalusia, and raisins from the sweet muscatel grapes are still revered above the famed wine by many here. But the following products represent a new and unique episode in the story of Andalusian gastronomy.
1. Snail eggs, or "white caviar"
Due to the difficult and meticulous nature of snail egg production and processing, this is still a small scale operation in Andalusia, with a slowly growing association of producers who have emerged and teamed up only in the past couple of years. However, their base in Malaga province offers the perfect climate and the Association of Andalusian Snail Breeders is currently working on international exports.
The price of the product comes in at about €1700 per kilogram, largely down to the intensive production process; a fertile snail produces about 3.5 grams each year, so one kilo requires 275 rounds of egg laying (never mind how to identify a fertile snail!). Eggs must be collected from sterile soil within 24 hours of being laid, carefully selected and washed, then preserved in brine at low temperature for five days, after which time they can be bottled for sale. But it's not only the arduous process that elevates the price – the end product is said to have an exquisite taste of the countryside with a pleasant texture and earthy hints of forest and grass. This, paired with its pearly white appearance and supposed aphrodisiac properties have earned these snail eggs the label, "pearls of Aphrodite." If this isn't tempting enough, you can still indulge in the snails themselves, selling for a much more affordable €12 per kilo at retail price.
2. RioFrio Caviar
Caviar of the more traditional variety also has a unique position in the Andalusian culinary scene.
RioFrio Caviar
emerged as the world's first organic caviar, from ethically farmed black sturgeon in the naturally chilly spring waters running from the Sierra Nevada mountains in Granada province. With the Iranian and Russian sturgeon of the Caspian Sea fished to near extinction for the Beluga delicacy, the time was right for a sustainable source of true caviar, and the difference between RioFrio organic farm caviar and wild sturgeon caviar is virtually impossible to discern.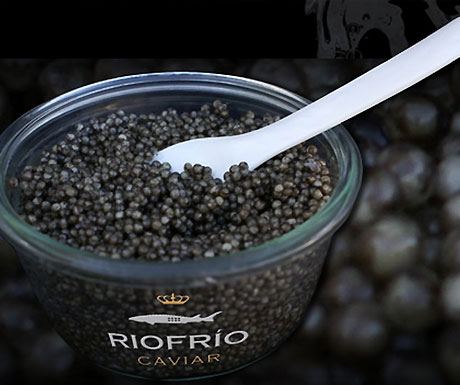 At about €100 for 30 grams, the product is not cheap. Again, the process is an arduous one as organically raised sturgeon must mature at least 15 years before producing the perfect caviar. As RioFrio Caviar took off, the producers introduced a larger range of associated delicacies, including smoked and bottled sturgeon, caviar salt, salmon roe and even sea urchin roe. As chefs and products support one another, up and coming chef Diego Gallegos, known as the "caviar chef," earned a first Michelin star at his restaurant Sollo near Malaga, with a menu based around the RioFrio caviar and sturgeon in 2015.
3. Plankton powder
Much as Diego Gallegos championed the use of RioFrio caviar in his restaurant, chef Angel Leon with two Michelin stars at his restaurant Aponiente in Cadiz, brings plankton powder to the highest level of cuisine. Leon is in fact a pioneer in the use of marine phytoplankton, only recently approved officially by the European Union for human consumption. He teamed up with a new company focused on growing and harvesting phytoplankton and initiated the five year process of obtaining approval. Until now this product has been completely unobtainable for commercial use. Rich in vitamins, antioxidants, omega 3, and numerous minerals, it is highly nutritious; however, for Leon, the taste of the sea is what makes this such an exciting and integral part of his new Andalusian sea-cuisine.
At the moment, if you want to sample this product, you may need to make an advance booking at Aponiente. Here Leon serves a dish of risotto style plankton rice, an oyster mayonnaise with sea foam and plankton, and mixes the powdered plankton through various sauces and stews with all manner of seafood.
4. Chivo de Canillas and the "raza Malagueña"
The sleepy little mountain village of Canillas de Aceituno, in the eastern fringe of Malaga province, has long been an important, if low key player, in agricultural production. The "pueblo blanco" of Moorish roots is renowned for breeding, raising and, of course, serving up delicious plates of a unique breed of goat, the "raza Malagueña," or indigenous Malaga race. Restaurants here such as La Sociedad and El Bodegon Juan Maria earned a solid reputation around Andalusia and, increasingly internationally, for their roast kid. The baby goat, or "chivo lechal," served up are never more than four weeks old, always raised on the open hillsides, fed only its mother's milk, and prepared simply but flawlessly in wood fired ovens.
For generations, people have flocked from far away to sample this specialty in Canillas de Aceituno; however, one enterprising villager has now set up a business and distribution centre to take the delicacy out of the village and deliver it to discerning carnivores across Spain and Europe, with distribution in the Middle East and United States imminent. Cooked slowly over olive wood fires, then vacuum packed while still warm, "
Chivo de Canillas
" will soon be appearing in gourmet shops near you if not already. Or you can still venture to Canillas de Aceituno to sample a fresh plate for yourself.
5. Sparkling Moscatel wines
Malaga has been famous for sweet wines for more than 1,000 years. It was once one of the most sought after culinary products across the known world, with Russian Czars and Eurasian emperors alike buying or raiding stocks for centuries. The popularity declined in the past pair of centuries, especially after the Philoxera plague decimated vineyards across Europe. Today the sweet wine of Malaga has made a resurgence; however, a new and alternative product is raising glasses and eyebrows… a sweet sparkling wine.
The cavas of Spain always take a back seat to the French champagnes, though there are some very fine cavas and the prices are much more affordable. The sweet and semi-sweet cava, from the ever present Moscatel grape with more than 3000 years of history in the region, arise as new players on the scene. The dry bubbly, still made from sweet grapes, presents a fruity flavour and aroma, though is dry on the tongue. These relatively new wines sell on average from between €10 – €20, presenting an economical alternative libation for toasting that special occasion. Some of the best local examples include Botani Espumoso "seco and dulce" (dry and sweet varieties), and Apiane Espumoso Dulce (sweet).
Alan Hazel is Owner and Director of Cortijo El Carligto.
If you would like to be a guest blogger on A Luxury Travel Blog in order to raise your profile, please contact us.
Did you enjoy this article?
Receive similar content direct to your inbox.