By
Paul Johnson
on Nov 03, 2016 in
Accommodation
,
Cruises & Boat Travel
,
Europe
,
Featured
,
Going Out
,
Hotels
,
Leisure Travel
,
Regions
,
Restaurants
,
Speciality Travel
,
Travel Miscellany
,
United Kingdom
,
Videos
,
Western Europe
We recently tested two Sevylor kayaks on a luxury stay in the English Lake District, arriving at one of Cumbria's finest lakeside hotels in style… by kayak!
Before we get started, the first thing to mention about Sevylor kayaks is how portable they are.  Despite being quite large and robust vessels, once they're fully inflated, they pack up to the size of a reasonably large rucksack. And if you're concerned that it's one of those products that you'll never get back in the bag again once you've used it for the first time, then you don't need to worry.  It is actually surprisingly easy to re-pack – all I would say is that, once you get it home, it's probably a good idea to take it out and let both the kayak and the carrier dry out thoroughly before re-packing so that you're not presented with any mildew-infested surprises when you next come to use it!
We road-tested (or rather, lake-tested!) two Sevylor kayaks on Windermere, the largest of the lakes in the Lake District and indeed in the whole of England. First up, the Sevylor Colorado kayak which, once fully inflated, measures 331cm x 88cm and weighs just 14.7kg. It holds two people comfortably and has three main sections that require inflating. You can use a foot pump to do this, though for ease I'd recommend an electric pump connected via your car or any other available power source. The Colorado kayak kit comes with an easy inflation manometer and a detachable fin on the underside to help with tracking. The two seats are adjustable and have reasonably high back rests to give plenty of support, and the bases can also be inflated for additional comfort.
Also being put to the test was the slightly larger Sevylor Alameda kayak (measuring 375cm x 93cm and weighing 19kg). This is a three-person inflatable kayak, but the seats are removable so you can utilise the space in a variety of ways – in our case, we removed one of the seats to make way for a picnic bag. There is a guide displayed on the kayak itself to show you where to fasten the seats, depending on the number you are using. The seats also use a suspended system so that they don't sit on the bottom of the kayak, thus reducing drag. The tarpaulin on the underside is heavy duty and durable to protect it from rocks and the like, but also surprisingly lightweight at the same time.
In both instances, we found the kayaks easy to paddle and steer, despite being completely novice kayakers. In fact, so easy that we let the children do a lot of the work! The paddles themselves are easy to assemble and can be adjusted according to your preferences.
After paddling over some mildly choppy water which the kayaks were easy able to handle, we stopped at an island for a quick picnic before continuing our journey.
Suitably refreshed, our next destination was a luxury hotel with its own lake access, heading out towards the southern end of Windermere – Storrs Hall Hotel. This Grade II Listed Georgian mansion sits in beautiful grounds and even has its own jetty.
It had been a fun little adventure and a novel way to arrive at the hotel. Having these two kayaks gives us incredible versatility. Not only does it allow us to explore places that we might otherwise not be able to access so easily but we can go out together as a family, and even have space left over for luggage. We can also go out as a family with our dog (if we can train him to sit still!), with the membrane of the kayaks being more than durable enough to withstand his claws. We can even go out as one adult and two children if one of us happens to be busy.
For a short video of our day out, please watch the video below:
After our fun on the lake and subsequent arrival at the hotel, we were warmly welcomed by Fred on reception who personally showed us to our interconnecting period rooms (rooms 34 and 35, the latter with a lake view). As you can see, the rooms are very stylishly decorated, spacious and inviting.
We were impressed with the quality of the fixtures and fittings as well as the standard of upkeep.
In our room was a Samsung flatscreen TV, Krups coffee machine, Nespresso coffee and a kettle, as well as reading material in the form of Cumbria Life and Lancashire Life magazines.
Having a view of the lake was fantastic and served as a lovely reminder of how we'd arrived just moments earlier.
The main bedroom had a large shower/wet room – as well as a separate bath and basin in a bathroom that was simply but beautifully furnished.
Noir toiletries from The White Company were supplied, with amber, mandarin and orchid scents.
Dinner was beautifully presented as you can see from the photographs despite the very limited descriptions on the menu, but sadly the service somewhat tarnished the experience. A lesson or two from Fred was definitely in order! This aside, it is a lovely, elegant hotel in the most tranquil of locations that I would recommend for that reason alone.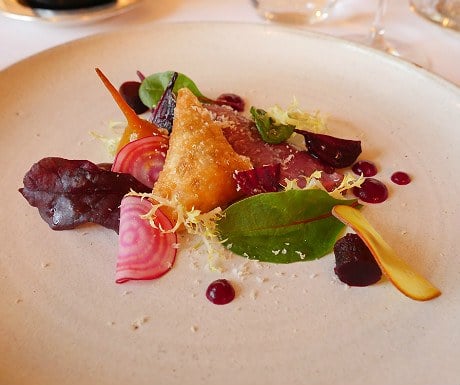 We'd love to hear your ideas as to where you think we should take the kayaks next!
Disclosure: Our trip was sponsored by Sevylor and our stay courtesy of Storrs Hall Hotel.