Hong Kong is a foodies' paradise, there's no doubt about it. Every twist and turn through this densely populated international travel and business hub unveils a new place to eat, whether it's street food or Michelin starred dining. It seems that every cuisine is represented here too with Italian, Mexican, Indian, American, and Japanese restaurants situated happily alongside traditional Chinese and Cantonese eateries.
As vegan travellers, were happy to see that there's also a growing vegan and vegetarian scene with numerous options for those not wishing to eat animal products. Whether you want a healthy raw food meal, a juicy vegan burger and burrito or a more upmarket fine dining meal then this is the place to be. Here's our run down of 4 sublime vegan meals in Hong Kong that will give you a taste of some of the best that the city has to offer to luxury loving vegans.
For a traditional Cantonese meal, with a few modern twists, all prepared using top quality seasonal ingredients head to Hoi King Heen at InterContinental Grand Stanford Hong Kong.
The atmosphere is lively and bustling as a packed dining room full of families, couples, friends and business people all sit down to eat Celebrity Master Chef Leung Fai Hung's award winning creations. The air is filled with sounds of sizzling woks from the kitchen and claypots bubbling and steaming as they are taken to the tables, then there is a a cacophony of chopsticks clicking against fine china mingling with the satisfied chatter of diners; it all makes for an enjoyable backdrop to dinner. The decor is classic Chinese and there are 5 private dining rooms available for those that prefer this choice over enjoying there meal in the lager, open plan banquet hall.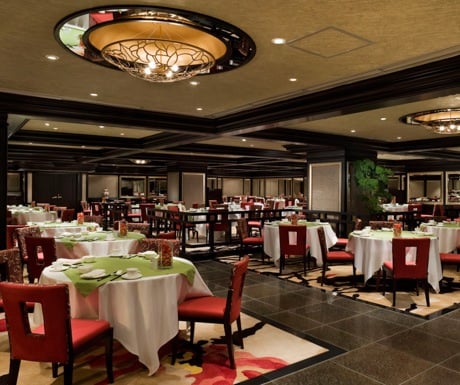 There is a standard vegetarian menu available to select from, where many of the dishes are already vegan, but the team at Hoi King Heen can also prepare a vegan tasting menu. We enjoyed the latter which started with the Hoi King Heen appetizer selection, a tantalising plate of miniature creations including delicately flavoured sesame asparagus, soy rich marinated aubergine and a beancurd skin rolls that was heavenly.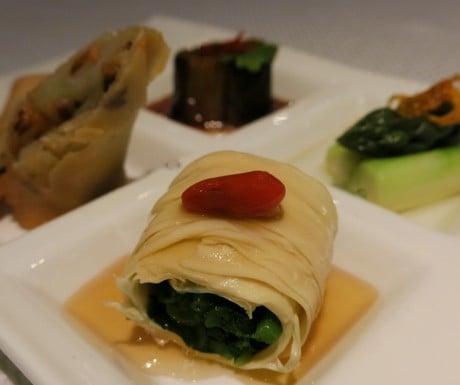 The team have won various awards over the years including getting a prestigious Michelin star in 2011. As vegans we were particularly pleased to see that there was an award-winning tofu dish on our menu, the 'Three Tastes of Tofu and Fortune Bag'. It comprised of a tasty mixture of vegetables, mushrooms, water chestnuts and ginger which had been wrapped up in a fried bean curd skin parcel before being braised in a smooth light gravy and topped with shredded fried carrot. Like the rest of the food we ate at Hoi King Heen it was light, delicate and delicious; this is food that makes you understand why this restaurant has been a long standing favourite in Hong Kong for years.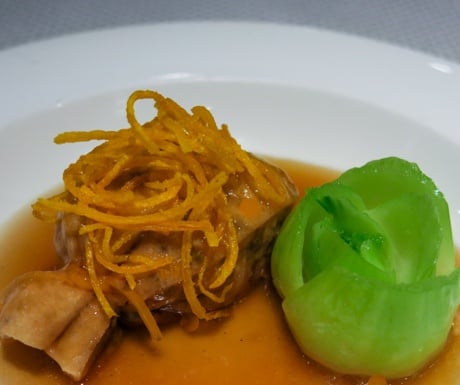 If you ant to experience excellent vegan Japanese food, NOBU InterContinental Hong Kong is an absolute must.
With its cool interior design, enviable views of the iconic Victoria Harbour landscape and a cocktail list that is sure to get you in the mood for a good night, NOBU InterContinental Hong Kong was one of the most memorable meals we've had in a long time.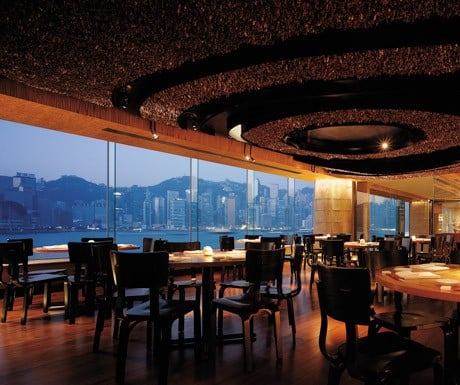 Every course was outstanding proving that Japanese food isn't just about raw fish. We began with 'Avocado Tartar' topped with a black quinoa 'caviar' and finished with a yuzu dressing which gave a fresh, zesty balance to the creamy avocado. 'Crispy Tofu' was a small mountain of tofu and pumpkin tempura with a fresh salad on the side; it was clean and light considering the size of the dish and the fact it was deep fried, and decadently delicious with a soy, citrus and homemade rice wine vinegar dressing.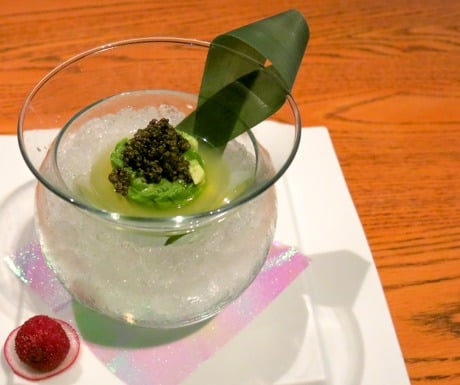 Every dish that we are served got us talking, either by the use of a fusion of flavours from Japan and Peru (a style that has made NOBU restaurants famous throughout the world) or by the sheer deliciousness of what we were eating. Of course, this is a Japanese restaurant so we weren't surprised to receive a platter of freshly made sushi but we were taken aback by the flavours. From meaty mushroom flavours to salty pickled radish; by the time we got to the final piece (topped with a tart, sweet and crunchy fresh ginger flower), there was a party going on in our mouths.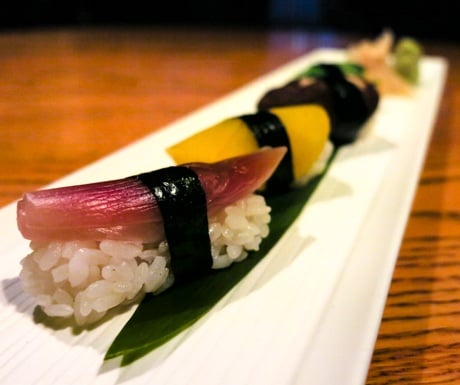 But let's not forget that Hong Kong is the kind of city where there seem to be a multitude of Michelin starred restaurants, many of which will adjust their menus for vegans wanting to try this kind of dining.  Tin Lung Heen at The Ritz Carlton Hong Kong is one of those places but also somewhere that will win you over before you even eat a mouthful of food or take a sip from a very good glass of champagne.
Located in the highest hotel in the world, Tin Lung Heen gives you the chance to enjoy some of the best, and definitely the most unique, views of Hong Kong whilst you eat.
And the vegan food is every bit as impressive as those views with dish after dish of delectable creations made from the freshest of vegetables, melt in your mouth tofu and all manor of health giving ingredients that give Cantonese food an additional interesting quality. We ate traditional dishes like 'Steamed vegetable dumpling with morel mushroom, bamboo fungus and chilled celtuce' and 'Sautéed fresh black fungus with lily bulbs and green vegetable'.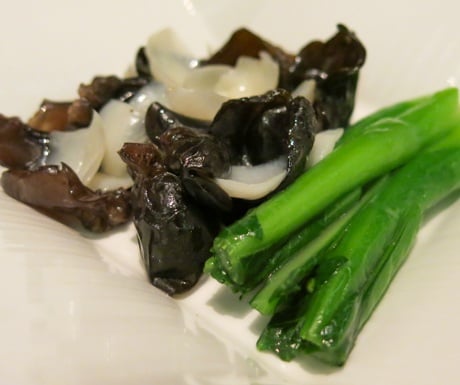 We were also treated to another exceptional tofu course, this time a soft tofu that had a chewy coating, soaked in a smooth matsutake mushroom gravy. The textures were unexpected but definitely enjoyable with the delicate soft tofu blending wonderfully with the rich gravy. Paired with a crisp, dry white wine chosen by the sommelier, this was absolutely a highlight of our meal.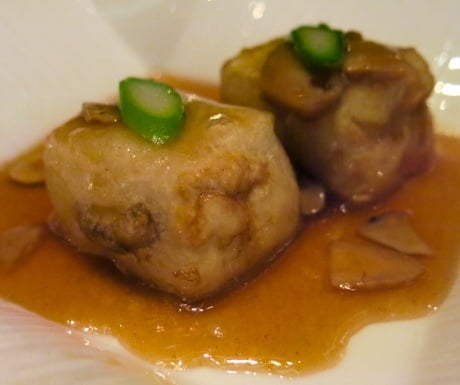 The Lounge at Four Seasons Hong Kong is our final Hong Kong destination where you can find a sublime vegan meal, this time embracing all the flavours of Italy.
Executive Chef Andrea Accordi has a passion for using only the finest ingredients, each one having a story behind why it was chosen for a dish or which trusted supplier in Italy produced it.
Dining at The Lounge was a true luxury experience, not only because of the world class surroundings of the Four Season's or the finest quality champagne being poured but also because of the creativity and skill that lies behind producing the food and showcasing each of the chosen ingredients.
Beautiful creations such as 'Radicchio tardivo, wild chicory tips, tangerine dressing and black figs' graced our dinner table. Fresh flavours, a rainbow of colours and flavours with the sweet Italian black figs combining perfectly with the tangerine dressing and radicchio; a light, delicate and zesty delight.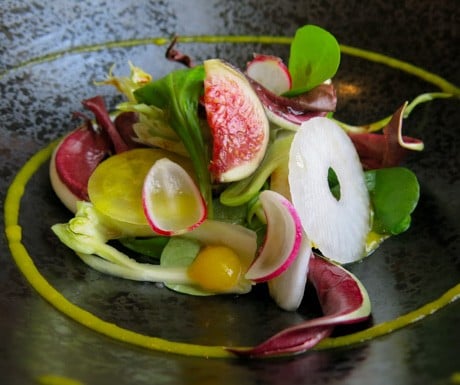 Other dishes included the fabulously rich, creamy and quite simply exquisite 'Forest mushrooms and butternut squash broth'. The pumpkin broth had the texture of velvet, the mini cucumbers were fun, crunchy and delicious but the mushrooms were the star of the show. The porcini were the first in the season, flown in direct from Italy and the chanterelle had travelled all the way from France. They had been prepared in a way to keep their flavour which meant that the dish really did offer a taste of the forest.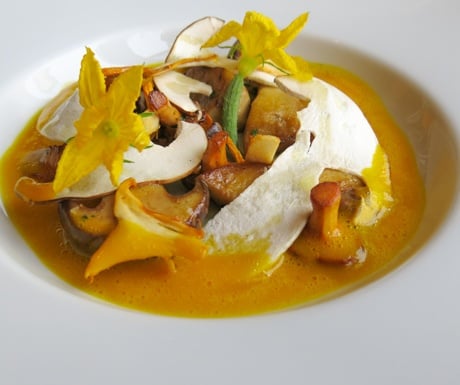 So if you're hungry in Hong Kong or just wanting to go on a food tour that will take you to a few different corners of the planet and guarantee that you eat some amazing food, then seek out our 4 sublime vegan meals in Hong Kong.
We'll certainly be retuning to eat our way around this vibrant and vegan luxury travel destination some time soon!
Paul Eyers is Founder of Vegan Food Quest.
If you would like to be a guest blogger on A Luxury Travel Blog in order to raise your profile, please contact us.