Hiking is for many people the embodiment of a luxury holiday par excellence. Whatever your definition of 'walking' or 'hiking', it soothes the soul, relieves the stress and fills your memories with scenic moments. Invigorating autumn walks on both sides of the German-Italian border are fantastic breakaways. Here are a few suggestions:
Eckbauer Peak to Garmisch-Partenkirchen
Departing from the Garmisch Olympic stadium, in a romantic, open air gondola, we stopped at the Peak of Eckbauer Mountain where we started hiking towards the Berggasthof. (Of course, refreshments on such a hike is always accompanied by breathtaking views!) It is very easy to follow the signs through the Partnachklamm, but unfortunately the gorge was closed. Thus, we took another route down, which is often used by experienced hikers. Make sure that you wear the right shoes for this walk!  There are steep, gravelly stretches which can be quite slippery and treacherous but the spectacular scenery turns every step into a glorious memory. The tall trees, the lush forests, the foliage and beautiful wild flowers take you back to the fairyland of your childhood days. Don't hesitate to do the walk, but take your hiking stick with you.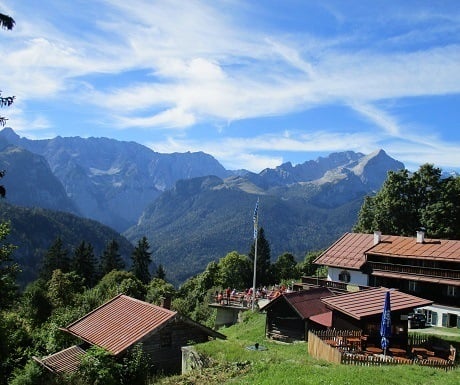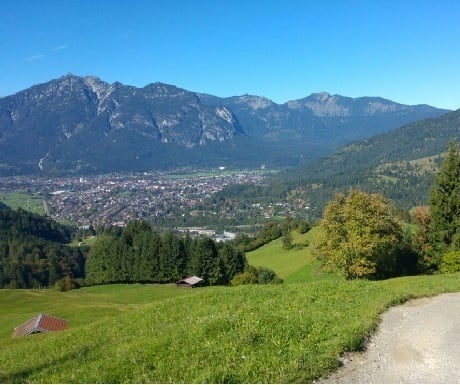 Badia to Sompunt Lake
After we left the Bavarian Alps behind, we were stunned by the majestic and magnificent Dolomites of the Tyrol's southern part, North Italy. An amazing spectacle in the Dolomites is the alpenglow or 'Enrosadira', as it is called in the native Ladin language. This happens at sunset when the Dolomite Mountains around Alta Badia are being illuminated in incredible shades of red, ranging from pink to orange and carmine. The impressive Sasso Santa Croce mountain massif is a peak especially known for its flare of colour. Walking from Badia to the Sompunt Lake really provides eye candy material. Starting from just outside Badia, it will take you about 45 minutes to walk to the lake. Beautiful landscapes, a variety of wild flowers, verdant green trees and always the stately Dolomites, keep you spellbound. The Sompunt Lake is small, but its beauty leaves you fascinated. The white swans (but beware, they are aggressive!), the red leaves of autumn and the azure water of this lake create a perfect picture. I do recommend this charming scenic walk, even for those not-so-young any more.
Gardena Pass to Colfosco
For those who are really fit and strong, this walk may be less challenging than for the middle-of-the-road hikers. Hiking in the South Tyrolean Dolomites means a large variety of paths winding amidst flowery meadows, shaded forests, sunny highlands and unique mountains to conquer. Be well prepared before you leave, to prevent accidents and disappointments. Remember that you want to soothe your soul by doing this scenic walk down the Val Gardena pass. Take time to stop at the flowers! The flora of the Dolomites UNESCO World Heritage Site has always been a remarkably rich and charming field to explore. There are lots of wild flowers to be seen on your way. From field flowers such as bluebells, orchids and cardoons, to plants of Siberian origin like the well known edelweiss. Getting closer to fauna and flora will also help you to unwind while walking. Sometimes the names of the villages on your way may get confusing, because in this part of Italy people still speak Ladin, as well as Italian and German. Calfosch can also be Colfosco or Kolfuschg.
Easy walk to the Pisciadu waterfall
You can start at Colfosco along an easy path to the Pisciadu waterfall. This waterfall plunges down over age old rocks at the foot of the impressive Sella massif. A stress-free walk through sunny pastures and over quaint wooden bridges under beautiful, tall larch trees. When autumn begins, their needles turn brown, giving another facet to the autumn splendour. The wide open meadow at the foot of the mountain is a perfect place to stop for a while. Here, the surrounding landscape really leaves you with a feeling of utmost serenity and peace. You are stunned by such an overwhelming indulgence in nature. The dizzying walls of the Sella Group are right above you and on the other side you have an unforgettable view on the Pizes de Cir and the Sassongher, one of the most panoramic peaks of Alta Badia. Awesome sights, really.
Spoil your soul on this beautiful, soothing walk; it is an investment that will last as long as you live. And do take the children with as well!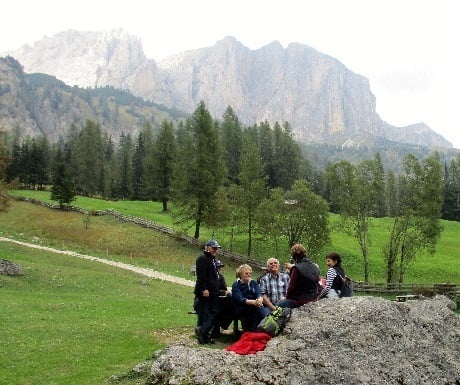 Celine Renaud is Head of Sales for Leo Trippi.
If you would like to be a guest blogger on A Luxury Travel Blog in order to raise your profile, please contact us.