Most people know that Italy is home to the famous automobile makers Ferrari and Lamborghini, but there are other reasons that the country is a fantastic destination for car enthusiasts of all types. The unique experiences below can be included in an Italy itinerary along with food, wine, history and culture. Or, they can be strung together for an automobile lover's Italy vacation.
Visit the factory floor of Lamborghini or Pagani
The "big three" car companies of Ferrari, Lamborghini, and Pagani all have museums in the area near Modena, which is often referred to as Motor Valley. Visiting the car museums is fairly straightforward: visitors need to check opening hours and days, which is information easily found online.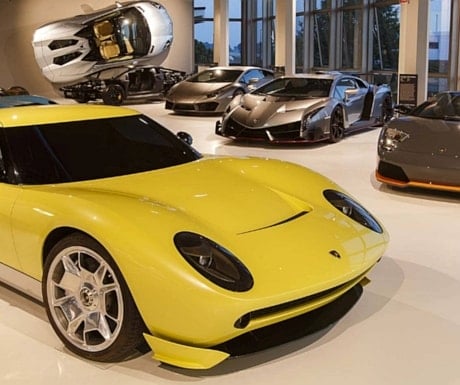 However, visiting a car maker's factory floor is not as simple. Only Ferrari owners can visit the Ferrari factory floor, even though the museum advertises a "Factory and Track tour" (a 45-minute bus tour during which guests don't get off the bus). Automobile enthusiasts will be happy to know that Lamborghini and Pagani offer actual tours of their factory floors, and there's no need to own an actual Lamborghini. But, the tours are not joinable at the last minute, and time slots are not published online. Requests must be made via the car maker's museum websites months in advance and are only available on weekdays.
Drive a vintage car along the Amalfi Coast
The road that winds along the Amalfi coast between the towns of Sorrento and Amalfi is a dream driving experience for many automobile lovers. We have just one word of advice: don't drive on this stretch of road during high season when the road is very busy. At other times of year, however, this iconic 2-hour drive can be a great way to enjoy the gorgeous scenery of the Amalfi Coast with the wind blowing in your hair. The Spider Lifestyle company in Sorrento has a great selection of vintage cars to rent for just this type of unique experience.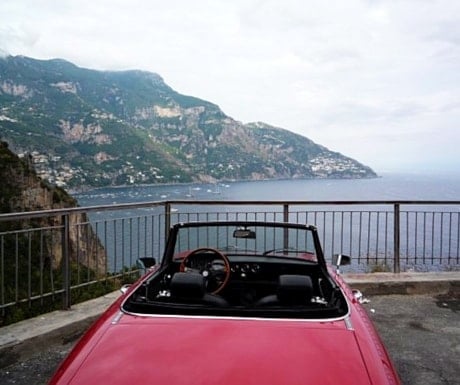 Watch the Mille Miglia historic race
The Mille Miglia (which translates as "thousand mile"), was an endurance race that took place 24 times between 1927 and 1957. It was cancelled due to a couple fatal crashes, but every spring Italy holds a reenactment of this historic race. Anyone can apply to participate, as long as they drive a model of one of the cars that raced in any of the original Mille Miglia competitions.
The thousand-mile route starts in the city of Brescia in the north and stretches over four days. Participants drive from Brescia down through Rimini and then to the race's southernmost point of Rome. The second half of the race goes from Rome back to Brescia via Florence and Parma. In 2016 there were 449 cars that participated, from countries all over the world.
Visit lesser-known car museums
Automobile enthusiasts who want to go beyond Ferrari, Lamborghini and Pagani have several other great options.
The Righini Collection is one of the finest private automobile collections in the world. It's in Motor Valley, but doesn't showcase Ferrari, Lamborghini or Pagani, rather this museum is known in particular for its vintage Alfa Romeos. Housed in a castle surrounded by vineyards, this private collection doesn't have official opening hours. If you'd like to visit, contact the owners via the contact form on their website and request a date and time.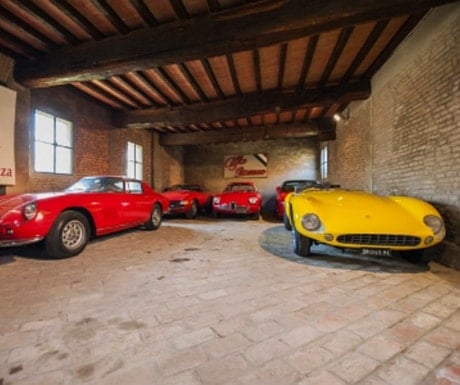 The Umberto Panini Collection (known as CUP) is a collection that highlights its 19 vintage Maserati cars, although it also includes motorcycles and farm equipment. This museum is free to visit and is also located near Modena. It has limited official opening hours so visitors should double check the website before just showing up.
The Nicolis Museum, near Verona, is an excellent museum on the evolution of modes of transport over the past couple of centuries, therefore showcases not only cars (some Maseratis and Lancias) but also motorcycles, Vespas, and bicycles. This compact museum is very well laid out and great for kids.
The large and modern Auto Museum in Torino (home to the Fiat headquarters) is well worth a visit for automobile enthusiasts visiting northwestern Italy. The virtual tour on the museum's website gives a great sense of the experience.
Rent a luxury car for 10 minutes or for a week
Take a Ferrari or a Lamborghini for a quick spin around the track, or for a longer drive in the countryside around Modena or the hills behind Florence. A short test drive is a great complement to a factory tour and museum visit in Motor Valley, and the Ferrari California can even accommodate the kids.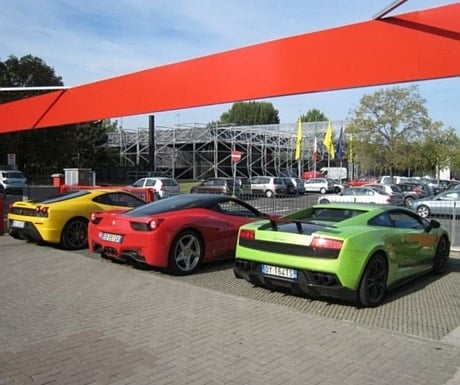 Or, rent a Ferrari or an Aston Martin or just a vintage Fiat 500 instead of the run-of-the-mill rental car you'd normally book for your Italy vacation.
Madeline Jhawar is Owner of Italy Beyond the Obvious.
If you would like to be a guest blogger on A Luxury Travel Blog in order to raise your profile, please contact us.