By
Hilary Stockton
on Nov 19, 2016 in
Accommodation
,
Attractions
,
Food and Drink
,
Going Out
,
Hotels
,
North America
,
Regions
,
Restaurants
,
Travel Miscellany
,
USA
,
Washington DC
Washington, DC may be best known to international visitors as the capital of the U.S. and home of the White House, which will soon have a new occupant, but its many museums and memorials make it a popular destination for U.S. residents as well. Since the city is often hot and humid during the summer months, and the city generally doesn't deal well with the odd winter snowfall, I recommend visiting during spring or autumn. Cherry blossom season is gorgeous, but also brings peak prices at hotels, so consider sometime in fall, with the vibrant foliage colors.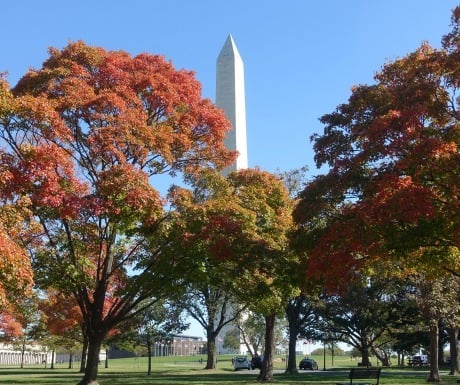 Here are my tips for a perfect weekend, although an ideal visit is at least 4 nights so as to be able to visit more of the Smithsonian museums.
1. Stay at the Four Seasons, Washington, DC
There's a reason the Four Seasons, Washington, DC tends to be a bit pricier than its other luxury hotel peers in the nation's capital: service is better and the beds more comfortable. In fact, the hotel recently completed a renovation of all guest rooms, installing the new Four Seasons beds with customizable mattress topper. So whether you prefer a firm mattress, a plush mattress or one in between, the Four Seasons has you covered.
Another reason I love this hotel is its convenient location in Georgetown, with all its shops and restaurants, yet just a 10 minute walk from the Foggy Bottom Metro Station. In fact, if you're traveling lightly, it's easy to get to the hotel from Reagan National Airport (DCA) in about 35 minutes.
The Four Seasons also has a very well equipped Health Club, with two floors of treadmills, weights and machines, and a lap pool and jacuzzi whirlpool on the lowest floor. After your workout, enjoy some fresh fruit and a  glass of juice, infused water or coffee.
2. Grab coffee and a bite at Baked & Wired
Although, speaking of coffee, I highly recommend strolling from the Four Seasons along the old C&O Canal to Baked & Wired, at 1052 Thomas Jefferson Street, about a 5 minute walk. This is a local favorite, with excellent espresso drinks available in the "Wired" section on the right, along with some grab and go treats such as Blueberry Kouign Amann and Cheddar Bacon Biscuits, and a wide array of additional baked goods on the left, from cupcakes, cookies and pies to foccacia.
3. Try Ethiopian food for lunch
Sure, Washington, DC has a variety of fine dining and casual restaurants, with Italian, French, steakhouses, Japanese, Indian, Chinese, Thai etc. all well represented, but why not try a more unusual cuisine–Ethiopian? Since we were staying at the Four Seasons, Washington DC, DAS Ethiopian was right across the street, so it couldn't have been more convenient. We shared an appetizer of Kaisa (mild Ethiopian cheese mixed with collard greens and a bit of red pepper, as well as a sampler platter of Chicken Doro Wat, Beef Kaey Wat, Beef Alicha, and Beef Segana Gomen, mixed with collard greens. And if you're vegetarian, there's also a vegetarian combination platter. The dishes are spooned onto injera, a spongy crepe made of teff, an ancient grain, and traditionally pieces of teff are torn off and used to pick up morsels of food, instead of utensils (although the friendly staff will bring you a fork if you prefer). While some dishes, such as the Beef Kaey Wat, were spicy, the Kaisa, Chicken Doro Wat and Beef Segana Gomen were mild enough for my 8 year old to happily devour.
4. Visit the Lincoln Memorial
While Washington, DC has many worthwhile monuments and memorials, my personal favorite is the Lincoln Memorial, which honors Abraham Lincoln, the 16th President of the United States. Lincoln's presidency during the bitter American Civil War is reflected in his Gettysburg Address and his Second Inaugural Address, which are inscribed on opposite walls of the memorial. Lincoln's Gettysburg Address, delivered November 19, 1863, at the dedication of the Soldiers' National Cemetary in Gettysburg, four and a half months after the Union armies defeated Confederate forces, concluded "We here highly resolve that these dead shall not have died in vain—that this nation, under God, shall have a new birth of freedom—and that government of the people, by the people, for the people, shall not perish from the earth." 
A little over a year later, Lincoln struck a grave and somber note in his Second Inaugural address, noting that "one [party] would make war rather than let the nation survive, and the other would accept war rather than let it perish, and the war came…It may seem strange that any men should dare to ask a just God's assistance in wringing their bread from the sweat of other men's faces…"
The Lincoln Memorial is also the site where Martin Luther King Jr, during the March on Washington for Jobs and Freedom, delivered his "I Have a Dream" speech, and the spot where he stood is marked on the Lincoln Memorial steps.
5. Explore the National Air and Space Museum and Smithsonian Museums
From the Lincoln Memorial, it's a pleasant walk by the reflecting pool to the Washington Monument, and about a 15-20 minute walk from there to the Smithsonian Museums on the National Mall. My son's favorite is the National Air and Space Museum, particularly its World War II Aviation exhibit with the different planes used during WWII and their capabilities; the Pioneers of Flight Gallery with some of the earliest aircraft; the Explore the Universe exhibit on how astronomical instruments evolved, helping us better understand the nature of the Universe; and the IMAX Theatre, where we watched "Journey to Space" and "D-Day: Normandy 1944."
6. Have dinner at the Red Hen
At the end of busy day in DC, treat yourself to a fantastic dinner at The Red Hen, with creative Italian-inflected new American cuisine from Chef Michael Friedman, who has worked at Danny Meyer's The Modern in NYC, Incanto in San Francisco, and Proof in DC, among others. While the menu changes seasonally, from the current menu, don't miss the Fried Brussels Sprouts with Crumbled Feta and Anchovy-Caper Aioli, Grilled Octopus with Cauliflower-Almond Crema and 'Nduja Breadcrumbs, and one of the homemade pastas. Just be sure to make advance reservations a few weeks ahead–The Red Hen is very popular with locals as well as visitors.
Hilary Stockton is the CEO at TravelSort.
If you would like to be a guest blogger on A Luxury Travel Blog in order to raise your profile, please contact us.