4 unique things to do at night in Edinburgh this Winter
It is tempting to escape the weather and stay warm inside during the winter months in Scotland, but in Edinburgh as the sun goes down, the city hots up. From the dazzling brilliance of the Big Wheel to the twinkling display at the Dome, a stroll through the Christmas city at night is enough to spark a festive buzz.
Experience a world of colour at Edinburgh's Street of Lights
Edinburgh's spectacular Street of Light is back for a third year this winter. Gather with the crowds and watch as the west end of George Street is transformed into a magical wonderland with a stunning light installation. Enjoy a colourful stroll through an archway of more than 60,000 light bulbs, while being serenaded by synchronised music from local choirs and bands including the Edinburgh Festival Chorus and the Royal Scottish National Orchestra Junior Chorus. The Street of Light opens on 20 November as part of Light Night, and then runs from 21 November – 24 December and is perfect to get you into the Christmas spirit.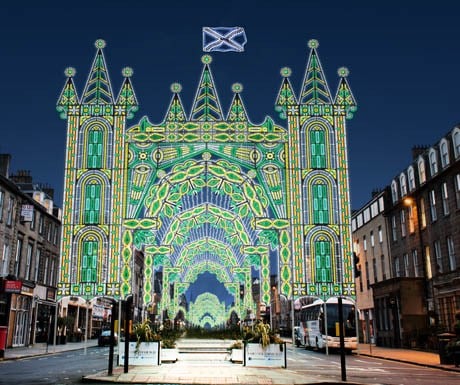 Snuggle up with a luxury hot chocolate at Edinburgh's Hotel Chocolat cafe
There is nothing better to warm the soul on a cold winter's night, than a cosy cup of Hot Chocolate. Hotel Chocolat has some of the most luxurious hot chocolate in town. Located in the heart of the city, the Hotel Chocolat cafe is the perfect spot for a post-shopping treat. Add a bit of Christmas flavour to your cup with tastes such as Salted Caramel and Gingerbread, all in the name of keeping warm!
Gaze at the night sky at Royal Observatory Edinburgh
The long dark nights of winter in Scotland don't have to be a thing of woe. They are perfect for a night of romantic stargazing with that special someone. Every Friday in the winter months, the Royal Observatory in Blackford welcomes visitors to observe the night sky with their 8" and 10" Meade telescopes. You will get a chance to take a tour of this historic and impressive Victorian building while learning the fine art of locating the main constellations. You will even get the chance to hold a meteorite!
Enjoy a cosy meal followed by a game of traditional Skittles at The Sheep Heid Inn
Tucked around a quiet corner at the bottom of Arthur's Seat, lies one of Edinburgh's oldest surviving pubs. Now beautifully restored as a cosy restaurant as well as pub, The Sheep Heid Inn is the perfect place to warm up after a hike on Edinburgh's most famous hill. Adding to the pub's quirky charm is a traditional skittles alley where guests can enjoy some good old fashioned fun.
Whether you want to be outside under the stars or enjoying a cosy meal, there is something for everyone in Edinburgh this winter. Just make sure to wrap up with your hat and gloves!
Douglas Walker is Chair of Unique Venues of Edinburgh.
If you would like to be a guest blogger on A Luxury Travel Blog in order to raise your profile, please contact us.
Did you enjoy this article?
Receive similar content direct to your inbox.