The 5 best places to spend Christmas abroad
Our favourite destinations for Christmas getaways involve lots of sunshine and warm weather.  It's hard to beat the idea of escaping the short wintery days, swapping your Christmas jumper and grey skies for a swimsuit and two weeks of beautiful sunshine. Here are some of the best places to visit at Christmas time:
Barbados
Being a Christian country, Christmas is celebrated with gusto in Barbados. The locals decorate their houses with festive lights (you're even likely to see illuminated snowmen, snowflakes and icicles – despite it being a sunny 29°C outside!). The shops are full of people buying gifts, and the malls and hotels are decked out with huge Christmas trees, tinsel and baubles. The radio stations play all the classic Christmas songs (as well as some lesser-known Caribbean-flavoured ones), and everyone is even jollier than usual (if that's even possible). Turkeys are flown in from the states for Christmas lunches, and everyone is full of festive cheer, making Barbados one of the best places in the world to make some happy Christmas memories. After present opening, Christmas morning is topped off with a stroll to the beach, taking the obligatory family photos whilst sipping rum punches, dressed in swimwear and a Santa hat. The party continues with plenty of dancing on Old Years Night (as New Year's Eve is known in Barbados).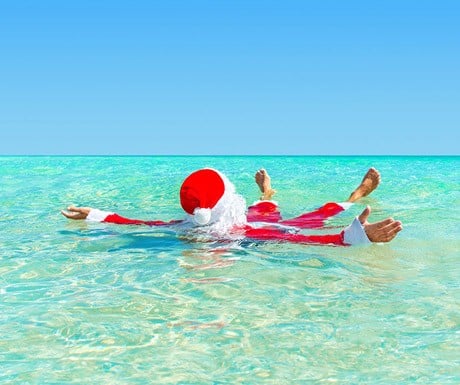 Dubai
Travelling to a country where Christmas is not traditionally celebrated raises several questions. Will it still feel Christmassy? Can I get a turkey dinner? Should I pack my Christmas jumper? Despite not being a traditional Arabian holiday, Christmas is still a big date in the Dubai calendar. The bigger hotels go all out with decorations and festive spirit. At Atlantis The Palm, the main lobby is transformed into a snowy winter wonderland, complete with faux fir trees and reindeer. You can even arrange for your kids to be 'tucked in' and read a bedtime story by one of Santa's elves on Christmas Eve. Turkey lovers also won't be disappointed with the spectacular spread laid on for Christmas lunch (it comes with all the trimmings: stuffing, roast potatoes, cranberry sauce – and even sprouts).
Whilst the weather in Dubai is cooler than the height of summer, you can (mercifully) leave your Christmas jumper at home – since average highs hover around a very pleasant 27 °C.  But if you find yourself pining for a white Christmas, with cosy log fires – you can always head over to Ski Dubai, the world's largest indoor ski slope, where you can go sledging on 'real' snow (created artificially using the same methods used to top up the slopes on the alps), build snowmen, meet Santa and enjoy a warming mug of cocoa in the heated timber chalet. If you can, make sure you stay until New Year's Eve as the fireworks in Dubai are among the best in the world.
The Maldives
Unsurprisingly, impossibly pure islands of The Maldives are a popular Christmas escape (although you'll need deep pockets, as it's also the most expensive time of year to visit). The powdery-white sands more than compensate for the lack of snow, and nearly all of the resorts lay on exclusive Christmas and New Year parties. It's even been known for Santa to drop by on a jet ski!
It's worth bearing in mind that the weather tends to be best towards to latter end of December, when you can be sure November's monsoon season is well and truly over – so arrive as close to Christmas as you can and extend your stay into January for guarenteed sunshine.
Thailand
Thailand is a good place to spend Christmas if you're looking for a relaxing escape, with a more low-key vibe. Whilst it's true many of the resorts will have Christmas trees and decorations (and you might even see the staff wearing red and white Santa hats), Christmas in Thailand is generally a non-event. That said, Thai people are always on the lookout for an excuse to celebrate, so whilst the religious significance of Christmas won't be important to most, they'll gleefully embrace the joyful holiday spirit.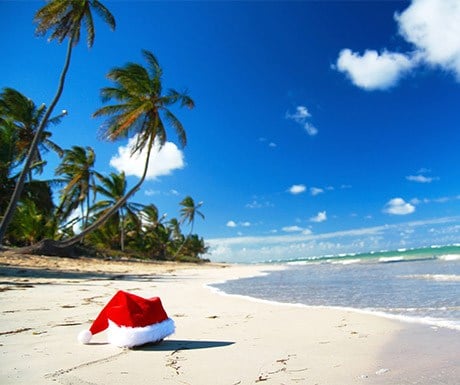 December is also one of the best times of year to visit Thailand weather-wise, and the escape from the over-commercialisation of Christmas means you can concentrate on what's really important: spending time with your loved ones. It'll be a memorable Christmas, simply for being very different. Whether you're looking for limestone karsts in Krabi, eye-opening entertainment in Pattaya or a little bit of luxe in Koh Samui – Thailand makes an excellent alternative Christmas getaway.
Sri Lanka
Throughout its history, Sri Lanka has been ruled by the Portuguese, Dutch and British – which is probably part of the reason why Christmas here is a bigger deal than you might expect, being a predominantly Buddhist country. Christmas Day is a public holiday, you'll see decorations in the streets and Christmas trees in the shopping centres and fireworks galore wherever you are. The hotels will lay on Christmas feasts, and children receive gifts from Naththal Seeya (Father Christmas).
December is also excellent weather-wise, with glorious sunshine and perfect beach weather almost a given. Beyond the beach, you'll find lots to do: go for bike rides,  snorkelling, have an elephant encounter, visit a sea turtle hatchery, shop the markets, ride in a tuk-tuk, tour the temples or take a river boat cruise through the mangrove forests. If you're happy to swap your eggnog for egg hoppers and coconut roti, it's definitely worth a visiting Sri Lanka at Christmas time. And whilst we're all gearing up for Christmas 2016, bear in mind that seasoned Christmas travellers will already be thinking ahead to December 2017. If you like the idea of spending Christmas abroad, January is the best time to book.  Being such a popular time of year to travel, availability is limited for both hotels and flights.  If you leave it till later in the year all the cheaper flights will have sold out and you'll end up paying through the roof, as well as having fewer options. Have you even spent a festive holiday abroad?   Tell us about it in the comments below, we'd love to hear your experiences.
Spencer Groves is Commercial Director at letsgo2.
If you would like to be a guest blogger on A Luxury Travel Blog in order to raise your profile, please contact us.
Did you enjoy this article?
Receive similar content direct to your inbox.