By
Richard Lumb
on Dec 20, 2016 in
Accommodation
,
Attractions
,
Europe
,
Food and Drink
,
France
,
Going Out
,
Hotels
,
Leisure Travel
,
Regions
,
Restaurants
,
Speciality Travel
,
Travel Miscellany
,
Western Europe
If I had to choose any ski resort it would be Courchevel. This world-famous ski resort in the Three Valleys region of France – the largest ski area in the world – was the first to be 'purpose built'. That was in 1946 – meaning that this prestigious resort celebrates its 70th anniversary this winter. So what makes Courchevel such a great resort? Here's my top eight reasons to put it on your list for this winter:
Guaranteed snow cover
Let's start with the obvious – you need snow for a skiing holiday and Courchevel guarantees it. It helps that over 80% of the ski area is located above 1800m and the majority of runs are north facing.
This Savoyarde resort was one of the first to invest in artificial snow – back in the fluoro days of the Eighties. Now there are 600 snow cannons across the ski area, covering 60% of the runs, and 30 extra machines were added in Courchevel Moriond (1650) for this winter.
Respect for the environment
Consideration for the environment is important in Courchevel. Snow making equipment is regularly upgraded to more efficient models that produce more snow, but use less water and electricity. This means that while the resort used to produce 3400 m3 of snow an hour, it's now up to 6000 m3. More than 100 older machines are due to be replaced between now and 2018, which will add to the 20% saving in water usage and 25% saving in energy already achieved.
Seven Michelin star restaurants
Courchevel has always been a pioneer when it comes to gastronomy. In 1979, Michel Rochedy's Le Chabichou was the first restaurant in resort to win a Michelin star, followed by a second star five years later. Now visitors – whether families or on corporate trips – revel in choice with seven restaurants boasting Michelin stars – that's the highest concentration for any single ski resort.
As well as Michelin-starred restaurants, the resort has a wide variety of restaurants. There are over 100 options covering all tastes and budgets including bistros, brasseries, crêperies, world cuisine, Italian, pizzerias, traditional and atmospheric restaurants.
For the record, the seven starred restaurants are Le 1947 **, Le Chabichou **, Les Airelles **, L'Azimut *, Baumanière 1850 *, Le Kintessence * and Le Montgomerie *.
Sculptures on the mountain
It's not every day that you see a giant red gorilla on the mountain, or a huge crocodile! Courchevel has a strong historical link with art and is the only French resort to have six of its buildings listed. Major artists including Dali and Botero have previously been showcased in resort.
Over the last four years, the resort has become an outdoor gallery exhibiting works up to 5 metres tall. The focus this season is on internationally renowned artists such as Richard Orlinkski, whose giant animal sculptures never fail to impress.
70th anniversary
Just over 70 years ago the resort was christened 'Courchevel' and this winter the resort is celebrating its anniversary in style with many events through the season.  A permanent feature will be a photography exhibition in Place du Tremplin showing 25 stunning snapshots of the resort over the years, and offering a true insight into the history of this wonderful town.
If you're looking for something with more bite, Florencia Malbran from local artisanal chocolate shop Piste Noire has created a special chocolate using rare Peruvian cocoa beans. This treat can be savoured in thin 70g and 90g bars or in little squares along with a coffee.
Aquamotion
In its first full year of opening over 75,000 visitors passed through the doors of Aquamotion and we expect that number to go up this year as its reputation spreads. Courchevel's aqua and wellness centre covers 15,000m² and offers eight different pools, plus a wellness area with 19 treatment booths. On top of that there's a huge range of other activities within the building including indoor surfing and climbing.
I've tried out this unique centre myself and I highly recommend it for an afternoon when the weather is closing in, or simply for some downtime during an active week. It's very futuristic-looking, mixing stainless steel with a glass and wood design that fits in with the surrounding pine trees. The whole building – designed by Auer-Weber & Associates architects – is concealed under a subtle green roof, shaped like a hillside or wave that blends perfectly with the environment, especially when covered in snow.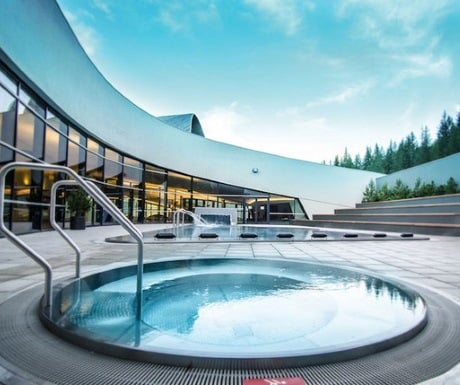 Handiski adaptive ski area
This will only affect a small number of people, but we've noticed visitors asking about Courchevel this season because of it. The new dedicated Handiski area in the Pralong sector was chosen for its ease of road access and terrain layout, and is served by two specially adapted ski tows, as well as a 6-seater detachable chair lift. There are also two dedicated parking spaces to improve access for those with reduced mobility. A team of 12 specially-trained instructors are available.
Kilimandjaro Hotel becomes the K2 Altitude 
Fifteen years after it opened my good friends the Capezzone and Fink families have relaunched the 5-star Hotel Kilimandjaro as the Hotel K2 Altitude, bringing it into line with their flagship hotel, Le K2 Palace.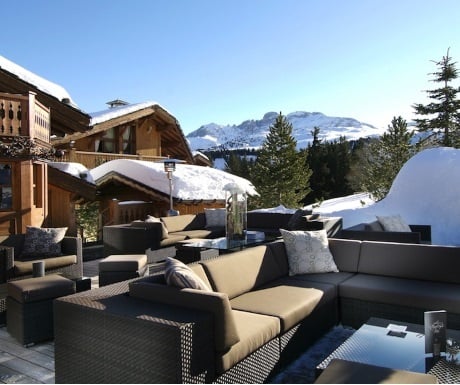 The renovation has taken place over the last seven months and saw 32 exceptional bedrooms and suites redesigned by Thomas Capezzone to create living spaces ranging from 27m² to 85m² in size, together with a stunning 140m² suite. Located by the Pralong piste, guests will enjoy ample sunshine, superb views and easy doorstep skiing access. Among the top class facilities are a three-level spa, movie theatre, fitness suite and hairdressing salon. The Michelin-starred restaurant La Table du Kilimandjaro has been renamed Le Montgomerie, after the first man to ascent the K2 peak in 1856.
Richard Lumb is Owner of Kaluma Travel.
If you would like to be a guest blogger on A Luxury Travel Blog in order to raise your profile, please contact us.