For me, a city visit in Asia is all about getting in the maximum number of quality eating experiences and then working from there. The highlight of a trip to Singapore, Bangkok, Hanoi or Kuala Lumpur is the food and Hong Kong is certainly no exception.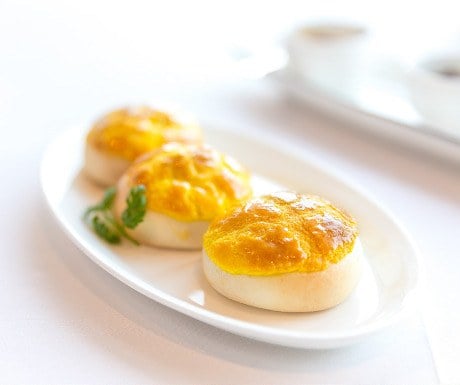 I've compiled a list of 5 great places to eat in Hong Kong – bridging the gap between high-end and what my Hong Kong friends call "local, local", meaning places where the atmosphere and food is authentic and fun despite the no general frills approach. This is by no means an exhaustive list: you can go on eating and eating in Hong Kong, for years on end and never come to the definitive list: this is simply meant as a starting point for those based on the Island side of Hong Kong for a few days! Please comment below and let me know your favourite places!
Maxim's
I'll start with an absolute Hong Kong institution and classic for the Cantonese brunch staple of Dim sum. This is Maxim's at City Hall. Just dig in and enjoy whatever catches your eye with all the traditional dim sum delights such as cha siu bao (steamed bun with BBQ pork) and all the many and various variations on the steamed bun and dumplings. Leave save for the egg tart at the end too. It's as much about the cracking atmosphere as the food here and the feeling that you are really in Hong Kong, with cheerful ladies bashing about carts and pushing their wares and happy joshing and shouting all around.
Four Seasons
At the very top end, we'll go to the Four Seasons in Central and the amazing 3* Michelin restaurant, Lung King Heen. In contrast to Maxims, the style is reserved and formal though still Chinese in character. Whilst I haven't sampled the Dim Sum served earlier in the day, the chefs tasting menu was a culinary journey and for me an education: the lightness and deftness of touch that goes into creating these dishes pushes memories of your local English-Chinese into a locked cupboard full of dodgy memories at the back of your mind and transforms your preconceptions of Chinese food at this level.
Tung Po
From the sublime to the ridiculous now and off to Causeway Bay for our next stop at Tung Po at 2/F Java Road Municipal Services Building, 99 Java Rd, North Point. Very much "local local" this restaurant sits on top of a market  and it is rough and ready. Not a place to go for peace and quiet – it is frequented by groups of people out for a fun evening and some absolutely cracking food. On occasion, the staff go so far as to join in the drinking and crank the music up so loud you can't hear yourself think – but the owner Robby directs the show with an expert eye you just can't go past the squid and cucumber wasabi salad, pepper crab, garlic fried prawns, bamboo clams, calamari, ginger fried rice and roast chicken. Oh and some vegetables if you really must too!
Din Tai Fung
It's no hidden gem, Din Tai Fung in Causeway Bay even has a Michelin star, but this particular branch of the chain is well worth a visit and their Xiao Long Bao dumplings are reputedly the best on the island and my advice would be to just keep ordering them until you're stuffed. Do try them with black truffle too, for a luxurious little twist. For a little variety get the cucumber starter, the spicy wontons, and the pea shoot leaves (when in season) were a revelation to me.  All their dishes are delicious, clean and fresh but focus on the main game… the xiao long bau.
Chom Chom
Lastly and slightly randomly, I'm going to use a Vietnamese restaurant generally to highlight the fact that there are so many Asian cuisines which you can find in Hong Kong cooked to a superb standard. There are many Indian delights – particularly South Indian, superb Thai places, sizzling Sichuan places of course and some very high quality Vietnamese places too. One of these is Chom Chom in Soho, which brings Honk Kongites the very best fresh, zingy, deep Vietnamese flavours. It's informal and fun and there are no reservation, but there is a seriousness to the food preparation: this is some of the best Vietnamese food I've eaten outside of Vietnam itself.
Do let us know your suggestions and why in the comments below. Hong Kong is a culinary adventure – every time I visit!
Sam Clark is CEO at Experience Travel Group.
If you would like to be a guest blogger on A Luxury Travel Blog in order to raise your profile, please contact us.