2 luxury resorts in the Maldives that love vegan guests
There's nothing better than finding luxury resorts that welcome you as a vegan traveller, especially if you find these resorts in the
Maldives
, one of the world's most luxurious travel destinations. The Maldives is one of those timeless locations, home to some amazing luxury resorts and now there is more choice than ever before. Luckily, this means that it's possible to find resorts that offer top end luxury and where vegan guests will be totally at home. Many people choose to follow a vegan lifestyle because it has less of an impact on the environment, or for the health benefits or their compassion towards animals. Our two luxury resorts in the Maldives that love vegan guests are not only amongst the best in the Maldives, but are amongst the best in the world in terms of luxury and also how vegan friendly they are. These are places where veganism is fully supported, not only because they want to offer excellent customer service but also because they share the same passion for health and the planet as many vegans. If you want to experience the best of the best but you want to have the least negative impact on your health and the planet, then these places are for you.
Six Senses Laamu
 have a mission to help you ˜reconnect with yourself, others and the world around you" and they do this by offering you endless opportunities to enjoy peace and quiet, natural beauty, delicious food and activities that will inspire. Located in the stunning Laamu Atoll, the resort spreads out 'over water' and 'on-land' meaning that within the space of a walk to breakfast you can experience both lush tropical foliage and white sandy beach and the famous Maldives over-water experience where you're surrounded by the clear blue ocean. You'll have to pinch yourself regularly to check you aren't dreaming.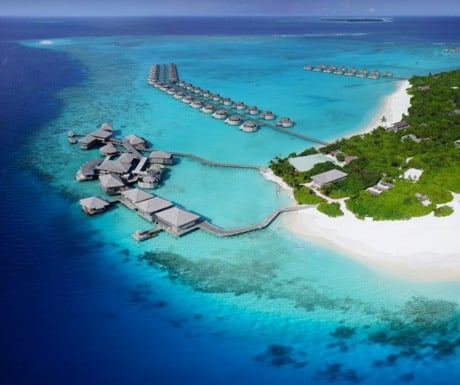 It's a stunning resort which makes use of natural wood, glass and fabrics to give a laid back luxury feel. Villas are light and breezy; huge comfortable beds are surrounded by billowing nets and are scented with your own choice of essential oil blend at night. The beach always seems to be just a few steps away, you can swim in your own private pool or you can choose a lounger next to the sun drenched main pool. Grab a pair of fins and a mask (or full scuba gear) and work your way down the steps that go straight from the Chill Bar at the over-water side, directly into the ocean where swimming with fish, turtles and even dolphins awaits.
So far is this sounding just like your usual once in a lifetime, top end luxury Maldives experience? That's not a surprise because Six Senses Laamu is definitely that, but it's also much, much more. This is a resort that has embraced health, wellness and sustainability and kept it at its core. Their commitment to these things is evident throughout the resort, whether you are wandering about 'Eco-centro', the re-
cycling
hub in the centre of the island, or relaxing in the spa where peace and tranquility, natural products and soothing world class spa treatments are in abundance. But it's the resort restaurants that really show where they are doing something different (and somethings amazing). The food quality is high and you're sure to find all the things you might expect as a non-vegan, but every menu also has a range of clearly labelled, innovative vegan options that will set your tastebuds on fire and look after your health at the same time.
Indulge in dishes like the Six Senses ˜Raw Caesar" made with crispy fresh romaine lettuce, a tasty hard nut cheese, avocado and a creamy dressing made from young coconut or the ˜Wellness Benedict" which consists of mini, gluten free corn muffins stacked with peanut butter, tomato, steamed spinach and slathered with a delicious tofu hollandaise. The menu is full of superfoods, healthy raw and cooked vegan creations plus you can get things like indulgent, truffle laced fries and decadent desserts too (and there's a free ice cream parlour with vegan sorbets); you are on holiday after all.
At 'Leaf', Six Senses Laamu's signature garden to table restaurant, the superb vegan food continues with a menu that presented several courses of well-crafted food. Creamy coconut herb risotto with micro herbs, watermelon tartare and a raw mango cashew nut cheesecake are sure to impress and make every vegan feel loved.
The team at Six Senses Laamu never stopped trying to amaze us; we loved getting to eat a vegan version of a Sri Lankan breakfast (string hoppers, coconut curry and fresh coconut sambol) made for us by the Sri Lankan chef and a huge 'Rijsttafel' loaded with tofu, tempeh, rice and vegetable curry made by the Indonesian chef. This place is truly a haven for vegans, a haven set in paradise with food that dreams are made of.
Over in their beautiful corner of The Maldives,
Soneva Fushi
 have been offering their guests a different kind of luxury experience since 1995. Believing in 'intelligent luxury' where luxury experiences exist in harmony with the environment, Soneva have been at the forefront of sustainable luxury eco-tourism since they opened. It's no surprise then that luxury loving vegan guests will fit in here, as not only is the service tailored to each individual but there is a strong emphasis on fresh, natural, high quality whole foods on their menu, making it very compatible with veganism. Soneva Fushi is located on Kunfunadhoo, a tropical paradise island in the UNESCO Biosphere Reserve of Baa Atoll. Take a short sea plane, flying over a captivating seascape and landing in the middle of the ocean, before transferring onto a private boat to sail ashore to you new luxury island home. Guests are invited to take off their shoes for the duration of their stay, walking barefoot in the sand in true laid back luxury style.
The resort is beautiful with open air structures, natural building materials, whitewashed walls and splashes of colour from plush, soft furnishings. Villas are designed to create spaces to relax, to find peace and to get in touch with nature as well as having a few fun touches like a giant cotton ball filled bed in the open-air bathroom or a carefree swing seat outside next to the pool. There are planet friendly initiatives and experiences everywhere at Soneva Fushi, whether its the cool 'So Glasscycle' glass blowing studio, recycling glass and turning it into items you'll see being used around your villa and in the restaurants, or the responsibly organised dolphin watching excursion where you can spot thee magnificent creatures whist sipping sparkling wine and eating delicious canapes. And of course there are recycling bins, reminders to use less power, solar panels and a 2% environmental levy which has funded global initiatives to offset carbon emissions and improve the lives of others.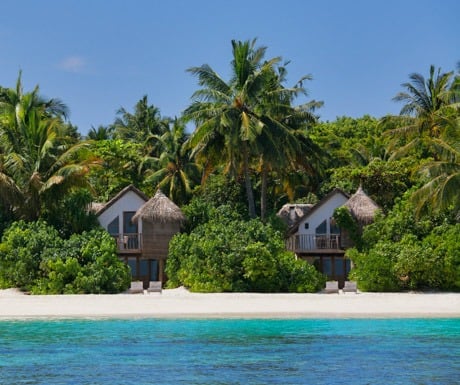 Vegans visiting Soneva Fushi will also love the food offering which is full of fresh, organic, premium quality ingredients (some of which are grown in the resort's herb and vegetable garden). Emphasis is not only on taste but on quality and healthiness so you'll find lots of chemical free, unprocessed dishes crafted skilfully from natural ingredients. Dishes are vibrant and cleverly put together, turning mealtimes into wonderful food adventures where we could select from colourful plates of plant-based creations.
Alongside the clearly luxurious feel of Soneva Fushi there always seems to be a playful side and there's no better way to see this than at 'So Hot, So Cool' the complimentary ice cream parlour and chocolate room (which both have plenty of vegan offerings). Become like a kid in a sweet shop as you sample your way though rich sweet chocolates and scoops of flavourful sorbets, feel giddy with excitement as you realise you can pop in and help yourself at anytime. Such is the spirit at Soneva Fushi.
But of course guests can't just live on chocolates and ice cream and so luckily there are numerous options at every mealtime (and in between!). Whether its ordering à la carte or selecting from the buffet with live pasta and pizza cooking stations or getting addicted to the fragrantly spiced dhal and curries; it's hard to not enjoy yourself at Soneva Fushi. And if you love making your own salads then you'll go crazy for the mind boggling array of oils, vinegars and even speciality salts to accompany nuts seeds, bread and grains. All fresh, all natural; a true gourmet extravaganza is never far away.
One of the places which will really impress is 'Fresh in the Garden' Soneva Fushi's treetop restaurant located within the organic garden. Traverse a quirky rope bridge to reach this treehouse style restaurant where chefs work with near silent concentration in a open kitchen sunk into the middle of the dining area. The vegan menu at ˜Fresh in the Garden" can only be described as a wonderful journey of the senses. A fragrant ˜Papillote of Vegetables" was unwrapped tableside producing a beautifully scented cloud of steamy aroma with perfectly cooked potato, asparagus, leeks and herbs inside and an 'Almond Resin' topped with jewels of pistachio and raisins was one of the best things we've eaten all year (think tangy, creamy, sweet, nutty, almost cheese-like). After dinner, if you haven't already lost your mind with happiness, you can walk across to another treetop building into 'So Celestial', Soneva's observatory, where you can gaze at the stars and planets above. Yes, Soneva Fushi is an extraordinarily special and enchanting place.
Our 2 resorts in the Maldives that love vegan guests will definitely love you as someone who has choses to share a little slice of their Maldivian paradise, but more importantly you'll probably love them too. This special blend of luxury and sustainability, of health, wellness and compassion mingled with inspiration, peace, beauty and sheer paradise filled indulgence is hard to resist. Add in all of that mind-blowing vegan food and it's hard not to fall head over heels in love with each of these resorts…
Paul Eyers is Founder of Vegan Food Quest.
If you would like to be a guest blogger on A Luxury Travel Blog in order to raise your profile, please contact us.
Did you enjoy this article?
Receive similar content direct to your inbox.