With the new year just begun, many of us are thinking about where we will travel to in 2017.  One hotel that should be on your to-visit list is Sukhvilas – the new luxury property from Oberoi in the Indian city of Chandigarh. Chandigarh is a gateway to the Himalayan town of Shimla. And while Chandigarh does not draw crowds of tourists like Rajasthan or Kerala, the city itself is well worthy of exploration.
Chandigarh was the first planned city of India after independence in the 1950's, completely planned by the French architect Le Corbusier. His work and master planning is still at the core of this city – dominated by roundabouts and the buildings of Le Corbusier that house two state governments today. For anyone with a passing interest in design and architecture, the city is a fascinating place to visit. The city's other key attraction is the quirky, but amazing, Nek Chand Rock Garden.
Oberoi's new Sukhvilas is also being established as a wellness retreat in this well-connected city. Having only opened very late in 2016 – here are 5 reasons you should visit this luxury resort soon – before everyone else does.
1. Easy to get to
Those of us that have travelled in India often know that even short distances can take a long time to cover. Chandigarh is a short flight or easy train ride from Delhi – making it an ideal spot for a long weekend.  The hotel is approximately 30 minutes from Chandigarh airport and is surrounded by thousands of acres of forest – making it a perfect retreat from India's big cities. 
It's also a great stopping point if you have travelled from Delhi and are continuing on to Shimla in the hills.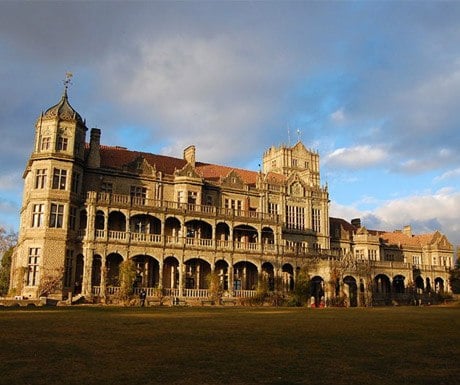 2. The heated pool
Travelling in North India is best in the cooler, or Indian winter, months of December and January. However, this means one of our favourite holiday past times – reading a book by the pool and swimming – isn't feasible as it's too cold. Sukhvilas striking blue main pool is heated and temperature controlled – perfect for swimming in at any time. Pack your swimmers!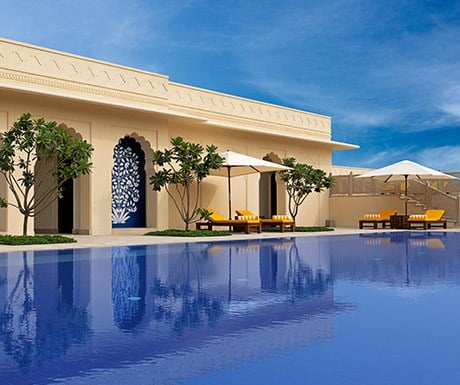 3. Pamper yourself
The resort is setting itself up as a wellness retreat and the spa once completed will feature an outdoor yoga deck (facing east, so that your morning Surya Namaskars do actually face the sun), as well as an impressive array of therapies and treatments. With a vitality pool, Turkish hammam and Roman tepidarioum, as well as an Ayurvedic doctor and therapies, there really will be no reason not to pamper yourself.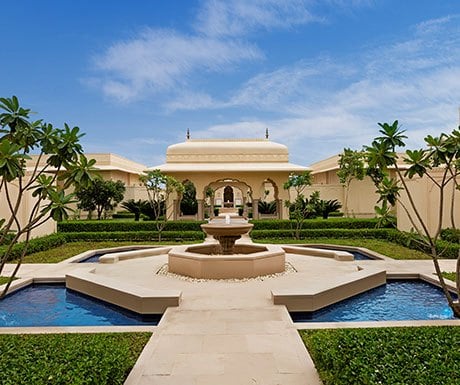 4. Glamping on a whole new level
Sukhvilas boasts 7 ultra luxury Royal Forest Tents with private pools.  But forget the word tent – it's not camping and it's beyond glamping. The tents are permanent buildings with a three-layered canopy roof, printed inside with a delightful Indian block printing design. They feature luxurious bathrooms and your own private, temperature-controlled pool.  These luxury tents are in a separate complex to the rest of the hotel, with a private restaurant. An ideal place for a little romance with someone special or escaping reality for a few days.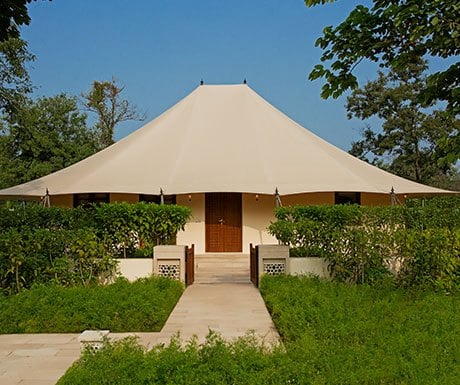 5.  Service that goes the extra mile
Having only opened two months back, the hotel is all fresh and new, with a certain buzz and anticipation around it. Likewise, that attitude is reflected in its staff.  Though all the staff have extensive experience working at other Oberoi resorts around India, they are excited about this new property and the service is exceptional. All the staff we met during our recent stay were genuinely warm and friendly, and seriously service orientated.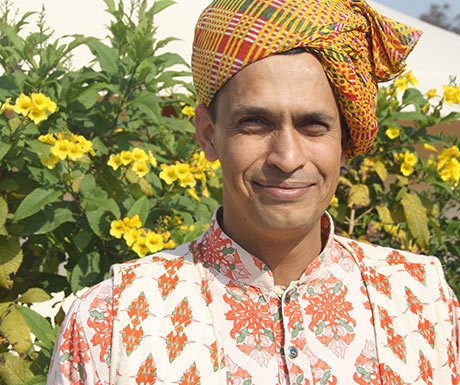 Lincoln Harris is Founder at India Unbound.
If you would like to be a guest blogger on A Luxury Travel Blog in order to raise your profile, please contact us.