By
Daniel Elkan
on Jan 08, 2017 in
Austria
,
Europe
,
Featured
,
France
,
Leisure Travel
,
Rail Travel
,
Regions
,
Speciality Travel
,
Switzerland
,
Western Europe
If someone ever invents a teleport machine, it's going to be an instant hit with skiers. As you might well know, even when you fly, what looks like a short hop on paper can take the best part of a day – once you factor in tedious queuing and airport transfers. It might come as a surprise, however, that rail travel can rival flying in terms of door-to- door journey times. What's more, travelling this way can give a scenic, relaxing journey with a fraction of the carbon emissions. So which luxury resorts can you reach? Here are 10 of the best.
Val d'Isere, France
Right at the end of the Tarentaise valley, Val d'Isere blends an attractive village with 300km of epic ski terrain – and combination that has made it the world's most popular ski resort British clients. There is an abundance of high-class accommodation and plenty of swish chalets. This season the new Chalet Skaldi residence opens, along with a new five-star hotel, La Mourra, with nine luxury suites and four chalets, whose cuisine is noted as 'Japanese inspired French'. The slopes are shared with the neighbouring resort of Tignes, and the layout makes it something of a paradise for intermediate and advanced skiers, topping out at nearly 3,400m, under the summit of the Pointe du Montet, and at Grande Motte glacier at 3,456m. When you've done with carving up the mountain, the après ski can begin. Val d'Isere the home of the original – and legendary – Folie Douce bar, with its menagerie of flamboyant performers, dancing on tables to get the party started; which it soon does!
Rail travel: Depart London St Pancras on the 09:45 Eurostar Ski Train to Bourg St Maurice, arriving at 18:58; from there it's 45 minutes by taxi.
La Clusaz, France
The cute village of La Clusaz, sitting high above the town of Annecy, just oozes charm, while on the slopes, the scenery overlooking the Aravis mountain range is absolutely spectacular. There are plenty of mountain restaurants from which to take in these wonderful views, and one of the best locations is the terrace of restaurant Les Terres Rouge, with a 360-degree panorama that overlooks the Jalouvre and Lachat peaks. The skiing here is excellent, with varied runs, plenty of wooded terrain and bountiful off piste. The village has pretty Savoyard architecture and streets lined with buzzing bars and restaurants. Neighbouring Le Grand Bornand, on the same ski pass, is the birthplace of Reblochon cheese, and it features on restaurant menus in both resorts. Relaxation is very much part of the picture here, and at the new Serge Blanco Balneotherapy spa which overlooks the village, you can enjoy jacuzzi's with hydromassaging jets, a sauna and hammam and a 28-degree heated outdoor pool.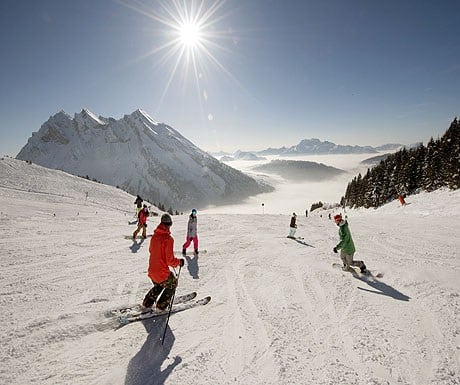 Rail travel: Depart St Pancras on the 07:52 Eurostar to Paris; then take the 12:45 TGV to Annecy, arriving at 16:30. From there it's 35 minutes by bus or taxi.
St Anton, Austria
Snowy St Anton has long been a magnet for good skiers due to the huge variety of runs and abundant off-piste terrain. The journey from the UK might take longer than to French resorts but the scenery en route is remarkable: you pass Lake Zurich and Lake Wallen in Switzerland before plunging thought the spectacular Arlberg Valley, with snow-covered peaks on either side and quaint Austrian villages whizzing by. St Anton is full of quirky charm, with places such as the fascinating History Museum, which traces the development of skiing from its origins to the present day and the Hospitz Alm at St Christophe, with a 30-metre wooden chute that lets you slide – on your back – from the restaurant down to the huge walk in cellar. The dining on the mountain, and in the village, is a treat and the restaurants of this famous Tyroloean ski resort can now boast of an incredible ten toques and 77 Gault Millau points.
Rail travel: Depart London St Pancras on the 18:01 Eurostar to Paris-Nord. Stopover in Paris and take the 07:23 TGV from Paris-Lyon, changing in Zurich to the 12:40 RailJet arriving at St Anton at 15:03.
Les Gets, France
Close to Cluses station is the pretty village of Les Gets – chocolate-box cute with charming chalets restaurants dotting the streets and a little road-train that ferries skiers around the village. The resort is part of the huge 650km Portes du Soleil ski area, linked with Morzine and Avoriaz, and the ski possibilities are endless. There are wonderful local slopes at Mont Chery. You'll find that these remain remarkably quiet, retaining untracked powder for far longer than other areas on the main circuit. There's plenty to do after you've carved your way around the mountain: for example you can sample chocolate from around the world at a new tearoom, Le Chalet du Chocolate; and in the evenings, the tourist office organises lantern-lit snowshoe walks through the local woods. The resort is very family friendly, with great beginner slopes. This season the tourist office is even organises organic ski-care workshops for children.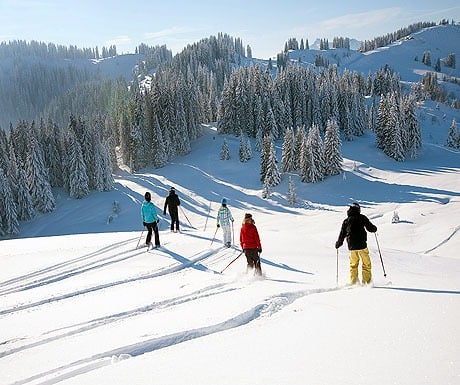 Rail travel: Depart London St Pancras 07:19 by Eurostar to Lyon; from there take a local train at 13.40, arriving Cluses at 16:35; from there it's 50 minutes by taxi.
Val Thorens, France
One of the most snowsure resorts in the Alps, Val Thorens' village is perched at 2,300m atop the Three Valleys ski area which has 600km of skiing. For intermediates and advanced skiers, the options in Val Thorens are unparalleled – the vast extent of the slopes making it a huge playground for mile munchers. The ski-in- ski-out nature of the accommodation means makes it convenient for those who just want to clip on their skis and go. Over the past few years, the village has seen the creation of a flurry of upmarket hotels and gourmet restaurants. Jean Sulpice, for example, boasts two Michelin stars and four Gault-Millau toques, while at the L'Epicurian, renowned chef Jérémy Gillon holds monthly get-togethers where local farmers are introduced to his guests. This year, the resort's slope team has created the 'Ski Flux' system, which displays in real time how busy the ski runs are – the first of its kind in France.
Rail travel: Depart London St Pancras on the 09:45 Eurostar Ski Train to Moutiers, arriving at 18:11. From there it's 50 minutes by bus or taxi.
Les Arcs, France
Comprised of four main villages, which access 425km of terrain in the Paradiski area, Les Arcs is an excellent choice for skiers of a range of levels. Beginners can benefit from the high-altitude blue runs, intermediates will enjoy the slope variety and experts love the steep challenges and off-piste. For ski-in/ski-out convenience, Arc 1950 is hard to beat – with slopes that actually snake through the village. Arc 1800 has created the largest igloo village in the French Alps in the the new Mille8 development, which has a swimming and aquatic centre with indoor and outdoor pools and waterfalls – as well as a thrilling state-of- the-art luge run. This winter in a new 5-star hotel, the Taj Mahal, opens in Arc 2000. Nearby, the 2134 Brasserie Alpine has live rooftop late-afternoon concerts, combining music and views of the 3,225m Aiguille Rouge mountain peak.
Rail travel: Depart London St Pancras on the 09:45 Eurostar Ski Train to Bourg St Maurice, arriving at 18:58; from there it's seven minutes by funicular railway to Arc 1600, with bus connections to the other villages; you can also travel by bus or taxi (35 – 45 minutes) from Bourg St Maurice to all the villages.
Saas Fee, Switzerland
If you want to feel like you are living in a winter picture postcard, then Saas Fee is one of those places. The village is achingly cute, surrounded by thirteen 4,000m peaks. Blackened hay barns pepper its car-free streets, roofs heave snow, and in the evenings quaint Swiss restaurants and buzzing bars beam out warmth and ambience. The skiing here is superb – in particular, the 1700m on-piste descent from the 3500m Allalin funicular station, all the way back down into town – a thigh-burner that begs multiple repeats. Non-ski activities include ice climbing, tobogganing, winter walking and paragliding. Food on the mountain is excellent, and you can eat at the highest revolving restaurant in the Alps, turning through 360 degrees during the course of your meal. The resort is also home to the world's largest ice caves.
Rail travel: Depart from London St Pancras to Paris Gare du Nord by Eurostar at 17:30 and stay over in Paris; next morning take the 07:57 TGV from Paris Gare de Lyon, arriving at Visp at 14:04; from there it's 50 minutes by connecting bus.
St Gervais, France
Part of the Evasion Mont Blanc Ski area, Saint Gervais is a charming ski base. This is a resort where the whole vibe is relaxed – the ethos of gently enjoying the mountain being very much at the core of the traditional village. Perhaps it's the fact that the resort is a natural spa town that has imbued a sense of relaxation. The terrain will suit intermediates the most, and those who want to get a taste for accessible off piste will find it in abundance here – with plenty of powder snow alongside and between the pistes, which you can dip in and out of. Around many a corner, or nestled in the woods, you'll find cosy mountain restaurants, such as Sous les Freddy's. The resort also has approximately 40km of cross-country tracks, winding through the stunning local mountain scenery of woodland and snow-filled meadows. The various villages that comprise the resort are all fairly quiet in the evenings, but have some quality restaurants and comfortable lounge bars.
Rail travel: Depart from London St Pancras to Paris Gare du Nord by Eurostar at 17:30 and stay over in Paris; next morning take the 07:11 TGV from Paris Gare de Lyon, arriving at St Gervais at 11:33; from there it's 10 minutes by bus or taxi.
Avoriaz, France
Of the many purpose-built resorts created in France in the 1960s, Avoriaz is probably the best designed. Avoriaz' accommodation is built entirely on the slopes, making all of its residences ski-in/ski- out. The resort celebrates its 50th birthday this winter, and although the architecture is modern, the fact that it is entirely car free gives it a unique ambience and a friendly feel. Indeed, skiers arriving at the resort are carried to their accommodation by horse-drawn sleighs, Narnia style. The newest residence, L'Amara, is also the most upmarket, with a large heated swimming pool sensory pool, steam room, saunas, Jacuzzis and gym, along with a health centre that offers various massages, wraps and beauty treatments. The resort's location in the heart of the 600km Portes du Soleil means that you can ski off in a different direction each day for a new adventure. In particular, the Chatel, Morgins and Champery sections are great for intermediates, and there are scenic blues at Prodains and Supermorzine. The village also has the innovative Aquariaz tropical swimming pool, with waterslides and lagoons.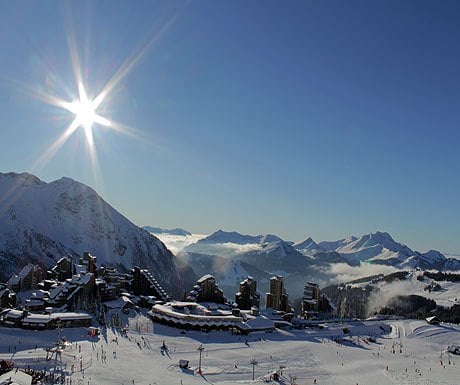 Rail travel: Depart from London St Pancras to Paris Gare du Nord by Eurostar at 17:30 and stay over in Paris; next morning take the 07:11 TGV from Paris Gare de Lyon, arriving at Cluses at 11:05; from there it's 50 minutes by bus or taxi.
Meribel, France
Méribel sits at the very heart of the vast Three Valleys ski area. This means that every day you can ski off in a different direction: towards Courchevel, Les Menuires or Val Thorens, or over to satellite areas like La Tania, Saint-Martin de Belleville and Orelle. The terrain has the variety that makes it work well for large parties of mixed ability – with easy, wide blue-graded cruises, steeper reds, and challenging blacks. Founded by British skier Peter Lindsay in 1938, Méribel's accommodation includes a huge array of charming chalets, catering to every type of budget and imagination. Some of the most sumptuous converted from old farmhouses; others are striking new builds. The sheltered nature of the terrain and the number of wooded runs make it a good resort for all weather conditions, not just on the many days that the sun shines. There are 33km of cross-country tracks in Méribel Valley and ski-joëring (skiing behind a horse) is also available.
Rail travel: Depart London St Pancras on the 09:45 Eurostar Ski Train, arriving at Moutiers at 18:15. From there it's 30 minutes by bus or taxi.