Last year I set myself the challenge of running at least 10K a day for a whole year in aid of St. Mary's Hospice in South Cumbria. (I've raised around £5,000 so far but am still welcoming donations… PLEASE… you can donate via JustGiving here – thank you!). I had read about the challenge a few years before on the BBC Magazine website and it interested me. 10K isn't so far on its own (just over 6 miles) but to do this every single day of the year (and in a leap year to boot, so one extra run!) was going to be a big challenge for me. Afterall, I am very average when it comes to running. Whilst this post is a little off-topic, I'm putting together a few pointers that I hope will help anyone else thinking of embarking on the same challenge.
1. Don't underestimate what you are taking on
I wasn't under any illusions that running at least 10K a day for a whole year was going to be easy. That said, I possibly still underestimated the scale of the challenge. By the end of the year, I had run approximately 2,500 miles (which equates to more than 95 marathons) and climbed around 250,000 feet (more than 8 times the height of Everest). But it's not so much the distance… it's achieving the consistency of doing it every single day. The likelihood is that things will happen that will make it very difficult – in my case, it was an injury I sustained when falling off a gate I was climbing over, and a couple of bouts of 'man flu' which made for some very challenging days.
2. Run slowly
Whilst it might be tempting to rattle off your 10K quickly and get on with the rest of your day, you're more likely to be prone to injury if you push yourself excessively. Taking it slowly will be less punishing on your body and make it easier for you to run again the next day… and the next… and the next…  Remember, in order to minimise your risk of injury, you're not really supposed to increase your weekly mileage by more than 10% from one week to the next so, if you're not already running around 40 miles per week before you start the challenge (I wasn't), then you really need to be taking it easy when you do run.
3. Run off-road
Similarly, running on road means greater impact on your joints and an increased likelihood of niggles and injuries. If you can, run off-road a little and give your knees and ankles a rest from the tarmac. If you have little choice on the matter because you live in a very urbanised area, for example, then make sure you have plenty of cushioning in your footwear.
4. Vary your runs
Running exactly the same route every day can be soul-destroying, especially if it's not that scenic or interesting. As a travel blogger, I was lucky to run in a wide variety of locations, but this won't be possible for everyone.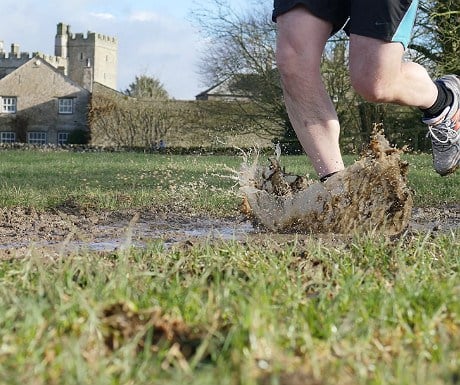 5. Run with someone (or something) occasionally
Although most of my runs were done solo with our dog when I was home, I did from time to time run with friends (and even in some cases with people I'd only just met). Having a running partner – be it a person or a dog – will take out some of the boredom that's almost inevitable from running every single day, and will consequently make some of the runs that little bit easier.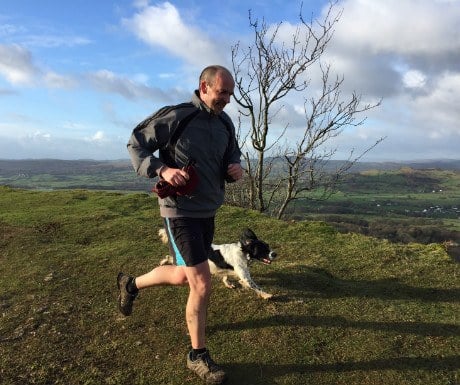 6. Stretch!
I'm guilty of not stretching as much as I should but in the first couple of months I was feeling discomfort in both my Achilles tendons which concerned me as I didn't relish the thought of trying to run with tendonitis for a whole year.  Thankfully with some targeted stretches, I was able to overcome the issue. Stupidly, I'm still not very good when it comes to stretching, but it is said to help prevent the risk of injury.
7. Do it for charity
If you're going to the trouble of taking on this challenge, you might as well as raise some money for a good cause in the process. Start your fundraising at the beginning and keep people updated of your progress via social media, email, word-of-mouth, etc. as you go along, and hopefully this will generate at least a trickle of income for your chosen charity. Make sure you notify everyone when you are nearing the end of the challenge – and again when you complete it – as that's when the bulk of the donations will come in!  It might even be worth doing a press release to your local newspaper to generate additional publicity towards your fundraising effort. Or do a blog post about your experience and ask for your readers to be generous… ;-)
8. Run early in the day if you can
It might not always be possible but I'd suggest doing your daily run as soon in the day as you can. I had days where I just couldn't see a window of opportunity – for example, when I attended the World Tourism Forum in Istanbul, it was an all-day event followed by an evening get-together; to get around it, I just got up and started running at around 6am even though it was pitch black outside and I didn't know the surroundings. The upside was that I did get to see a lovely sunrise.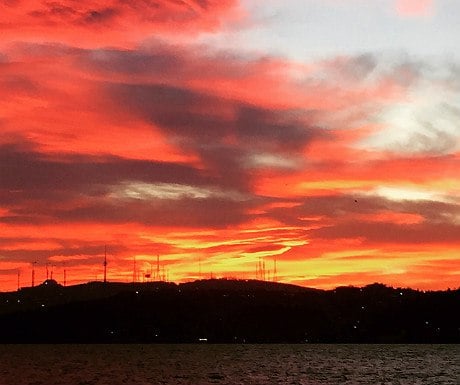 On another occasion I was on a 24-hour ferry to Spain. There wasn't a gym with a treadmill on board – I did consider doing laps of the ferry in order to do my 10K but wasn't sure this would go down with the ferry company on safety grounds. Instead, once we reached our destination, I was pounding the streets until well after 11pm which wasn't ideal! But the incident that really made me think 'I need to get out early each day if I can' was when I needed to take one of our sons to A&E one evening (thankfully it was nothing serious as it turned out) – we were at the hospital until gone midnight if I recall, but luckily I'd already done my run earlier in the day.
9. Be prepared for difficult days
It's unlikely that you're going to be in peak condition every day of the year. Whether it be just feeling below par, illness or injury, there will be times when running 10K feels like the last thing you want to do. You're going to have to dig deep and be very stubborn if you're to get through the tough days!
10. Keep a diary
I didn't do this but often wonder whether I should have and have been asked several times if I'd kept a record. I did record my runs on Strava and added the occasional note, as well as track my daily activity with my Fitbit. But, rest assured, when running that frequently, it's likely that you'll have some stories to tell. My most notable tale from my 366 days of running was that one day I was running along a ridge with a cliff on one side. I had just passed two elderly ladies who were walking a small dog. I was running with our dog at the time and, moments after we had passed them, I heard a scream. I looked around to find the ladies rushing to the cliff edge and the dog nowhere in site. Yes, you guessed it… the dog had run off the cliff. I don't know exactly what had happened as it all happened behind me but I turned back and joined them on the cliff edge (once I'd got my dog on the lead!). We couldn't see anything for what seemed like an age – I feared the worst but, a few moments later, we saw the dog moving around down below. It must have taken me nearly an hour to get around to the base of the cliff and recover the dog but all she seemed to have suffered was a small cut above one eye. Amazing, really, as it was quite a fall.