A luxury adventure experience beyond your wildest expectations
Picture this – you're driving a beautiful Bentley in the most enchanting environment imaginable. Experience luxury adventure to the extreme in this winter wonderland, spectacular setting at the beautiful lakes of northern Finland. As the ice thickens there, an extreme and special circuit begins to take shape. This vast, frozen surface, on the edge of the Arctic Circle is transformed into an incredibly exhilarating driving course. This is the home of the
Bentley Power On Ice
: a course unlike any other you'll ever experience and an event that is definitely in a class of its own. This is a luxury adventure experience beyond your wildest expectations.
The Bentley Power On Ice luxury adventure experience
Spend three truly exhilarating days taking your driving to a whole new level with your own personal Bentley instructor. Learn how to navigate the most precarious situations on snow and ice, in Ruka, Finland. The Bentley Power On Ice Luxury Holiday is an adrenalin fuelled luxury holiday experience, that you will never forget. Achieve levels of self-fulfillment you never imagined, as you discover how to anticipate this incredible terrain and react correctly to the driving challenges. When you leave Ruka on the final day, not only will you have amazing driving skills, but you'll go home having made new friends with like-minded people and have memories to last a lifetime.
The Bentley Power On Ice experience is packed full of highlights, from the moment you depart. It kicks off with your journey to Finland in the ultimate style in a Bentley-chartered jet. On arrival, your own chauffeur will greet you and take you to your exclusive, luxurious accommodation at Ruka Peak. With some time to relax before dinner, you can explore the beautiful setting and breathtaking vistas.
Day one
Wake up and be totally enchanted by the magnificent scenery in daylight. After breakfast you'll be transferred to the lake with its specially crafted ice-tracks, where you will start the most extraordinary experience of your life. Under the guidance of your dedicated professional Bentley driving instructor, you will start to learn to drive Bentley's all-wheel drive cars in these truly extreme conditions. All of the new Bentley range will be available to drive, including the Bentayga 4×4.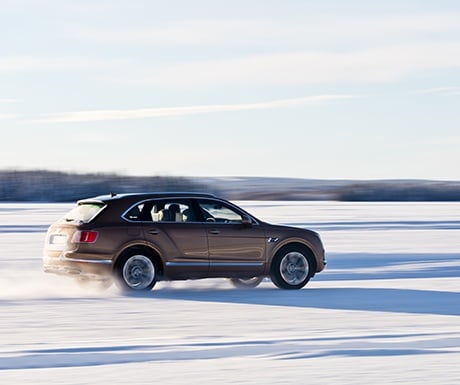 Day two
On the second day, you will build on what you have learned on the first day. But now it's time to pick up some more advanced driving techniques, which are guaranteed to take your driving experience to the next level. After a full day of driving, you'll be transferred back to Ruka Peak where you can either enjoy a hot tub or a Finnish smoke sauna in the unforgettable Sauna World. The traditional smoke sauna is located in an amazing underground location, where two caves come together. Dinner is a celebration of new-found friendship and shared exhilarating experiences, in the Restaurant Peak. Enjoy delicious modern Scandinavian food, in the dining room with absolutely spectacular views over the edge of the Arctic Circle.
Departure day
On departure day, the Bentley driving team will wish you a Bon Voyage, before you're transferred to the airport. For more information, visit the
Bentley Power On Ice
website or call on +44 (0)1675 445 945.
Disclosure: This post is sponsored by Bentley Motors.
Did you enjoy this article?
Receive similar content direct to your inbox.