There is something special about waking up to a stunning sea view, and we all know that a cocktail or a meal taste even better when the panorama around is stunning: this is why, when choosing an estate for your next holiday, its location is important: here are eight beautiful Greek villas with incredible, unforgettable views.
Glitzy Mykonos is famous for its glamorous nightlife and sophisticated atmosphere, but there are places on the island, where one can simply sit back and relax: Villa Artisti is one of those places, as it offers peace and quiet away from the hustle and bustle of Mykonos Town. The villa, built in typical Cycladic style, is a haven of silence, with beautiful sea views, a pool, and a terrace area that invites guests to slow down and enjoy life at a slower pace. The interiors are just as beautiful, with neutral colours and stylish accents: just what you would expect from Mykonos.
A luxury property in beautiful Crete, Villa Octo is an ideal spot for a cultural, yet fun holiday, as it is centrally located and equally close to all the island's attractions. Modern and elegant, the villa itself is the ideal place to unwind after a day of exploration: the infinity pool is perfect for a refreshing dip, while the bar area is ready to be the backdrop to incredible sunset get-togethers. The open space barbecue, too, is a great place for spending the evening with good food and surrounded by the beautiful nature of the Mediterranean.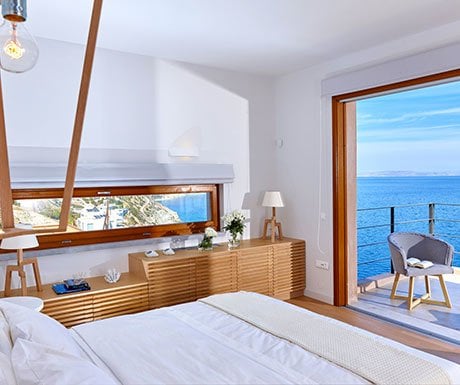 Agios Sostis Beach is one of the most sought out locations in Mykonos because it perfectly blends fun and nightlife with rest and relaxation. White Villa, modern and beautiful, is in an idyllic position, high above the Aegean Sea and offers breathtaking views of its surroundings. The veranda and pool area are the focal points of the property and are furnished with relaxation in mind: here you can take in the panorama, have a swim, nap in the sun or in the shade, or savor the delicious local specialties prepared by the villa's chef. Whatever your heart desires can become true.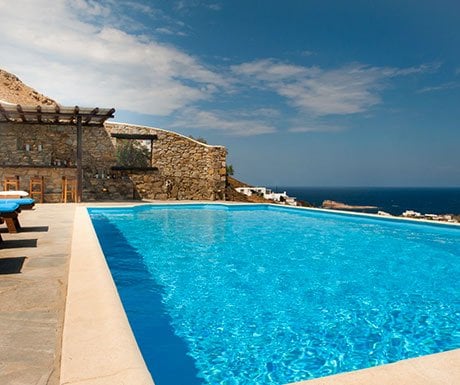 Royal Villa Koroni, Costa Navarino
If you want to spend your holidays in Greece, but don't feel like traveling to the islands, Costa Navarino, on the Ionian Coast, is the ideal pick for you. Royal Villa Koroni will make your Mykonos experience even more pleasant. This deluxe property is beautiful inside and out: the villa features a private sauna and gym, marble bathrooms, a home cinema and spacious rooms; the outside offers a stunning private pool, barbecue facilities and a terrace, all with front sea views over the Ionian – ideal to forget everything about everyday life.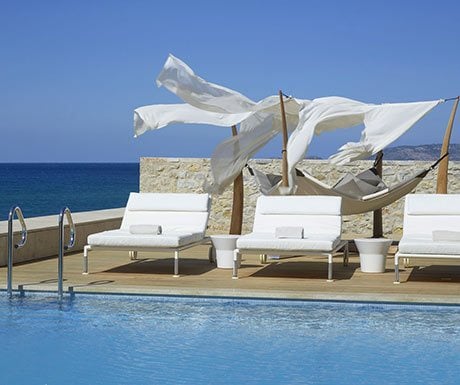 Tranquil and quiet, Villa Domina is surrounded by wonderfully landscaped grounds and is one of the most beautiful properties in Corfu. Ideal for large families or groups of friends, this retreat is perfect for guests who seek adventure or those who cherish relaxation. The porch and terrace have amazing views over the sea and an infinity pool that is a real delight for kids and adults alike; furthermore, the property boasts three private beaches, great for water sports or for relaxing in the sun.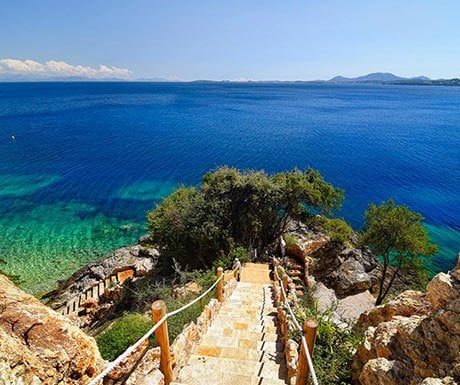 One of the top luxurious villas in Mykonos, Seaview overlooks the Aegean Sea, the historical island of Delos and is in a prime location to catch incredible sunsets. Surrounded by Mediterranean vegetation, the large waterfront infinity pool is a wonderful spot to spend the day, while the two spacious outdoor dining and BBQ areas are perfect for cocktail parties and al fresco lunches and dinners. Located just 4 kilometers from Mykonos Town, the villa is close enough to enjoy all the action, yet secluded enough to avoid the crowds even in the height of season.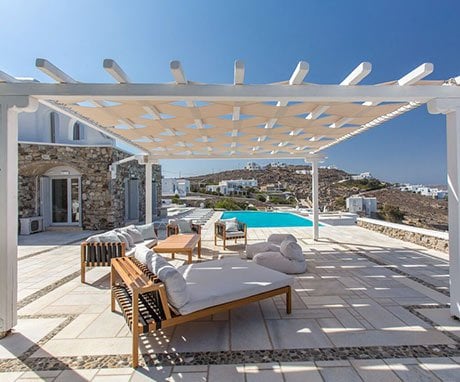 Small but fun, the island of Antiparos is a great choice for those who want to experience a real Greek vacation and still have access to nightlife and good restaurants. Villa Petalida is the perfect match for those seeking authentic, yet sophisticated accommodation. The estate is fully serviced, ideal to relax, and features a perfectly manicured garden that invites guests to relax and take it easy. The outdoor area, with its beautiful views, is enchanting and offers the chance to feel submerged in nature without having to leave the property.
If you are looking for luxury and sophistication, look no further. Villa Piedra has a modern and elegant design, along with a glamorous atmosphere. Perched on a hill in Viros, this stunning estate offers to its guests plenty of privacy and unforgettable views over the sea. The infinity pool is the perfect spot to watch amazing sunsets, while the telescope gives guests a chance to admire the night sky in detail. Everything in the villa is designed with comfort and fun in mind, making Villa Piedra ideal for a perfect family vacation.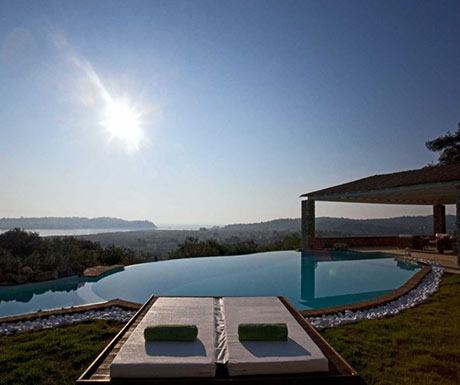 Paolo Macchiaroli is CEO of My Private Villas..
If you would like to be a guest blogger on A Luxury Travel Blog in order to raise your profile, please contact us.