Flavoursome and succulent, the cutlets partner beautifully with the chilli miso and pickled eggplant. The miso, a traditional Japanese seasoning, gives this dish a delicious savoury flavour. The dish works across all seasons – for a light summer or springtime lunch or dinner partnered with salad greens, or as a heartier meal with a vegetable tempura, chilli miso and pickled eggplant.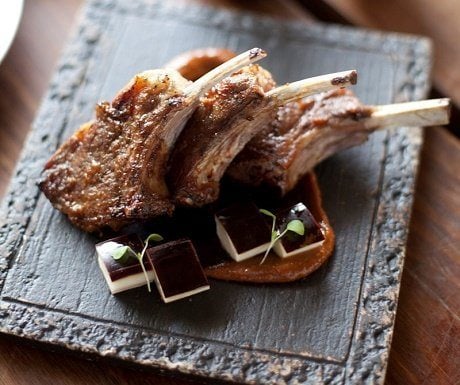 Ingredients
16 lamb cutlets (French trimmed)
Baby mache (edible salad greens)
Marinade (approx. 1 litre)
15g banana shallots or eschallots
10g ginger
2 gloves of garlic
15ml mirin
30ml sake
10g aka (red) miso
50g saikyo (white) miso
50g mugi (barley) miso
15g kochuchan (spicy chili) miso
Brine
1 litre of water
Directions
1. First step is to make the marinade by blending the vegetables (shallots, ginger, garlic) in to a rough paste.
2. Warm the sake and mirin and add to all the miso until smooth, then add the vegetables and mix through.
3. To marinate the lamb, rub each cutlet with the miso marinade and lay next to each other on a tray, cover and leave in the fridge overnight to marinate. Keep the remaining marinade as you will need this later when serving the dish as this makes the sauce.
4. To make the serving sauce, add some of the remaining marinade into a blender and puree until smooth.
5. To serve, spread some of this sauce across a plate.
6. Grill the lamb cutlets on a nice hot bbq or chargrill with the glaze and additional marinade. Cook each cutlet for approximately 3 minutes each side and then allow to rest.
7. Place the cutlets on the plate on top of the sauce, garnish with the baby mache and serve with seasonal pickled vegetables and steamed rice.
Thank you to Hao San, Head Chef at Toko Sydney, for the recipe.
If you have a recipe you would like to share with  A Luxury Travel Blog's readers, please contact us.